---
June 18, 2009 10:34 PM
Email
,
Email management
,
twitter
I have heard a lot of people say recently that email is on the way out and no longer an effective means of communication. Too many emails and too many clogged inboxes is making email ineffective.

I've heard a few people say that they believe that the direct mail function of twitter is...
---
June 12, 2009 2:03 PM
Social networking
,
twitter
Many of us that are converted to the power and benefit of social networking for big and small companies, individuals and employees, are natural evangelists.
---
June 9, 2009 4:35 PM
Nick McCowen, IT director at medicines supply company IDIS, winner of a Best of the Best award at the recent Computer Weekly Best Places to work in IT event, will speak at the CW500 Club on 17 June at 6.30pm.
He will talk about the company's IT strategy meshes with its business strategy,...
---
June 4, 2009 12:26 PM
comments
,
ComputerWeekly.com
,
twitter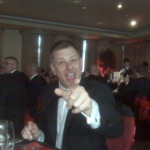 WE WANT YOU TO LOOK AT OUR NEW HOMEPAGE!!
---