---
March 31, 2009 11:53 AM
Recession
Cutting back on spending will help companies get through the recession, but cost-cutting does not prepare a business for the eventual recovery. It is vital that organisations continue to invest in strategic research and...
---
March 27, 2009 11:16 AM
Feedback
,
launch
,
opinions
,
research
We know that Computer Weekly readers are the decision makers and thought leaders within the IT industry. So don't keep your opinions to yourself, make your voice heard within the industry and you could influence its direction.
Express yourself
With the social...
---
March 26, 2009 10:42 AM
tweets
,
twitter
I used Twitter for the first time to harness the "back channel" chat in a GovNet conference on Mobile Technology earlier this week and I have to say it added tremendously to the experience. If you search twitter for #mobilegov you'll...
---
March 24, 2009 12:00 PM
Byron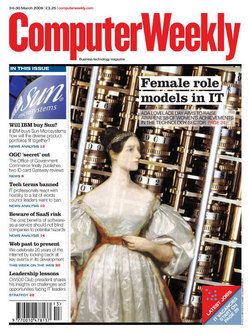 ---
March 24, 2009 7:31 AM
twitter
I'm chairing the Mobile Government conference in London today and am going to try to simultaneously tweet the presentations and discussions. If you work in public sector IT and are interested in opportunities of mobile for the delivery...
---
---
March 19, 2009 1:51 PM
Microsoft Surface
So I went to the Microsoft Surface UK launch yesterday at the lovely swanky Haymarket Hotel in London.

Surface, which has been out in the US since December last year, is a neat product that costs £8500 a unit. That's for the table top
---
---
---