---
November 28, 2008 1:02 PM
Christmas
I spoke to a friend or mine who works in the City for one of the big banks. He's fairly high up the food chain and we catching up about the general atmosphere and he explained that the situation was so serious at the moment that every staff member had to be ultra careful or they could lose their...
November 27, 2008 11:42 AM
India
,
mumbai
,
Outsourcing
We are covering the terrorist tragedy in Mumbai in much detail today because Mumbai is the outsourcing capital of India. Simply its the biggest offshoring destination for high quality outsourcing.

Loads of blue chips use it to outsource and it would affect Western economies, that are...
---
November 26, 2008 5:17 PM
competition
,
Dell
,
laptop
,
Mobile Computing
,
Netbook
,
Vodafone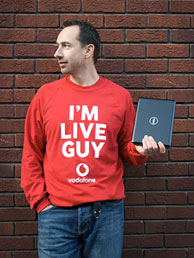 And so I got to wondering, with so many men in the city, why was it so hard to find just one? Was I destined forever to misread every signal,...
---
November 25, 2008 2:59 PM
We heard all about Alastair Darling's tax give-away yesterday to ease the credit crunch and make us all feel better off...but will it mean that you be spending more?

Well at ComputerWeekly.com we have done our bit to help ease the pain of the credit crunch for the nation's IT...
---
November 25, 2008 10:07 AM
There's just days to go and we've had loads of votes cast for people's favourites so far in our quest to find the next generation of IT superheroes....

If you haven't cast your vote then go and cast it now on our IT...
---
November 19, 2008 5:55 PM
redundancies
We've put together a redundancy tracker to help us compile all the redundancies in the IT sector as the recession in 2008 starts to bite. It's not pleasant reading, but its useful to know how the recession is impacting the IT...
---
November 17, 2008 5:09 PM
Downturn
,
Recession
It's all doom and gloom with all the the talk of a recession dominating the media. There was not one jot of good news throughout the whole of today's Today programme on Radio 4 but that's how...
---
November 13, 2008 4:22 PM
---
---
November 12, 2008 2:49 PM
redundancies
It's been a hot topic all year - will the IT sector be hit by the recession?

Well mounting job losses shows it is being hit and it is being hit hard already - LinkedIn,
---