---
May 10, 2008 1:46 PM
BT
,
Customer service
,
IT support
We have just moved house from London town to rural, sunny Norfolk. It's lovely and has all gone fairly smoothly, apart from my wife's running battle with BT's customer service team to get our broadband set up. Of course, the fact that
---
May 7, 2008 10:19 PM
Passwords
,
Paypal
,
Security
This evening I have been trying to get a payment from an eBay sale through PayPal. Unfortunately for me, I have always been more of an eBay buyer than seller, keener to find a bargain, than I am to sell off my useless hoarded wares. So having made a sale using PayPal I was confronted with the...
---
May 1, 2008 12:59 PM
awards
,
bloggers
,
Blogging
,
Blogs
,
Fingerbobs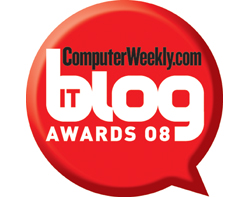 Reading this blog? Read others too? Comment on some? Or perhaps you blog yourself? Well, ComputerWeekly.com is searching for the best blogs...
---