Nov 30 2013 11:14PM GMT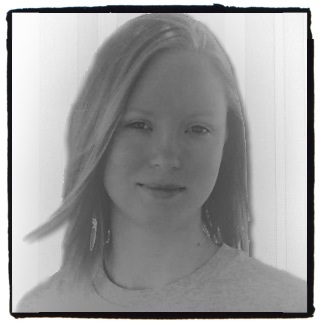 Profile: Michelle Greenlee
Floobits is a real-time remote pair programming tool that can connect you with your collaborators from the comfort of your desktop IDE or from the browser. The concept is similar to the collaboration editor found at CSS Deck but offers even more for developers. Secure, shared consoles are among the features.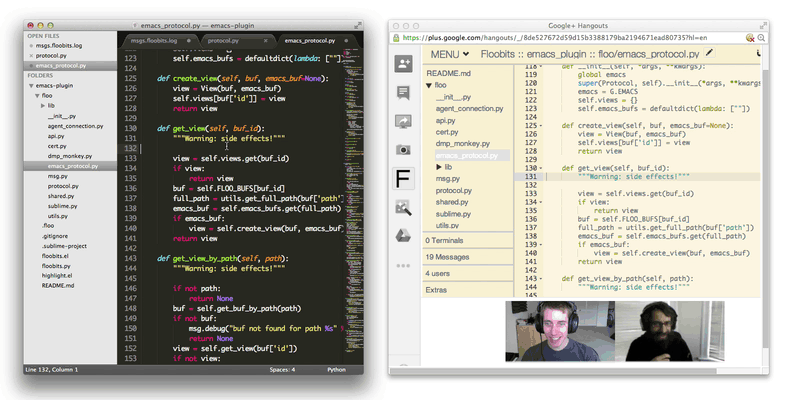 Image credit: Floobits.com
Integrated chat and Google+ Hangouts offer additional live interactions not available on other collaborative editing platforms (that I have tested). These two handy features can also give employers reason to consider that remote working arrangement you requested six months ago. Floobits doesn't quite say so on its website, but it offers a unique collaboration without the noisy overhead of aimless coworker interruptions in fifteen minute intervals.
Developers can use the browser-based editor or plugins built for SublimeText, Emacs, and Vim. Created to solve a problem for its own developers, this tool succeeds where others failed them. Nothing was good enough so the founders created Floobits. I would like to know where they came up with the name because it doesn't scream collaborative code editing platform to me.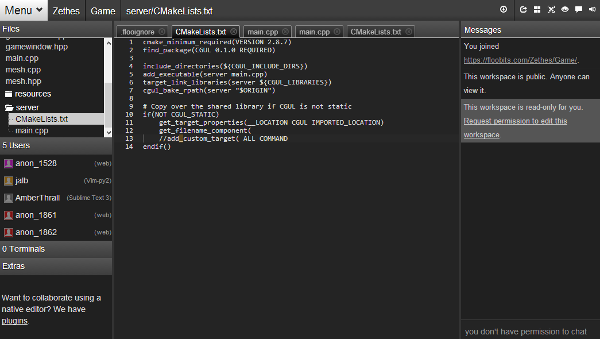 Floobits is a young start-up out of San Francisco. It looks to be about an year old in its current iteration. The product's website offers little information about the platform's age. Paid plans are available for teams as is an enterprise version of the software. There's no mention of support offered for each subscription tier but at least they have a business model that already includes paid plans. They clearly say they have incentive to offer a great product because customers are paying. This is a refreshing approach.
Floobits collaboration is a unique offering that could easily be acquired by a much larger company. Floobits realizes this and pledges to do all they can to ship a full version of the platform for existing users should the company be acquired. It's a pledge not a guarantee but at least they address the possibility. Given the very young age of the company, it's doubtful many companies would commit to the platform without know its future. Even at this very young age, Floobits is an impressive collaboration tool. I look forward to the future acquisition of its fascinating technology.