---
May 31, 2013 2:55 PM
Google I/O brought many welcome announcements for developers earlier this month. I'll be covering some of the updates in Google's Cloud Platform here. Today, I would like to introduce you to a much-anticipated (at least by me) addition to the platform – PHP.
PHP developers can enjoy the deploy now that the Google Cloud Platform has added PHP support. With this new addition you can run PHP applications at scale. Deployment is just one click away. Development and testing can be done from your local machine. Google is providing a PHP development server is available for use on your computer. This environment simulates the App Engine environment. This is especially helpful since not all PHP modules are supported. Some must be enabled manually.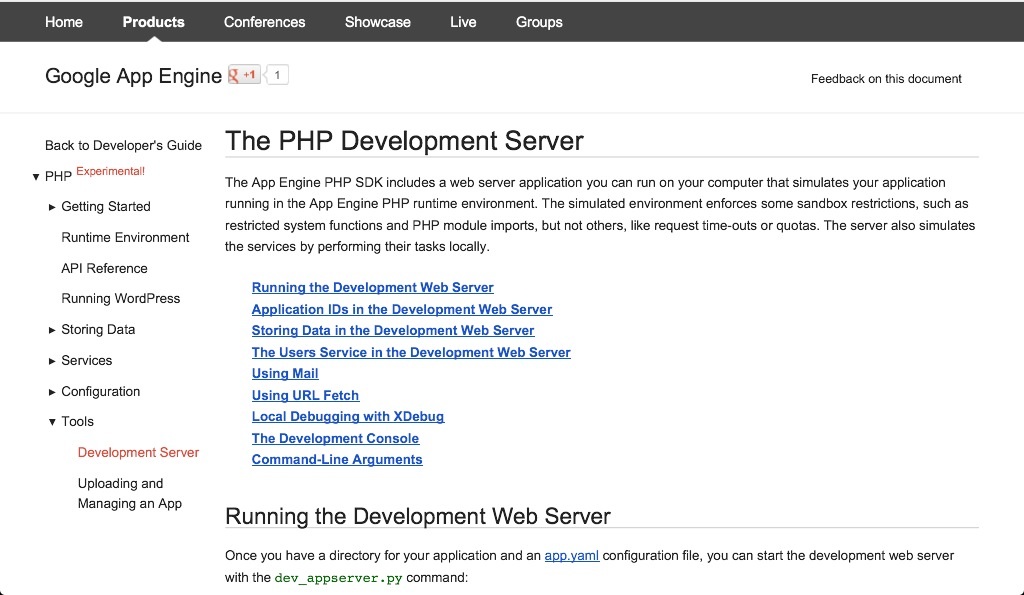 Project Suggestions
PHP is available in limited preview for existing Google App Engine applications. Requesting access is as simple as signing in with your Google Account and answering a few questions. If you don't already have an App Engine account, you'll need to sign up and create an app in the dashboard. Once you have an app you can request PHP access for it. Requests are currently reviewed before access is granted. The site gives no detail on the expected wait time. Use the provided comment box to tell reviewers your plans for PHP access.
Have you used the limited preview yet? How does it compare to other cloud services like AWS? How would you rank the Google Cloud Platform dashboards against competitors? Does design matter? Tell me in the comments below.
May 27, 2013 8:04 PM
VMWare has created a platform called CloudCred to both advertise its products and give IT professionals an opportunity to learn more about cloud computing while earning points for real life prizes. After registering, players can earn individual and team points for completing tasks. Tasks are grouped by type and can be sorted by point value.
Teams are auto assigned by the system but you can choose another or create your own team anytime after registration. It's important to join or start a good team since some tasks are designated for teams. If your company doesn't already have a team, you can join mine if you like: tiny cloud crew. Commenting on a tech blog (like this one) gains CloudCred points so get started already!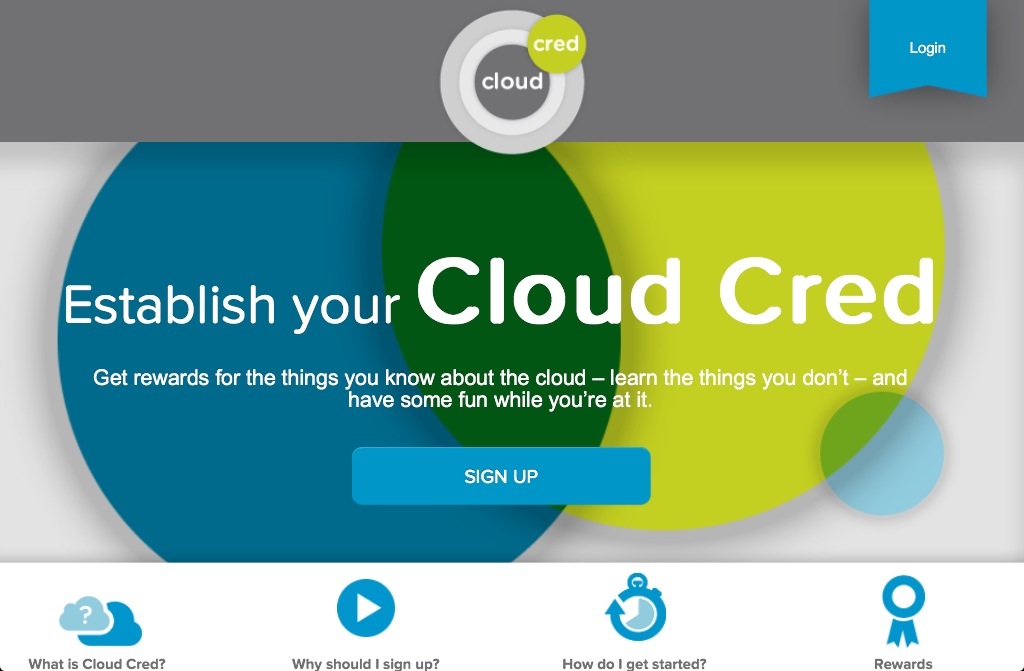 TechTarget has posted a high-value task on CloudCred called Learn more about storage at SAN School. You must be registered and logged in to complete the task and earn 100 points. You might like to learn more about cashing in points for stuff about now. That's coming up next.
Top earners can have a shot at winning the grand prize trip for two to VMWorld Europe in Barcelona. The trip includes a five night hotel stay and accommodations. However, you don't have to be the best to get stuff. You can earn a virtual badge at 250 points or a real bumper sticker. T-shirts start at 1,000 points.
You can earn more than stuff and the big prize. You can also be featured on VMWare's social networks and on their blog. If industry recognition is what you want most, you can earn it on CloudCred.
CloudCred seems to be a good way of gaming for cloud knowledge. Plenty of Americans were confused by cloud computing in 2012. Perhaps 2013 and beyond we can all fair a bit better in studies like the one published by Citrix in 2012.
Have you earned a spot on the leaderboard on CloudCred? What do you think of this initiative by VMWare? Let me know in the comments below (and earn CloudCred points too).
---
April 30, 2013 11:33 PM
Managing multiple complex cloud services from multiple providers can quickly become a complex mess for a team. Set up, deployment, collaboration, and monitoring is no small task either. A new class of cloud management services are emerging to support multiple cloud dashboards in one interface.
OpDemand is one of these new monitoring and management services. They created a streamlined, one-click, deployment and monitoring for Amazon Web Services and Heroku. Not only can you monitor and manage multiple apps from a single dashboard, you can also view a real-time audit trail with changes across your different services.
I was most impressed with OpDemand's simple approach to managing multiple cloud services from one dashboard. They cleverly group like services together and have created a set of tested templates containing popular stack configurations. Test and production environments are easily deployed, cloned, or re-deployed.



Want to use your existing infrastructure, just import it. OpDemand can help an organization transition from an ad hoc management to an integrated solution. The set up guide offers simple step-by-step onscreen instructions.
Languages & Frameworks Supported
Node.js
Java
Clojure
Python
Ruby
Ruby on Rails
OpDemand is an interesting service that simplifies complex cloud service management. Don't let the simple user interface fool you, OpDemand has a full library of helpful (in-depth) support documents. New and different services need complete documentation to make sense. OpDemand does this well and includes plenty of screenshots.
OpDemand is just one of many integrated cloud monitoring and deployment services to shape the future of the cloud. Have you tried it yourself? I would love to read about your experiences in the comments below.
---
April 21, 2013 9:52 PM
Version control is a familiar method of keeping up with current files in software development. Software developers who decide to write a book quickly find version control for letters on a page hasn't quite become commonplace. Developers who write tend to meld a writer's version of familiar tools into something that works for them.
Larry Ullman recently wrote about his versioning kit for his latest body of work called The Yii Book. He authored an excellent guide to PHP twelve years ago. His list of titles is ever growing with to current total at 22. He found few writers tools that offered the versioning support he needed. Ullman fashioned his own system from mostly Open Source tools already available.
"First, as a developer, I wanted to optimize the process so that it was as efficient as possible. Second, as a reader, I wanted to be able to output the work in as many formats as needed: PDF, epub, mobi (Kindle), HTML, even print."
Ullman's ingenious solution lets him write once and publish in multiple formats. However, his system might be a bit more involved for the part time writer blogging on the weekends for multiple publications. There are web-based notebook systems like Evernote available for cross platform access but they generally don't offer versioning. This is where a simple tool like Draft might be useful.
Draft is a simple writing tool that gives you plenty of room to write, tallies your word count in the bottom corner in real time, and even supports collaborators. Marking major drafts is easily done from an onscreen menu. Side-by-side comparison is just one click away too. Reports on published material show how popular items are on social media platforms. I've tried other simple writing platforms like this in the past and most don't work with mobile browsers like Chrome for iPad. Draft performed well. Menu actions were responsive and functions worked. The service is currently free and appears to be supported by a copy editing service, Ask a Pro, available from the main menu.


Draft is still quite new. It not only helps you track versions of your work but also allows publishing to select services. Twitter, Tumblr, Blogger, and WordPress are supported. There's also a handy import option available from major providers – Google Drive, Dropbox, Evernote, Box.net, or your computer. Imported documents are synced from Draft to the appropriate place be it from the cloud or your computer. I didn't try the import and sync service myself but it sounds delightfully perfect for my style of writing across devices and offers real options for the lover of cloud storage services.
---
April 16, 2013 7:30 AM
Google App Engine is giving a $1,000 credit to select startups. The deadline for applying is April 30, 2013 (you only have 14 days!). Startups affiliated, and verified by an App Engine partner will have the opportunity to receive a promotional credit of $1,000. Building upon Google's infrastructure equals fast and secure apps, websites, or business applications.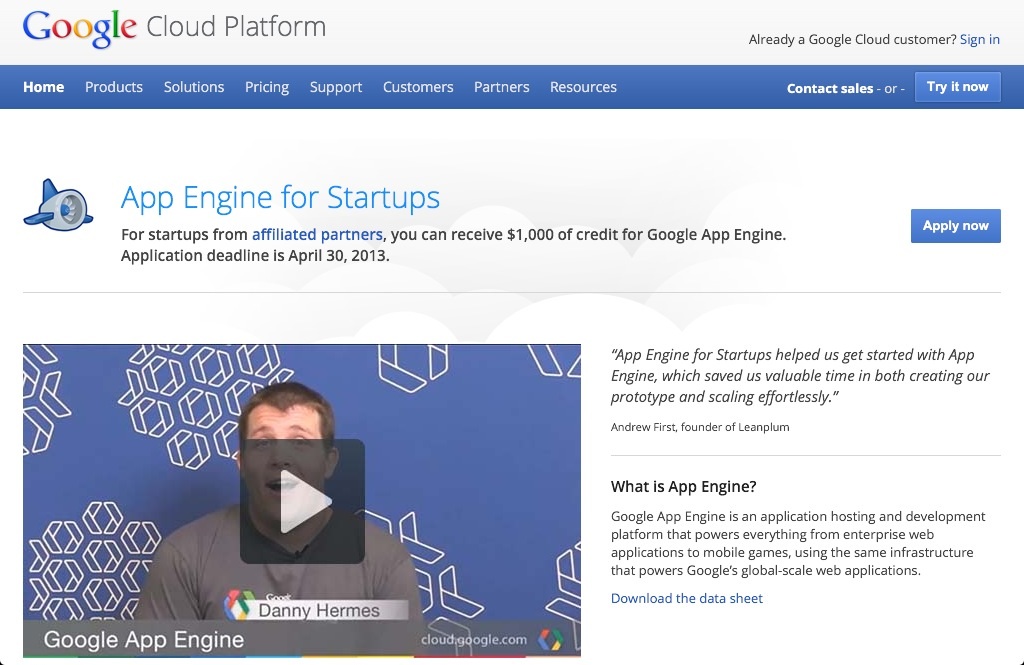 "Google App Engine is an application hosting and development platform that powers everything from enterprise web applications to mobile games, using the same infrastructure that powers Google's global-scale web applications."
The site is scant on details for inclusion in the promotional credit offering. There's no contest or sweepstakes drawing mentioned. The process appears quite simple, requiring a login with your Google account and completion of the request form.
Google App Engine services are being used by large MOOC sites like Khan Academy and Udacity. It saves time and resources for apps like the news reader, Pulse. App Engine is flexible and allows the use of Ruby, JavaScript, Python, or Go. Data storage options include an App Engine NoSQL datastore, Google Cloud SQL, or Google Cloud Store.
Google App Engine's aim is to make deployment quick and painless in the cloud. Upload your code and let it run. There are no servers to maintain (or troubleshoot). Budgeting is available from your application dashboard. Control without the added trouble of controlling web services too.
Try Google App Engine on the cheap, apply for startup credit before April 30th. Good luck!
---
April 7, 2013 11:30 PM
Code-free WYSIWYG editors for designers aren't a new concept in the website development world. Generated code produced by some of these editors, in past years, has been pretty awful. Plenty of these web-based editors lacked control or weiled an unusually user unfriendly interface. Sites created with some of these online editors were often un-pretty and amateurish.
As the way of web-based tools, these too are improving. Webydo, currently in beta, provides a simple drag and drop interface for graphic designers. The service combines a sophisticated design interface with a cloud hosting platform and content delivery network (CDN).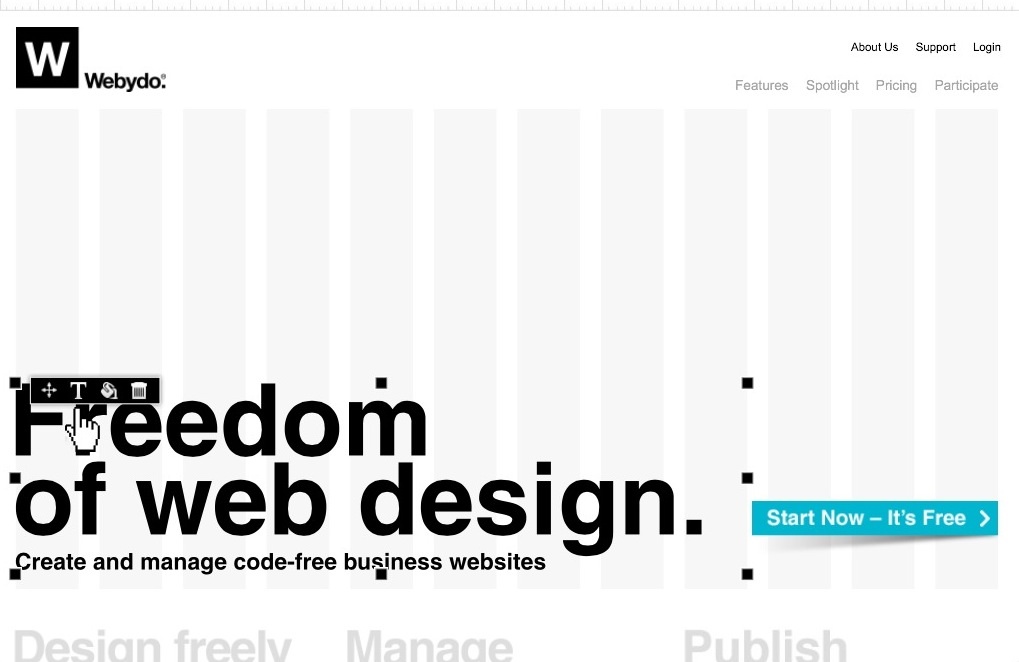 The Webydo SaaS platform gives designers a new model for developing good-looking websites without hiring a developer to code their designs by hand. The service is a better alternative to platforms like GoDaddy's Website Tonight package and Web.com's site creator. Both are unnecessarily difficult to use even for the Internet-savvy (these are just two examples).
As a web developer who likes to have control over code, I was impressed with the technology behind Webydo and the font end interface. The platform isn't going to put web developers out of work the world over but it will provide graphic designers with more control of website projects. Hosting, backup, support, CDN, and a content management system are all included for a reasonable monthly fee. Since Webydo is fully hosted in the cloud, designers can work from a laptop or desktop computer from anywhere.
Webydo proves cloud-based development doesn't always require hand coding and can be really stunning.
---
March 31, 2013 5:00 PM
Ready, Set, Google!
Google Compute Engine, one of Google's Cloud services, is offering a limited preview of its new Linux virtual machines. With this limited preview, you too can compute like Google.
Run your large-scale computing workloads on Linux virtual machines hosted on Google's infrastructure.
The new Compute Engine Linux Virtual machines are perfect for big jobs:
…computationally intensive virtual compute clusters in the Google Cloud. It can also be used as a generalized computing resource in combination with other Google Cloud technologies such as Google App Engine or Google Storage.
Configurable GCEL and CentOS 6.2 images are available in this initial offering. The limited preview available is free. Paid plans are available for purchase above trial quota. Just contact sales for pricing and upgrade options.
The current incarnation of these virtual machines doesn't guarantee uptime since its still an early offering. You must also request access to use it. If you're not familiar with Google Compute Engine don't worry, the documentation is good and plenty. Start with the standard Hello World application. Access to your virtual machine(s) can be had through command line or the Compute Engine dashboard.
After Hello World
Code samples are available on GitHub. Get support on StackOverflow, and the Google Compute Engine Group. Don't forget to read the FAQs too!
Test-fu
Have you had the opportunity to try out the new Linux Virtual Machines from Google Compute Engine? What did you think of the set up and billing options available? Did you find these virtual machines were a good fit for your required configuration? Let me know in the comments below.
---
March 31, 2013 11:29 AM
Cloud-based IDEs remain the holy grail of mobile app development. The resources required to run development libraries and emulators are typically available on a local machine. While there have been great advances in the web-based IDE space, we still haven't seen a cloud-only incarnation of the typical native set up for iOS or Android. HTML5 apps are much easier to create in the cloud. As such, there are a number of providers offering cloud-based HTML5 app development. Enter the alpha version of Appception.
The alpha version of this new cloud IDE is currently free for testing. Account registration is easy, just login with your Google Account and get going. The platform is available from a modern web browser; Google Chrome, FireFox, or Safari for Mac. Appception promises to work though the firewall and provides a secure connection to files over FTPS or SFTP. The platform is hosted on Amazon's AWS service for reliability.
Appception supports multiple SDK targets for Android apps and Cordova for iOS. Files can be manipulated onscreen through a drag and drop editor interface. Support from desktop to browser via drag and drop is even supported.
Testing on actual devices or emulators are possible without the use of cables. For now, only Android apps can run from the system's emulators. The emulators allow testing of phone or tablet apps of multiple configurations. iOS device apps must be tested on real devices. Testing on real devices is as easy as sending your code over wifi from your computer to your device through the browser.
Once you've created your new app you have the option of downloading App Store ready source files. The system will create a handy zipped file for export, ready for submission to the appropriate App Store. Submitting apps to the Amazon App Store requires only a handful of changes depending on the options you want to enable for users.
Details on the company and future plans are few on the official Appception site. If the service continues on its current path, it can be a viable player in the cloud-based mobile development market. There is no mention of enterprise-specific features or options targeting independent developers. Appception looks great as an alpha product for now.
---
March 17, 2013 6:54 PM
Last week Google announced the closing of its web-based RSS feed reader, Google Reader. Users were immediately shocked and saddened to see thier beloved feed reader go. The service doesn't officially close until July 1, 2013 but that didn't stop disappointed users from migrating to other services. Feedly reported an increase in 500k users after the announcement was posted on the official Google Reader blog (which hasn't been updated since 2011 prior to this announcement). Feedly promises to deliver a Google Reader-esque API on the tail of Reader's official close in July.
Lists of alternative feed readers have been published across tech blogs in response to the surprise announcement. You'll notice there are repeats since there aren't all that many alternatives available right now. That should change soon. Mike Elgan argued innovation equals less control then goes on to ask if that's a bad thing. What do you think?
While it's not known how many users accessed Google Reader each day, it has been roumored the numbers were low enough to put it on a special Spring cleaning list of services to go away. This closing is considered by plenty to be a wrong decision for the search giant and is proof many of us are dependant on cloud services, like Reader, maybe to a fault. Even a large company like Google can choose to shut down a given service at any time. Tim O'Reilly offers a solution to keep the code alive and shift the burden away from Gooogle by gifting the codebase to the Open Source community in his peice entitled Open Source and the obligation to recycle.
The impending closure of Google Reader has me considering alternative services like Feedly, Flipboard, and even Google Currents. I assumed Google Currents would soon replace Google Reader as Google's defacto RSS feed reader. That may still be the plan but Currents doesn't have a web-based interface like Reader so a 1 for 1 replacement it is not. The old days of simply reading feeds on your desktop computer have gone away in favor of web-based (cloud) options. The move to the cloud, for an apparently limited number of users, has proved to be a pain point for loyal users.
Does the closing of Google Reader have you reconsidering your current news-reading strategy?
---
March 1, 2013 4:31 AM
Help Desk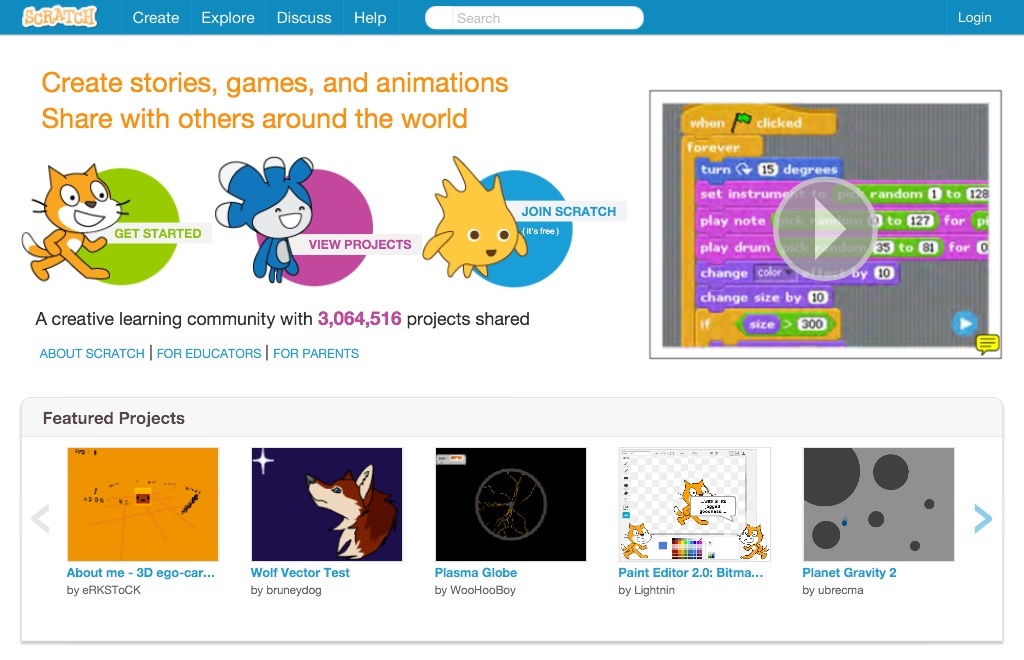 Developing in the cloud is now child's play with the new Scratch 2 beta. The previous version required users to download a desktop version of the software to create Scratch projects, then upload them to the site to share. Version 2 is cloud-based with brand new features. Among them is easier sharing, right from the project workspace.
Teaching kids problem solving and how to think like programmers is easy with Scratch's drag and drop blocks. This interface hasn't changed from the previous iteration, it just lives in the cloud now. More than 3 million projects have been created and shared on Scratch. Obviously, most projects were created before the launch of version two.
I happen to have some small beta testers at home who have used the newest version. My helpers said the new web-based version is just as good as the old-style desktop software. There are new action blocks and some user interface issues, but the beta is very good. They've been using the beta for about two weeks now and have started opening the desktop version to edit their older projects that weren't finished before the beta. One of the most talked about features, in my house, is the ability to delete old projects from profile pages.
My first experience with a programming language was exciting and boring at the same time. I tried my best but ended up with more syntax errors than fun. I learned a little bit of BETA as a youngster. English was a much better language for me in those days. I can say with certainty I would have enjoyed programming a lot more if there were something as easy and fun to use as the Scratch.  The concepts taught by dragging blocks around and linking them together are many. I'm alway surprised at the level of understanding my kids have of this programming thing. They've been learning on their own, using the site's help docs to learn more about block functions and how they interact. They even use the forums to find answers to common questions.
Scratch isn't exactly a production language for the enterprise, but it's helping build a lifelong love of programming. If you haven't looked into this little project from M.I.T. in a while, it's time to have another glance. Version two further demonstrates the future of developing in the cloud. The whole concept of integrated development environments beingavailable  anywhere there's an Internet connection will not be novel for tomorrows best and brightest. They're already working in the cloud…
---