---
July 29, 2013 7:00 AM
Microsoft
Microsoft is enticing developers with an updated version of WebMatrix and free access to its Azure cloud. Called a lightweight development environment, WebMatrix will give developers more control over deployment. Updates are synced to your Azure cloud rather than transferred over ftp. Remote site editing allows you to open Azure sites or sites on other hosting services. There is no cloud-based IDE, however.
WebMatrix 3 with Azure integration is a local server complete with built-in software for popular blogging software and content management systems. Four database types are supported and can be added. The basic package download was about 86MB, hardly lightweight. While the download was quite large for a sluggish connection, each component was its own download to make it less painful.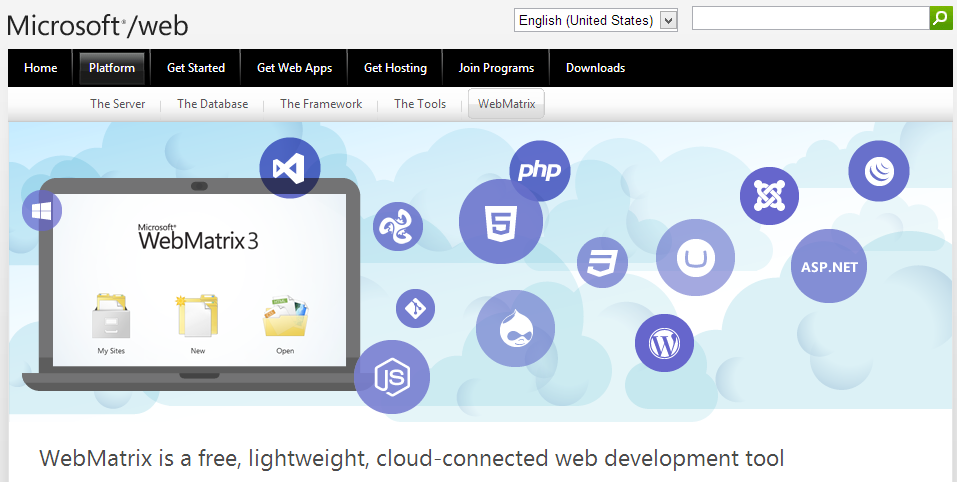 Even though I am rarely excited about new Microsoft products, WebMatrix 3 looks promising. Basic test components are installed with the base program. Additional software, frameworks, databases, and tools are available from the Web Platform Installer. This dashboard and download manager makes developing on your local machine easier. You have immediate access to all sorts of tools for IIS servers. Microsoft has even included Open Source software.
WebMatrix 3 supports:
PHP
Node.js
ASP.net
HTML5
CSS 3
jquery
SQL Server
SQL
CE
MySQL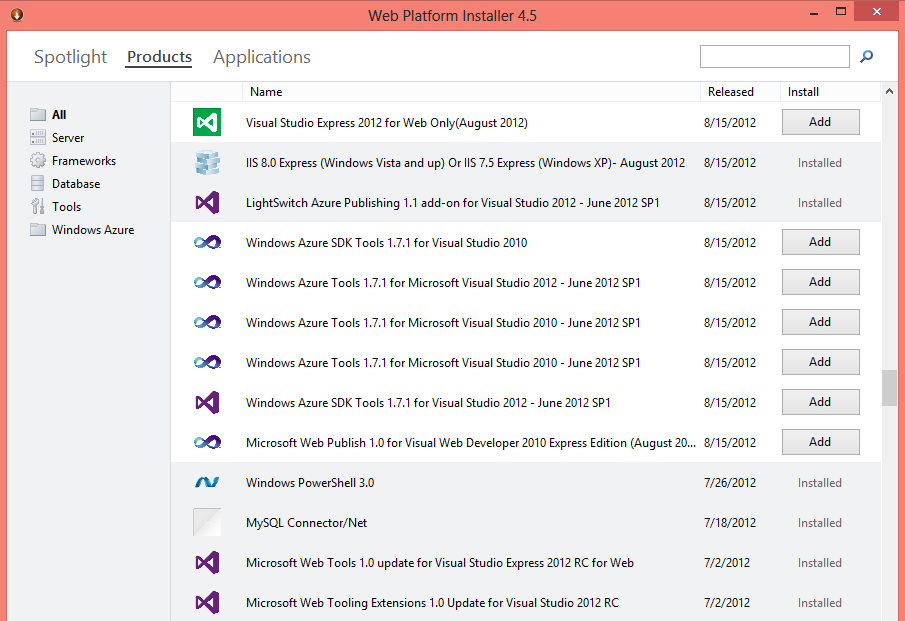 I am really excited about this Microsoft Web Dev kit. They have done a great job organizing all the tools you might need for localhost development. I was looking forward to my free Azure hosting (up to 5 sites) when I downloaded the toolkit. Unfortunately, it requires a credit card to sign up. I'm not a fan of trials that ask for payment information upfront. I prefer a usage-based trial or timed trial instead. If I like the service enough I will upgrade with real money. Instead of testing out a snazzy new Azure account I'll just keep downloading goodies for WebMatrix 3.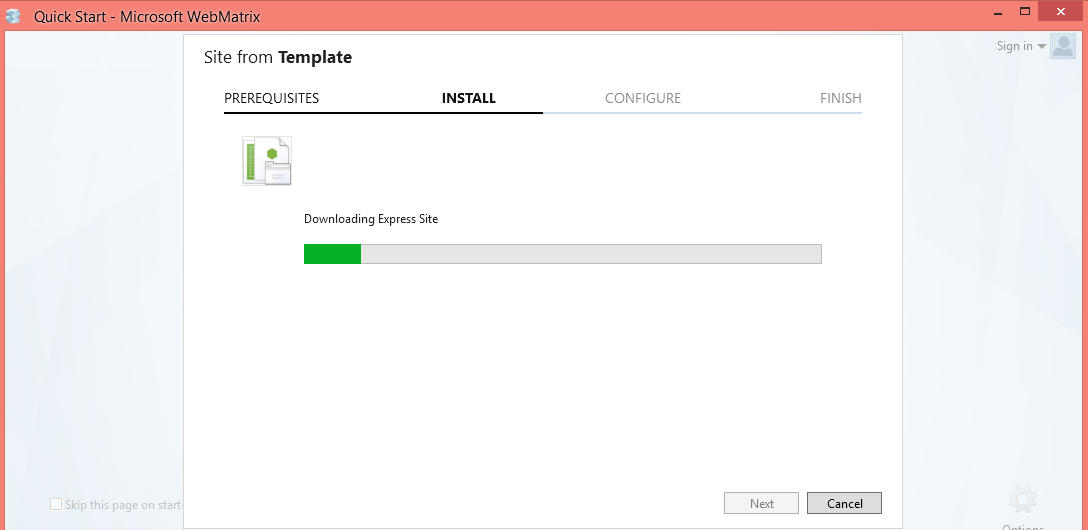 WebMatrix 3 includes a small set of templates for various project types. If you select a site template type that requires additional software you'll be prompted to download and install it. Easy enough, right? A high-speed Internet connection makes this development kit better by shortening download time. Developers who are new to Windows web tools will appreciate the ease of use of these tools. If you've had a chance to use them for production applications I would like to know what you thought of the suite.
July 27, 2013 9:43 PM
The concept of management services for cloud applications and cloud services is an emerging market. The concept is simple, view and manage multiple cloud providers from a single dashboard. Existing dashboards are structured to be simple enough for less technical users while providing enough detailed data and operations functions for more experienced users.
Appcara offers a simple desktop for managing cloud apps across services. The dashboard allows you to manage existing apps, view current costs, and set up new template-based deployments. These templates are called Workloads in the Appcara system. You can choose from existing Workloads or create your own from available components.
Appcara promises you'll be able to launch any app to any cloud service, private or public.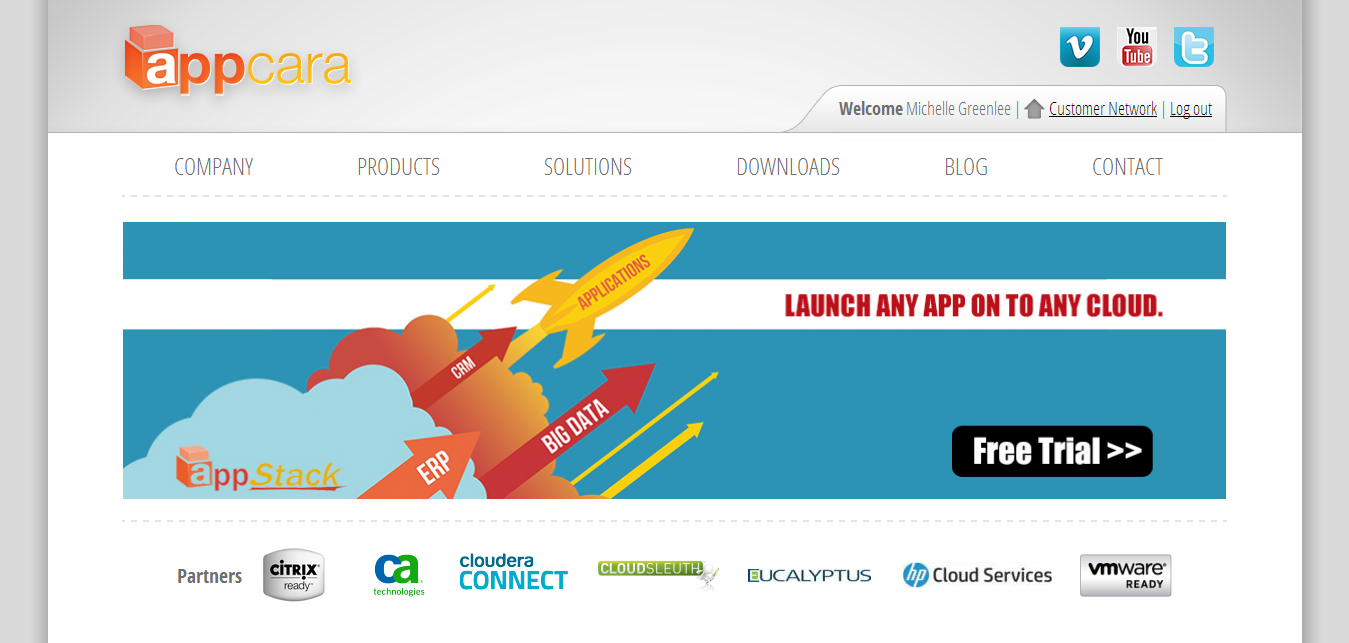 While the service claims to give easy access to deploy in any cloud, the site makes you work to learn exactly how Appcara can help. I found myself reading a lot more than expected. Simple solutions need easy directions for signing up and utilizing their services. After multiple tries I quickly found myself bored with the content. I'm sure there's a lot of good stuff in all the documentation I read but I really just wanted a simple path to get started. The AppStack Express trial requires a lot of personal information to gain access. I would have preferred giving up less for a short-term trial. Trials are approved by hand during business hours. I didn't sign up to test the platform during business hours so the wait time for a licence key was much too long.
AppStack Express supports a variety of cloud services.
Manage applications in one small private cloud profile based on CA Applogic®, Citrix CloudPlatform™, Apache CloudStack, OpenStack or VMware vCloud Director®. A Small cloud profile consists of fewer than five (5) physical servers for AppStack Express.
Manage one public cloud profile based on Amazon Web Services (AWS), The Rackspace Cloud, IBM Smart Cloud, or the HP Cloud
AppStack seems like a promising service but the barrier to entry is a bit steep for the moderately curious. Removing some steps or requiring less information at sign-up would really help. I am pleased there were no requests for billing information early in the buying stage. I prefer a timed trial to a usage-based trial with credit card. When my trial key arrives I can finally take the service for a test drive but that will undoubtedly be during regular business hours next week. By this time I will have moved on in my research, ready to work with another service.
UPDATE August 4, 2013:

I let my impatience get the best of me. The Appcara appliance demo is issued quickly during regular business hours for a good reason. Due to an increase in spam requests and a desire to walk new users through the services, Appcara restricts demo approvals to regular business hours. I got my demo approval early on Monday morning (Jul 29) along with a dedicated customer support person to help with any questions I might have.
---
July 27, 2013 6:45 PM
Do you remember the dreamy days of the web-based desktop? The ideal "webtop", as they were often called, included every important program you might need along with remote access to files. This web-based office might extend hardware a bit by requiring only a web browser to work. All this came before the first tablet computer hit the marketplace (iPad). "Webtop" inventors couldn't have predicted the rise of a fully mobile operating system like iOS. Laptops were still pricey and clunky, not ideal for travel. The "webtop" was an excellent candidate for the travelling business person. You could access all your stuff from any computer with an Internet connection and a web browser.
In this multi-part series, I'll take a look at modern web-based desktop services. They have matured over the years. Each brings a different set of tools and pricing. The discerning early-adopter may recognize some of these providers from days gone by.
ZeroPC
Founded in 2011, ZeroPC is fairly new iteration of the "webtop". The service focuses on connecting all your cloud storage services under one account. The biggest selling point for this service is the ease of connecting all these accounts through a single interface on a mobile device (phone or tablet). It feels a little odd to access the ZeroPC web browser from the web interface.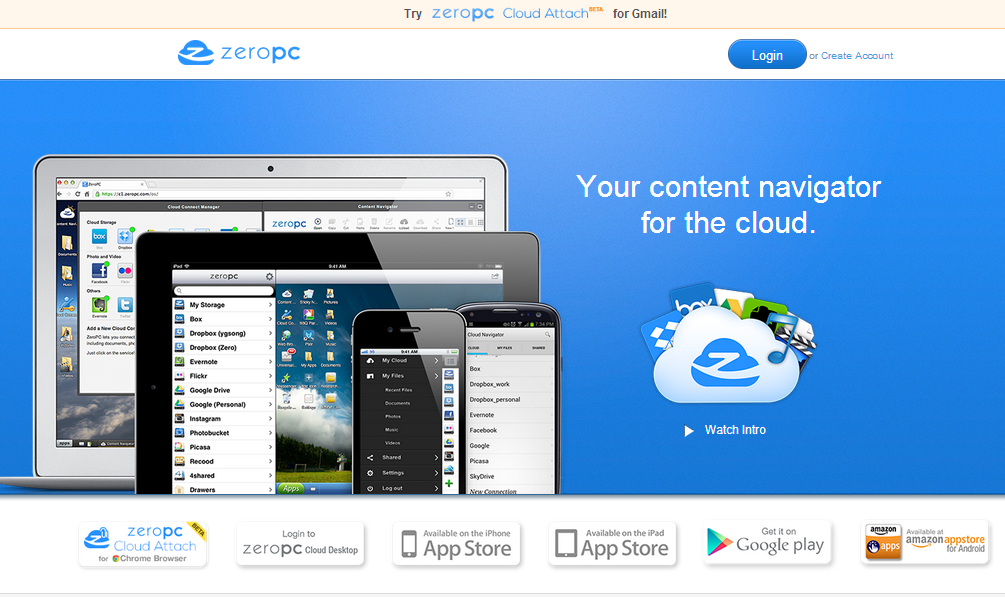 Included with every account are a few productivity tools for email, office programs, photo editing, video playing, and even code editing. The code editor is lightweight and doesn't include an option to save files as a web file. You get options for plain text and office document types. It's not an impressive web-based editor but it could certainly do the job if you needed it in a pinch.
ZeroPC is an interesting service but I had difficulty imagining a use for it beyond my initial login. Paid plans offer cloud back-up for your cloud storage services. Though I didn't try it myself, back-up of cloud storage might be worth the cost. You'll have to check it out yourself. I don't plan to continue using ZeroPC myself since it doesn't solve an issue I'm already having with cloud service providers or old hardware. Good luck and happy testing! I'm curious to read what you think of the service. What use case can you see for this "webtop"?
---
July 25, 2013 7:00 AM
Microsoft
Free online courses are hot right now and Microsoft won't be left out.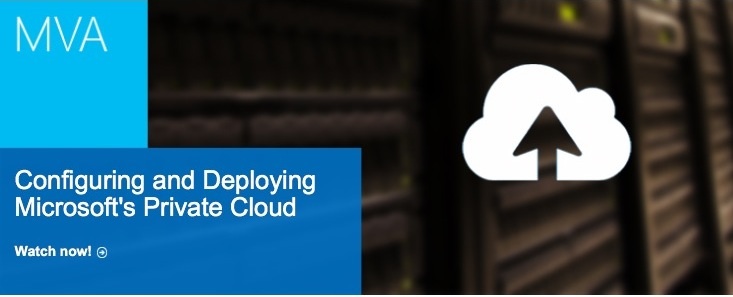 Microsoft Virtual Academy offers a range of free courses. Topics include web development, server management, security, Windows desktop support, app development, cloud, and more. All courses are free and available after a quick registration with your existing Microsoft account. As you might expect, courses tend to be Microsoft-centric. Introduction to the Microsoft Private Cloud is described as:
"​This course focuses on proving an overview of the Microsoft cloud technologies and how using these technologies can help your business build, deploy, and maintain a private cloud. Module 2 will provide an infrastructure overview and how to use System Center 2012 to provision a private cloud."
Courses contain a video and PDF download of the video transcript. A self-assesment is available at the end of each module. Points are earned by watching videos, downloading video transcripts, and taking self-assesments. There's even a leaderboard to track the most active users.
Unfortunately, not all courses are available in all areas. I expected courses would be available in my area but the introductory cloud course self-assessment wasn't. This could have been a glitch in the system (I hope it was).
I tried watching videos from my iPad but couldn't since they require Silverlight to play (which is not available on iOS). This was disappointing. I would rather have the opportunity to complete Microsoft training courses from any device.
The Microsoft Virtual Academy is an obvious marketing tool for all things Microsoft. Some of the written material is stuffy and formal but that's ok. Courses can get better with feedback. Every course includes a handy feedback button.
I'm looking forward to the future of Microsoft Virtual Academy. I hope to see additional improvements in class structure and cross-platform video support. There are rumors floating about saying the Virtual Academy will soon replace Technet. We shall see.
---
June 30, 2013 7:12 PM
Our increasing dependency on cloud services to save all our data, photos, and documents in the cloud has created a whole new approach to personal and business printing.
Several years ago you'd carry a portable printer for your laptop. Web-based apps and services in the cloud present a problem for real-world printing needs. Enter the hero; cloud printing. It would appear the cloud is going to save us all from our collective grounded existence.
Cloud printing, as defined today, connects your device or desktop computer to a web-based print application to a printer via the Internet. This isn't the only definition of cloud printing, as you can imagine. The confusion over the usage of the term cloud is well-documented. Commercial print providers are already adopting the term to describe web-based document management and procurement systems. Companies like Hubcast are perpetuating the misnomer.
Google's Cloud Print was originally developed to provide an easy way for Chromebook owners to print from any location from the Chrome web browser. Cloud printing eliminates the need for specific print drivers for each printer and operating system. Google wasn't the first company to delve into cloud printing. HP developed a line of Internet-ready printers, called eprinters, several years ago with a similar concept in mind. These eprinters connect to your home computer allowing you to print from anywhere just by sending email to your printer. There's an HP YouTube video of a happy baby running full speed down the real highway to make to grandma and grandpa's printer from mom's camera meant to help explain the eprint technology. HP has expanded the eprinter concept into a web-based print service that includes Google's Cloud Print.
Google says this about current trends in printing and web-based apps "We observe two significant trends in computing today, the shift towards web/cloud-based applications and the proliferation of web-connected mobile devices. As these web apps and mobile devices have become more capable, users are expecting the same capabilities from them that they have on their PCs, and printing is near the top of that."
Cloud printing is still an emerging market without common standards. Cortado's Cloud Printing Alliance seeks to change that by partnering with manufacturers of printers, mobile devices, wireless routers to provide any device printing from any location. Cortado is a cloud workspace service provider offering secure storage, collaboration, printing, and more from any desktop or mobile device. An excerpt from an IDC analysis of cloud printing and its current adoption rate, includes this quote from Dinesh Srirangpatna of Hardcopy Peripherals: Software and Services, "Customers are educated about the mobile print value proposition and are increasingly engaging with providers. On the technology adoption curve, mobile printing has moved from innovators to early adopters. Lack of standardization is a barrier for adoption by early majority."
FedEx has taken advantage of The Internet of Things by providing cloud printing services in-store from a Kiosk. Printing from Dropbox, Google Docs, and Box have been available at FedEx since 2011. I believe the FedEx model, in part, is the future of Cloud Printing. Equipment standards will contribute to mainstream adoption. Until then, you can build your Google Cloud development skills. Google provides code samples, detailed documentation, and API reference at https://developers.google.com/cloud-print/docs/overview. The opportunities for developers will be many as cloud printing matures. Do you already take advantage of cloud printing?
---
June 30, 2013 6:35 PM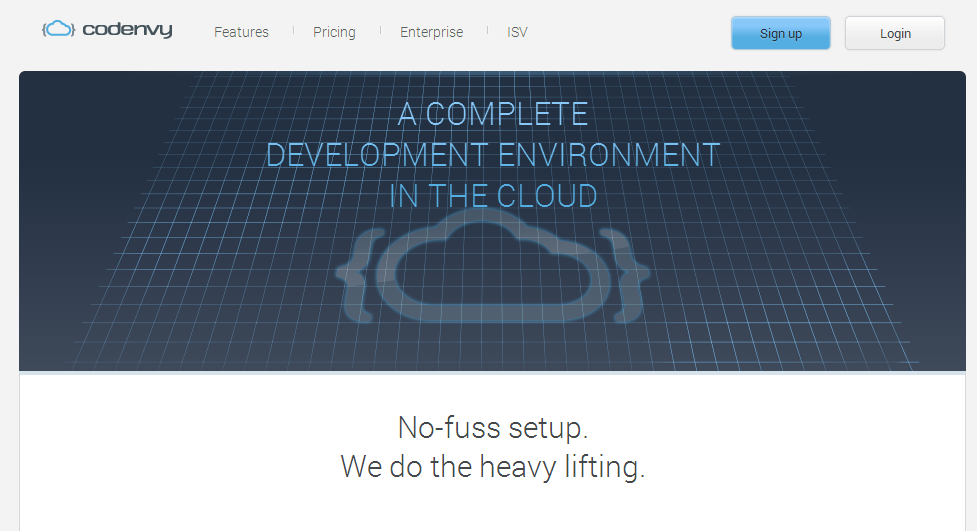 Developers do not readily envision the Chromebook as a development machine. Rather, the Chromebook is seen as a neat idea for anyone but developers. Early this month, Google Developers Live hosted a session with the founders of the cloud-based IDE Codeenvy. The Codeenvy team saw the Chromebook Pixel as the perfect device for it's cloud IDE. Rather than focusing on all the ways a Chromebook isn't like other laptops, they pictured a perfect development environment. Writers can easily work from a Chromebook even when their work requires the use of a proprietary file type like Microsoft Word (yes, that's still a requirement for some publications).
In this hour long presentation hosted by Louis Gray, Codeenvy founders Tyler Jewell and Stevan Le Meur walked developers through their cloud-based IDE. Codeenvy is more than an online code editor, it gives developers a complete build environment capable of compiling, testing, packaging, debugging, and even deployment. In addition to all these features, Codeenvy allows you to clone your entire work space to share elsewhere should you need assistance or to reuse on another project. Workspaces are created based on the language and PaaS support you choose.
Codeenvy supports a variety of popular languages, frameworks, and PaaS platforms.
Languages
Java
PHP
Python
Ruby
JavaScript
HTML5
Frameworks
JSP
Spring
GWT
Node.js
Android (beta)
PaaS
Amazon Web Services (AWS)
CloudBees
Cloud Foundry
AppFrog
Google App Engine
Heroku
OpenShift
Teir3
Repositories
I agree with Gray's assessment of the future of cloud development tools like Codeenvy. Cloud-based development will become as normal an expected as the desktop environment thus far. The addition of Android framework support gives the powerful platform an edge over other, newer browser-based Android development environments. The Codeenvy product itself is mature with at least 4 years in production since its inception.
As we move more daily tasks into the cloud we must also be thinking of solutions to the Last Mile problem. Cloud services can only be good if you can actually use them from anywhere. I hope to see both a full functional Android development kit in the cloud and the broadband problem solved in the near future.
---
June 30, 2013 5:08 PM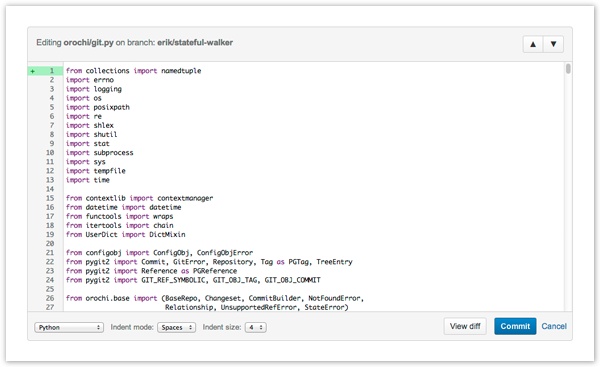 Last month, Bitbucket announced a new cloud code editor for its users. No longer do small (or large) changes require making changes locally then committing those changes. Now you can easily edit code onscreen from nearly any browser.
The online editor comes complete with a proper code editor display. It sports line numbers, automatic syntax highlighting, indentation, and a handy diff tool. Change commits and reviewers can also be done right from the browser.
If you have never worked with Bitbucket before, you'll need to create an account and read the getting started tutorials. Bitbucket doesn't support the creation of new files so you'll need to create a repository and commit your first project files before you can edit in the cloud. You can choose Git or Mercurial for your repository.
Github do not include a cloud-based editor. However, project code can be edited with another cloud-based editor like Cloud9 or Codeenvy. We're already seeing an increase in available online code editors. This is evidence of a coming revolution from the desktop IDE on the horizon.
Do you know of other cloud-based editors available with project hosting services like Github? What do you think of the cloud-based IDE revolution? Do you see a future for code editing right from the browser? Will the desktop IDE market thrive if users choose the cloud instead? Let me know what you think in the comments below.
---
June 29, 2013 12:10 AM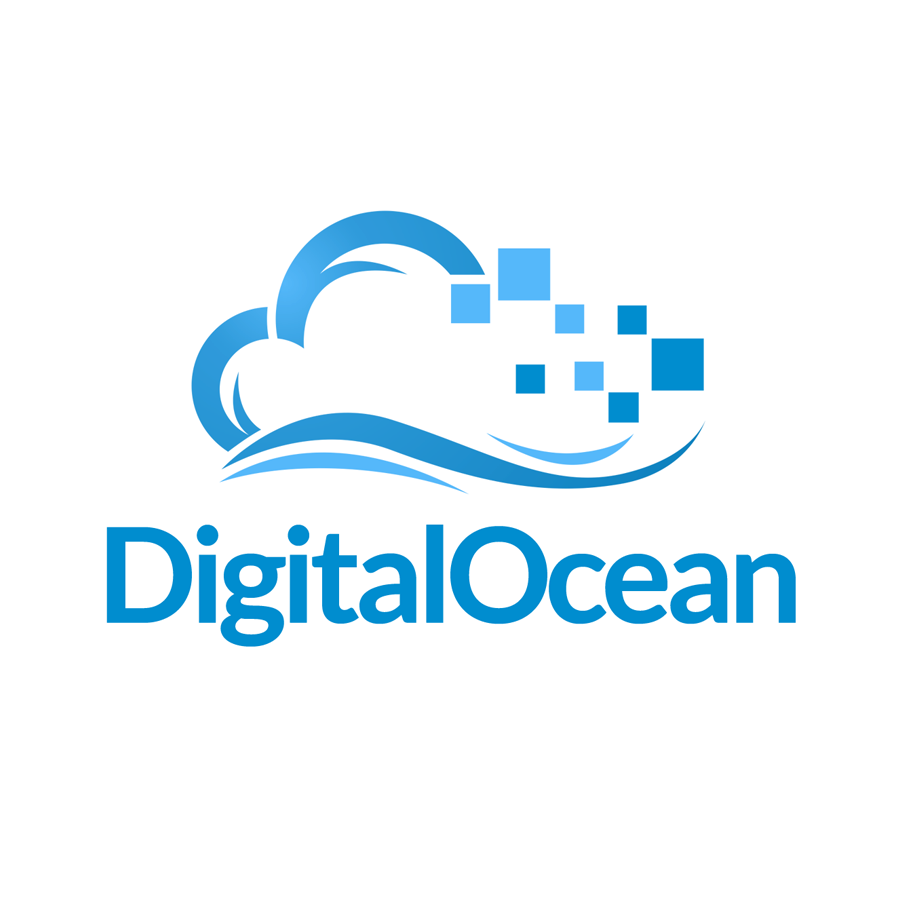 Our desire for instant gratification presents itself in many areas of our lives. Now you can deploy an entire virtual private server in under a minute. Digital Ocean wants to make a splash in the VPS hosting market. They offer solid state drives (SSDs), one-click server deploy, and flexible billing. Digital Ocean defines their cloud hosting service as "a method of configuring servers in a flexible way to allow for the most affordable, scalable, and reliable web infrastructure."
Offering simple, fast, and flexible options is always better than serving up complexity. Digital Ocean promises low pricing that starts at a reasonable $5 per month (a common charge for economy shared hosting). Account set up is very fast. You'll be registered and choosing your server and applications within two minutes. After setting up either a recurring payment method or one-time Paypal payment your instance can be created within 55 seconds. Ruby on Rails, WordPress, and LAMP are available as one click installs.
Available Operating Systems
Fedora
Ubuntu
CentOS
Debian
Clone your favorite settings with ease. Additional Droplets (servers) can be created quickly from Snapshots of your existing instances or from full backups.
Plans priced at $5 per month will get you root access, 512MB of memory, 20GB of storage space, and 1TB of transfer. There are no contracts or long-term commitments. Scaling for price and capacity is available from your account dashboard. Every plan comes complete with their fast response support team. My first ticket was answered within 30 minutes. This response time may not be typical.
Since I'm looking for a new host for my long-neglected WordPress site I asked about features available to WordPress sites. Digital Ocean does not provide managed hosting options for WordPress, they are just the web host. Since I have managed a number of WordPress sites for many years I don't want to continue with mundane manual updating of the core or plugins. I've also grown tired of securing all those sites. I need a managed WordPress host so Digital Ocean isn't right for me but it might be right for you.
I enjoy reading great documentation and using simple interfaces like the dashboard Digital Ocean has created. This company offers a clean user interface and fairly clear options for developers. If you've used Digital Ocean I would like to read about your experiences with the company. Let me know what you think in the comments section below.
---
May 31, 2013 11:16 PM
The future of gaming is now and it's only available on Google Chrome, not Microsoft Internet Explorer, not Mozilla Firefox. In my last post, I wrote about combining multiple Google Cloud Platform services to create scalable cross-platform games. Google is not only betting on the future of cloud based games, they are creating all the pieces to make it so.
This demo presented at Google I/O earlier this month illustrates the ease of play across devices. Even casual games like the one featured can quickly become popular because everyone can play no matter what App Store they typically use. There are no device-specific quirks or bugs to work through. The dream that is develop once, deploy everywhere becomes reality for developers creating games for Google Chrome.
Mobile games from the web, complete with stunning 3D graphics, is now possible with WebGL and Google Compute Engine. Device agnostic games played on Internet-connected mobile devices will be the the new trend in gaming.
Mobile devices connected to a single App Store were once thought to be the future of the web. Google Chrome games across devices proves the mobile web will not continue to be defined by device screen size and App Store access.
---
May 31, 2013 10:38 PM
Google Cloud Platform opened for all during Google I/O earlier this month. With this grand opening came a detailed look at game development and deloployment on Google's Cloud Platform.
The I/O session entitled Intense Gaming covered the many uses of its services as well as success stories from game developers. The start of session includes a breakdown of Google Cloud Platform services. Google's suite of cloud services enables cross-platform, realtime activity that is easy to deploy and scale. It's an impressive look a the technologies Google is built upon.
Game developers are already leveraging App Engine, Big Query, and Compute Engine. The innovation is impressive.

Chances are good many readers didn't have the opportunity to attend this talk at Google I/O. If you were unable to attend this session you should take some time (49 minutes) to watch the archive. This is an excellent introduction to Google Cloud Platform and its many uses. As you watch you may find yourself imagining new games for the purpose of using this suite of tools.
For a more detailed look at game development you can watch Google sessions from the 2013 Game Developers Conference: Learn How to Build Games.
If you've developed a game with Google Cloud Platform tools I would love to read about it in the comments section below.
---