---
December 31, 2013 8:53 PM
Job descriptions for web developers tend to contain a long wishlist of skills competency employers hope to find in quality candidates. Mastering every programming language on any "best of" list can prove to be a monumental task for any developer. Choose instead to master languages that have held steady in popularity and stability year over year.
Popular development languages I believe will remain popular and in-demand for 2014 (in no particular order):
Learn a new language or suite of languages during the new year and upgrade your career. Demonstrate mastery by completing sample projects that showcase your stregths with a particular language and post them online. Develop using a cloud-based IDE then host projects on a cloud hosting service.
Sources:
15 Programming Skills Most Coveted by Employers [ReadWriteWeb]
Best Programming Language to Learn in 2013 [Udemy Blog]
10 programming languages that are in demand by employers [Computer World]
What are the most popular programming languages? [Slashdot]
December 31, 2013 5:05 PM
Remember when vinyl records became hip again? Remember that time Amazon went offline? Gmail? Remember when tape back up died off? Oh wait, it hasn't yet… Digital rights management in the 21st century makes physical back up more appealing in some circumstances as do sudden closures of online file storage and sync services.
Symantec is closing Exec.cloud storage and sync service. Announced November 2013, the service will stopped accepting new upgrades and service sign ups on January 6, 2014. Current users have until January 6, 2015 to save hosted data. This is a considerate time limit. Subscribers have time to move data yet Symantec offers no Symantec-branded service to replace Exec.cloud. Surprisingly, they are shutting off the service and encouraging subscribers to go elsewhere. I always hope closures like this are met with an announcement of a new service complete with data migration.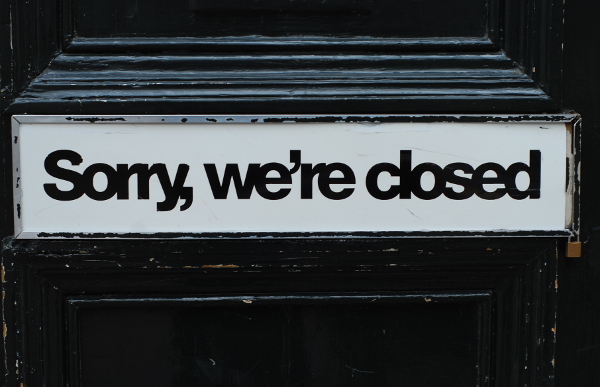 Even small operations must consider the possibility of a sudden disruption in cloud storage services. Hopefully, your disaster recovery and contingency plan already contains answers to the following basic questions.
Who owns your data stored in the cloud across services?
When was the last time you read a Terms of Services agreement beginning to end?
What happens to your data once a service dissolves?
Where will your data go prior to a service closing?
How long will it take to move all your data and at what cost? Does the closing schedule offer enough time to migrate elsewhere?
Is offline local storage an option?
These questions are only the most basic. A detailed disaster recovery template is available free from Search Disaster Recovery (an ITKE sister publication).
Happy migration preparation in the New Year!
Photo credit: salssa
---
December 31, 2013 4:08 PM
Cloud-based development tools have improved during 2013. Codenvy is among the leaders in browser-based code editors making huge strides through the year. Improvements seen this year can only mean next year's best cloud IDE will be even better. To help with these future improvements, I offer my wishlist of tool features.
Hybrid Workspace – Cloud-based IDEs are great for fast and stable Internet connections but can be troublesome in low bandwidth environments. This is where a hybrid workspace would be handy (at least for smaller projects). Real-time file sync and updating to a local hard drive seamlessly while allowing work to continue in the browser seems like a nice addition.
Super Strength Security – Protecting data from would-be snoopers like a certain infamous governmental-agency-not-to-be-named would be a huge improvement. The technical capabilities required to pull off such a task are likely far outside the budgets of companies offering cloud-based IDEs but the possibility remains exciting.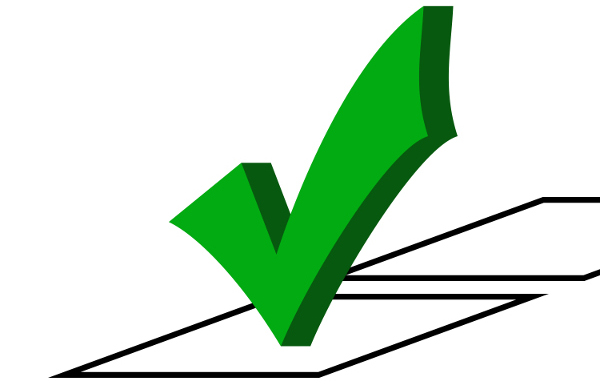 Flawless Mobile Device Support – IDEs like Code Anywhere provide mobile support but I would like to see many more offer the same. I realize keeping up with mobile device specs and code current is an entire project by itself. Keeping all these devices working flawlessly is another. Offering solid mobile device support especially for tablets would be great.
Expanded Cloud Hosting Support – Adding a huge list of oft-used cloud hosting services would be excellent. Keeping pace with popular services and customer demand to connect with each is a mighty task. Expanding from a select three or four could give developers more reason to choose the IDE with the most flexibility.
Cloud IDEs are still quite new. I can't wait to see what providers offer developers in 2014. I can only hope they might include at least one item from my potentially impossible wishlist! Have you any requests of cloud IDEs for 2014?
Image credit: bredmaker
---
December 30, 2013 10:36 PM
Cloud hosting services are a growing market as this blog can attest. Cloud-based development tools and hosting are a perfect match. Today, we'll take a look at PHP Cloud hosting. While not new in age, it may be new to you.
Major selling points for PHP Cloud include collaboration, detailed audit trails, multiple user accounts, application monitoring, and email alerts. Zend's PHP Cloud hosting is built upon Zend Server Enterprise architecture.
PHP Cloud is currently in beta and has been since at least 2011. During this beta, users can create two containers. Each container can host multiple applications. Quick deploy applications are available within minutes of creation. Each application is given its own Git repository.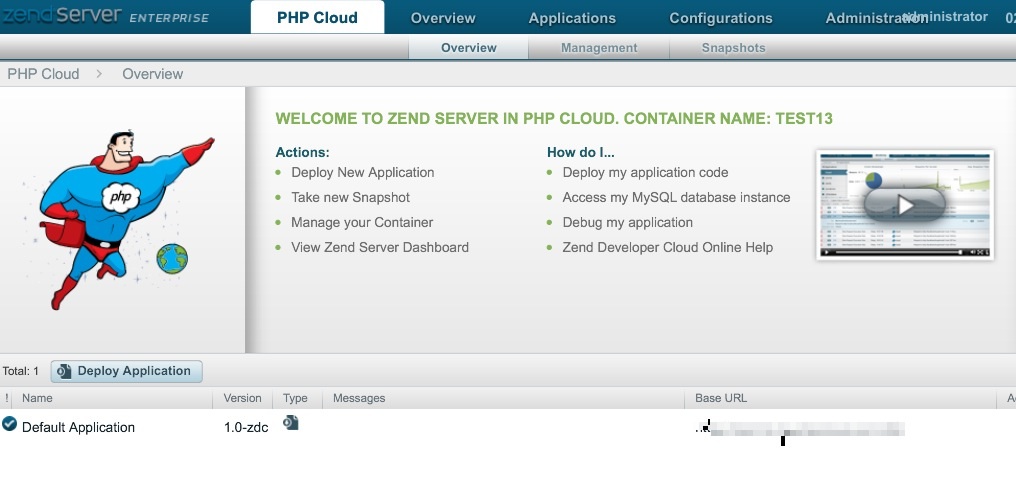 PHP Cloud organizes instances by container. A container holds a collection of applications. Applications can be cloned from existing Git repositories or uploaded. Quick deploy is available for select applications:
Joomla
Drupal
WordPress
PHPBB
Magento
Zend Framework is included in the quick deploy options provided.
PHP Cloud doesn't have its own browser-based editor or cloud IDE. It's compatible with major IDEs like Eclipse and Zend Studio (of course). Zend Studio users get have access to automatic upload and code sync. If you prefer working with Codenvy, it too supports Zend PHP Cloud.
PHP Cloud promises easy deploy to any other Zend server.
"When you're ready to push your app live, because you have already developed on Zend Server, you can run on any of the cloud services that support Zend Server, such as Amazon and IBM SmartCloud. Don't want to run in the public cloud? Deploy your app on-premise using Zend Server."
PHP Cloud hosting from Zend isn't exactly new but it is an worthwhile offering. Click and deploy with ease during the ongoing beta. Test your PHP apps in the Zend cloud for free. As always, I'm curious to hear from current users. Let me know what you think in the comments section below.
---
November 30, 2013 11:55 PM
The cloud-based version of Scratch was released in March 2013. The M.I.T. team behind Scratch has added a layer of server-stored data to its impressive platform. This new cloud storage option is called Cloud Data.
Using the Cloud Variable feature allows Scratchers to create games displaying high scores, opinion surveys, and more. Enabling the Cloud Data storage feature is as easy as clicking a checkbox on a Scratch programming block. No, it's exactly that easy.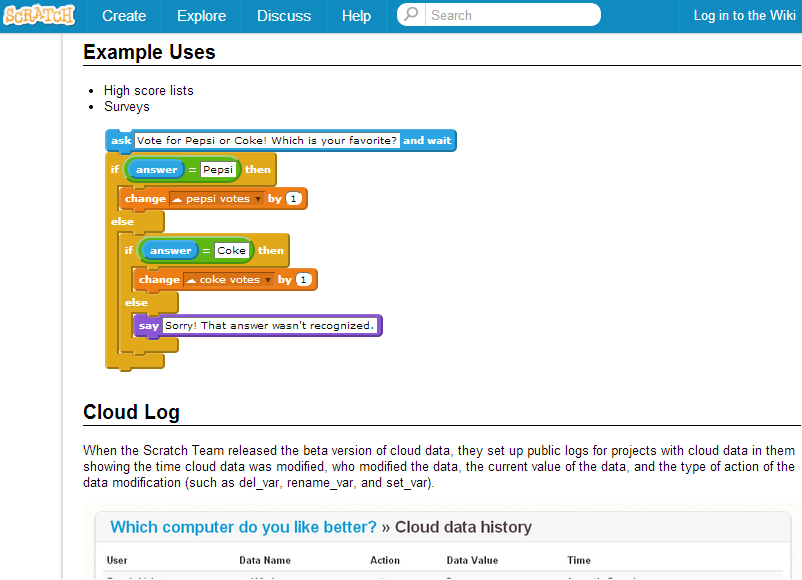 Handmade games are popular on Scratch, offering a way to display high scores is an exciting addition for active users. Cloud Variables enable data sharing based on actions taken within a Scratch project. Actions can be recorded for activities across all parts of the project or from a designated layer. I haven't tried using Cloud Variables myself but my kids tell me it's an exciting feature. One is planning a multi-player game to take advantage of this handy feature.
There are limitations on this first iteration of Cloud Variables. Only ten variables are allowed per project and they can only contain integers. This limits the imagination just a bit in terms of multi-player games. Limits are also placed on the number of concurrent Scratch users – for now. Multiple Scratch discussion threads contain optimistic discussions of a future where Cloud Variables are unlimited and can contain more interesting data than simple integers.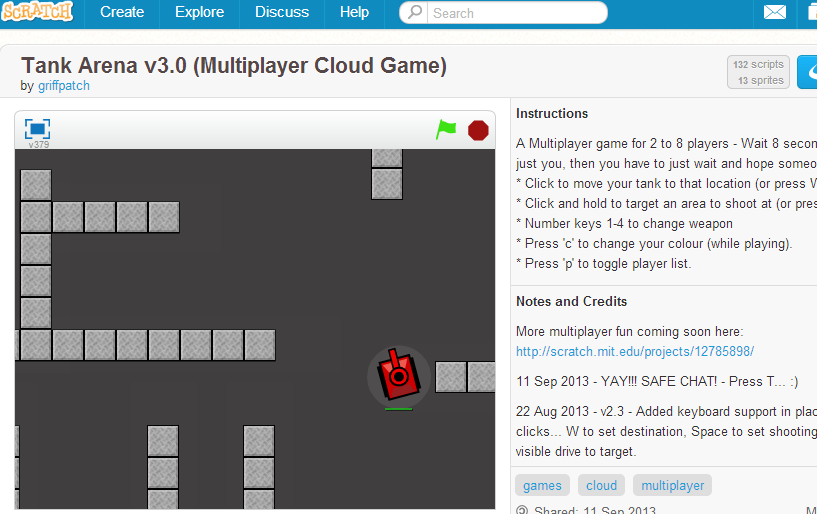 ---
November 30, 2013 11:14 PM
Floobits is a real-time remote pair programming tool that can connect you with your collaborators from the comfort of your desktop IDE or from the browser. The concept is similar to the collaboration editor found at CSS Deck but offers even more for developers. Secure, shared consoles are among the features.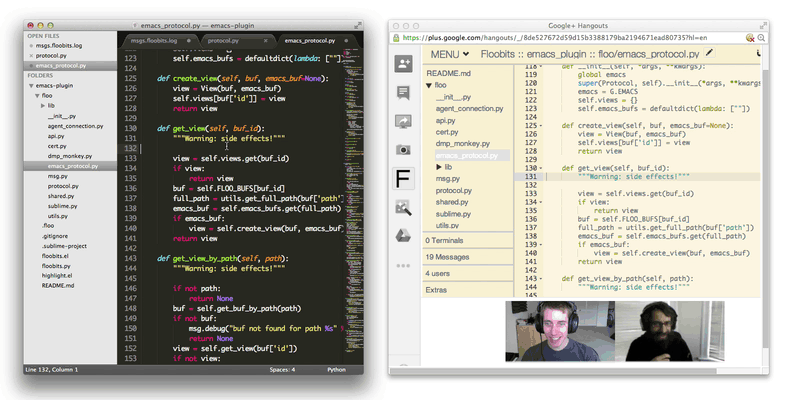 Image credit: Floobits.com
Integrated chat and Google+ Hangouts offer additional live interactions not available on other collaborative editing platforms (that I have tested). These two handy features can also give employers reason to consider that remote working arrangement you requested six months ago. Floobits doesn't quite say so on its website, but it offers a unique collaboration without the noisy overhead of aimless coworker interruptions in fifteen minute intervals.
Developers can use the browser-based editor or plugins built for SublimeText, Emacs, and Vim. Created to solve a problem for its own developers, this tool succeeds where others failed them. Nothing was good enough so the founders created Floobits. I would like to know where they came up with the name because it doesn't scream collaborative code editing platform to me.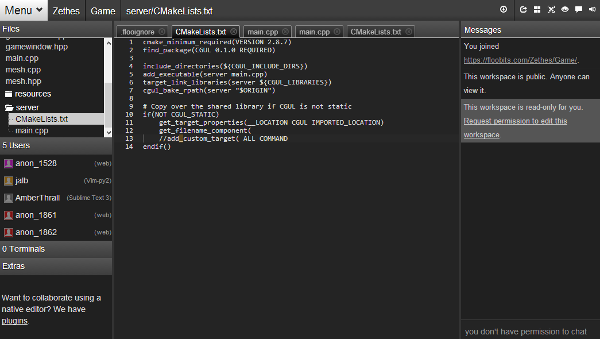 Floobits is a young start-up out of San Francisco. It looks to be about an year old in its current iteration. The product's website offers little information about the platform's age. Paid plans are available for teams as is an enterprise version of the software. There's no mention of support offered for each subscription tier but at least they have a business model that already includes paid plans. They clearly say they have incentive to offer a great product because customers are paying. This is a refreshing approach.
Floobits collaboration is a unique offering that could easily be acquired by a much larger company. Floobits realizes this and pledges to do all they can to ship a full version of the platform for existing users should the company be acquired. It's a pledge not a guarantee but at least they address the possibility. Given the very young age of the company, it's doubtful many companies would commit to the platform without know its future. Even at this very young age, Floobits is an impressive collaboration tool. I look forward to the future acquisition of its fascinating technology.
---
November 30, 2013 5:22 PM
Microsoft
Tis the season of thankfulness, kindness, and the everlasting joy of code editing right from the browser. I am thankful for every hour spent creating these magnificent tools from which I have taken many screen shots and tested on multiple occasions. Your functions, be them many or few, I find fascinating. Broadband connection notwithstanding, I find joy in your simple execution and complex backend computations.
I have test multiple cloud-based development tools and services this year. These are the most compelling thus far (with only one month left in the year):
That's my list, what's on yours? I'm looking forward to a mind-blowing 2014 in the cloud computing. If Murphy's law hold true, the cloud-based development tools of the future will be even better than we imagine.
---
November 30, 2013 4:47 PM
Stephen Wolfram announced a new symbolic programming language in mid-November. The Wolfram Language is a general-purpose knowledge-based language that is modular and easy to learn by Wolfram's standards. Traditional computer programming languages precisely separate code from data. The new Wolfram Language will combine code and data in the same language set giving developers more options to create dynamic and engaging interactive applications.
This new high-level language will take advantage of automation though the unified system that makes possible Wolfram Alpha. This background system will help run programs across multiple platforms from desktop to mobile devices. Wolfram predicts his company's new language will further blur the line between programming and simple data input.
"Just as the lines between data, content and code blur, so too will the lines between programming and mere input. Everything will become instantly programmable—by a very, wide range of people, either by using the Wolfram Language directly, or by using free-form natural language."
The language, not yet released, will also be available from the cloud. The Wolfram Programming Cloud will be a platform where developers can create programs in the cloud and deploy in the cloud through instant APIs (yes, the Wolfram Language promises instant API creation), form input, or whatever you can imagine. Private and public clouds will be supported. You can even deploy as a standalone desktop application if you like.
The Wolfram Language will also come with a special Programming Playground and Course ware for learning the language itself. Naturally, course ware will be built with Wolfram Language. All of this and more will be available in the months ahead, according to Wolfram's post about this history-making language.
Wolfram Language is not yet available but draft versions of its documentation are posted as a preview. Developers can peruse the docs for an overview of syntax and functions. As of November 21st, Wolfram Language is available on Raspberry Pi.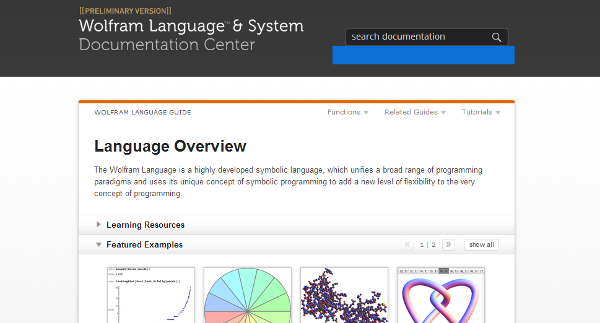 The as yet unreleased Wolfram Language may well be the beginning of a new future in computer programming. Stephen Wolfram has been hard at work on pieces of it for the better part of 25 years. This new language may be new to programmers but its roots are mature.
---
November 1, 2013 1:45 AM
Australian eHound offers an impressive geo-location database service in the cloud. The database backend is managed by eHound behind a well-designed user interface. Even non-technical users can upload and edit location data with ease from a spreadsheet.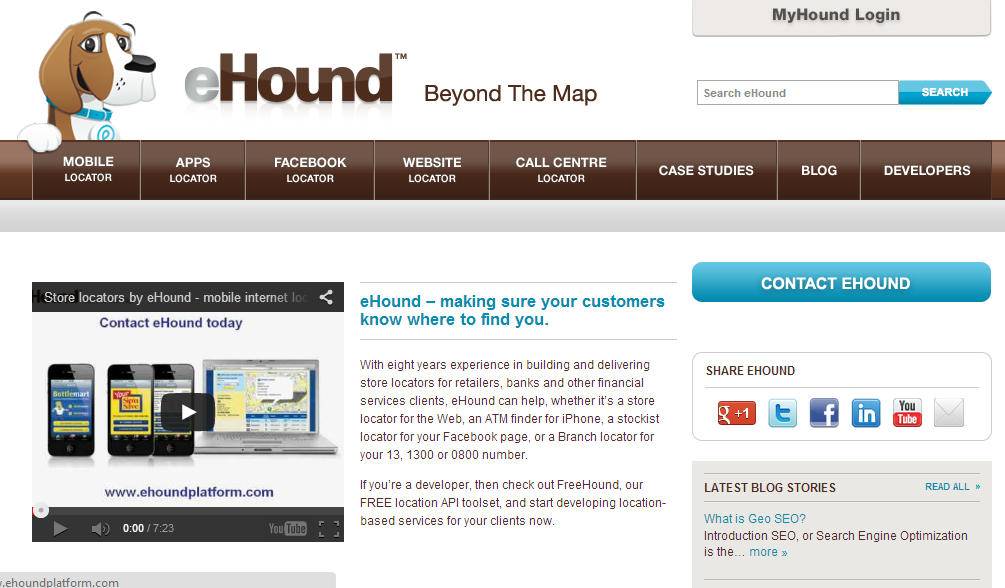 eHound is perfectly suited for restaurants with multiple locations and retail store locations. Developers can request access to eHound's free developer proximity locator API. Map data isn't limited to Google Maps, Bing is also supported.
Location data can be edited by uploading an updated spreadsheet or directly from the dashboard. The data base service is flexible enough to allow multiple custom fields in addition to standard location data and geo coding. Customers searching for locations can do so from an eHound app for iOS or Android. I haven't had the opportunity to test either app yet but have both used and edited a restaurant locator database for a client. The data management dashboard accepts plain text and some HTML.
There's not much else to say about this ingenious store locator service in the cloud, it just works.
---
October 31, 2013 11:54 PM
Microsoft Office on any non-Windows mobile device will probably never come to fruition and that's ok. Microsoft's decision to keep Office out of the mobile device has made way for a number of perfectly workable solutions like CloudOn. Today, we'll take a look at Cloud My Office.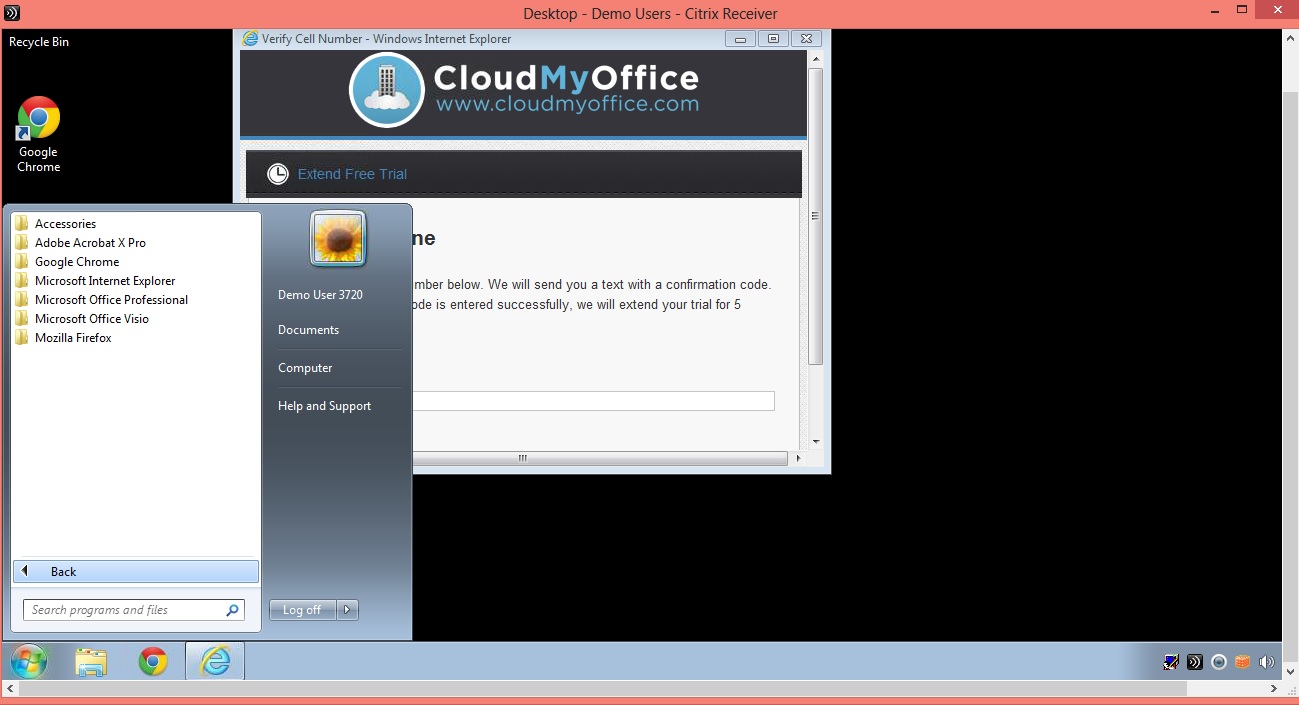 Cloud My Office is a hosted virtual desktop provider who offers a full Microsoft Windows desktop environment right from the browser. Virtual desktops have a reputation for being sluggish and difficult to use for any real work. Cloud My Office has created an environment that works well even in low bandwidth situations. I tested the hosted virtual desktop on a slow connection that was around 1.5MBps. This pitiful speed was achieved by accessing a network that aggressively throttles bandwidth in the evening hours. Connecting to the Cloud My Office virtual desktop was quick and painless despite the pitiful Internet speeds.
There are few requirements to run Cloud My Office. The system requires Citrix Receiver. Once you're up and running the receiver, connecting to Cloud My Office is easy.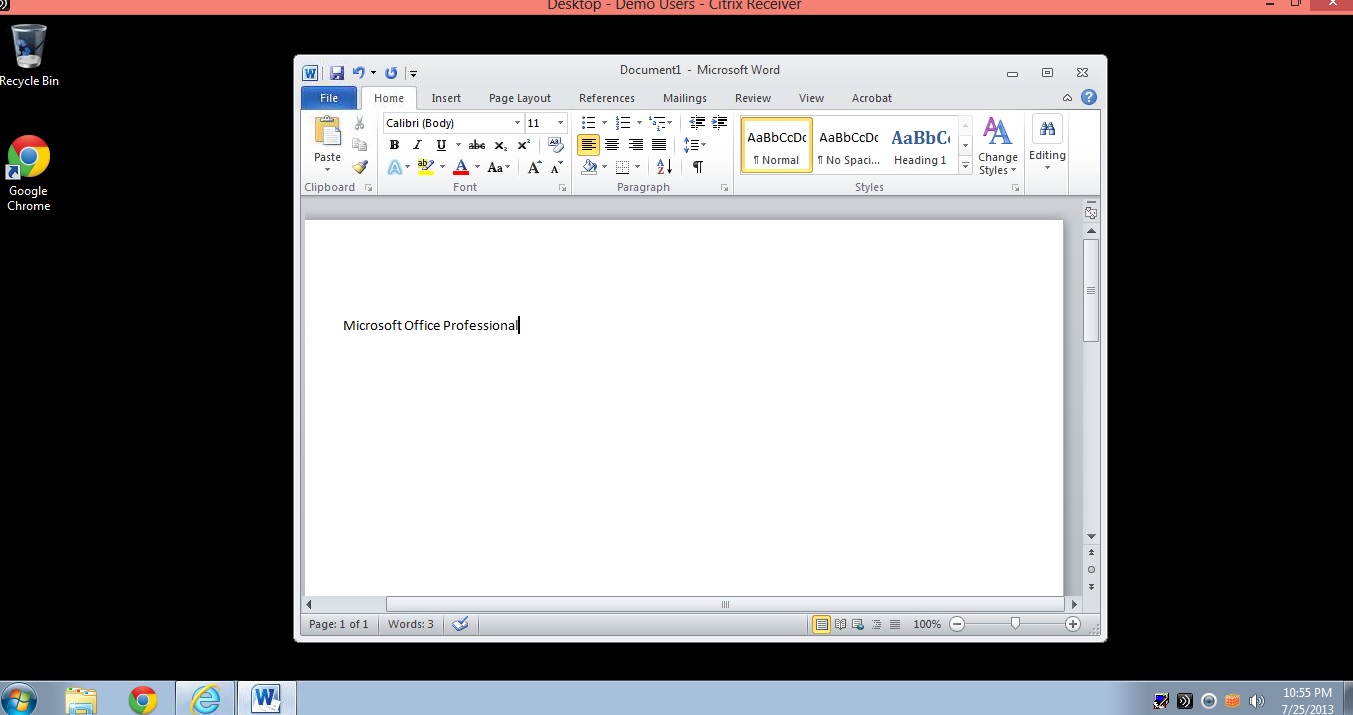 When testing the Windows 7 configuration, I found the demo desktop to be responsive. It worked well right from the browser just as promised.
Security is built in to the Cloud My Office configuration. They offer enhanced security for all your data:
We back up all your files in real time to ultra-redundant RAID 10 hard disk arrays, and we protect our network with a series of Cisco Systems firewalls with 256 bit encryption. Off-site data backup is available, as well.
Cloud My Office allows users to install most any software needed and keeps Windows and Office updated in the background. Users aren't responsible for any security updates or patches. Access to your virtual environment isn't limited to desktop computers either, Cloud My Office is available from mobile devices too.
I never expected a hosted virtual environment to work so well. Cloud My Office is an impressive service that delivers.
---