---
June 30, 2014 10:33 PM
Google Chrome
,
Internet Explorer
,
Web development
During my early days of web development, I quickly learned not all web browsers rendered the same output. Internet Explorer almost never rendered the same output as other browsers. Firefox offered speed, stability, and development tools. Internet Explorer offered many extra hours of work and headaches with each new project. Choosing my default browser was easy. Remembering to test in every version available was also easy (and required).
Modern web development requires much more than testing on multiple browsers. Now, web developers must test multiple browsers across many devices to be certain a site renders as intended consistently. Years of cross browser testing have prepared us for the multi-device world. Testing services like Litmus and Appurify have emerged (and been
acquired by Google apparently).
All that testing of years past have spawned better development and debug tools within the browser. Google set out to make a better browser to help make the web a better experience. They hoped to gain more Google product users in the process. Internet Explorer and Firefox were battling for the widest install base when the first version of Google Chrome was released (in beta).
Fast forward to the present. The Browser Wars of the 1990s and early 2000s are hardly mentioned these days except to ask if anyone won or if the battle is ongoing. No treaties were signed and the user is the clear winner. Web developers get an even better experience when they can test with built-in tools. Google built a better browser with more tools.
Google Chrome Dev tools are a quick and convenient solution to website testing. They're built-in and ready to use. Google even offers a free course on how to use them. Web developers of the 90's and early 2000's only dreamed of tools like this. I can't help but feel the browser wars of old helped shape our tools of today.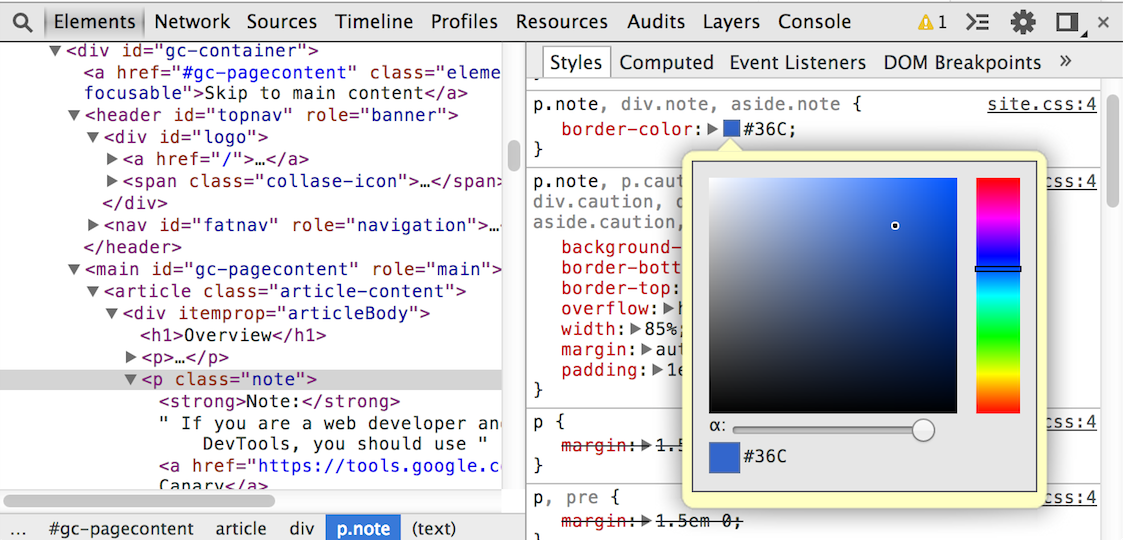 Image by Google
Tip: Chrome Dev Tools support multi-cursor select!
via Addy Osmani on G+
June 29, 2014 6:51 PM
Android
,
Google
Last week's Google I/O conference is said to have less flair and big releases than the 2013 event. There was something about an updated version of Android and a smart accessory. The most interesting release was Google Cardboard. The product name sounds like an April Fool's Day gag but it's a real (and available as an open source project). Built to bring virtual reality to anyone willing to gather supplies and assemble the device. Google open sourced virtual reality!!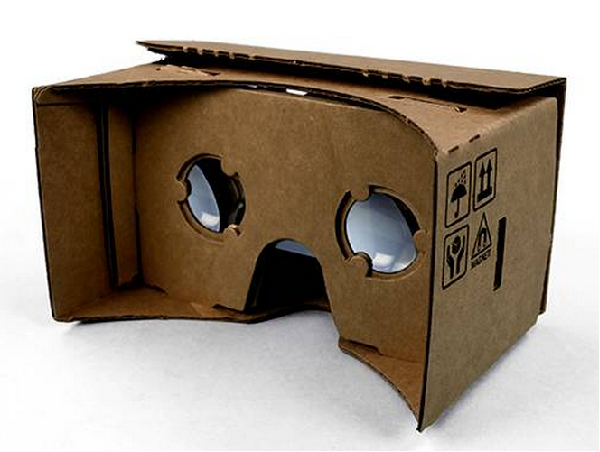 Soon after the official public release, an unofficial kit was made available for sale. DODOcase either had priority knowledge of the release or an amazing response to the market to get this kit together so quickly. You can own your own personal virtual reality kit for just $20. This deal is probably only good for a limited time so act fast if you're not fond of slicing cardboard by hand.
The project is part novelty and part sales tool to entice developers. Developers can build virtual reality projects using the new virtual reality library for Android. What other company is better positioned to bring virtual reality to the everyman? Other attempts to bring such technology to regular consumers haven't quite hit mainstream popularity. I'm curious to see what developers build in the coming months. Will they develop in the cloud?
Update 6/30: YES, developers will be able to develop Cardboard apps for Android in the cloud. Codenvy will support the new Cardboard VR Android library.
See also: How to Build Google Cardboard Glasses From a Pizza Box by Todd Weiss.
---
June 28, 2014 8:20 PM
CSS
,
HTML
,
jquery
,
Web development
Parallax scrolling is the hot new animation feature for modern websites. Animation effects are created client-side using HTML, CSS, and jQuery. Setting the right amount of scroll on a particular element can get tricky. You can use an existing parallax library or go code free with Webydo (parallax scroll is still in beta). Need an example? See the breakdown of a new Saucony shoe.
The Webydo platform gives designers (and developers) a simple user interface to set up parallax scrolling for a particular element. A few clicks sets the scroll animation. You can repeat on multiple elements for a more impressive effect (or to really wreck a decent site).
As a web developer, I am weary of any web based tool that claims to be easy to use even for non-technical folk. They are rarely easy to use and usually difficult even for techies. Webydo is a surprising platform that delights by providing a product that performs as advertised.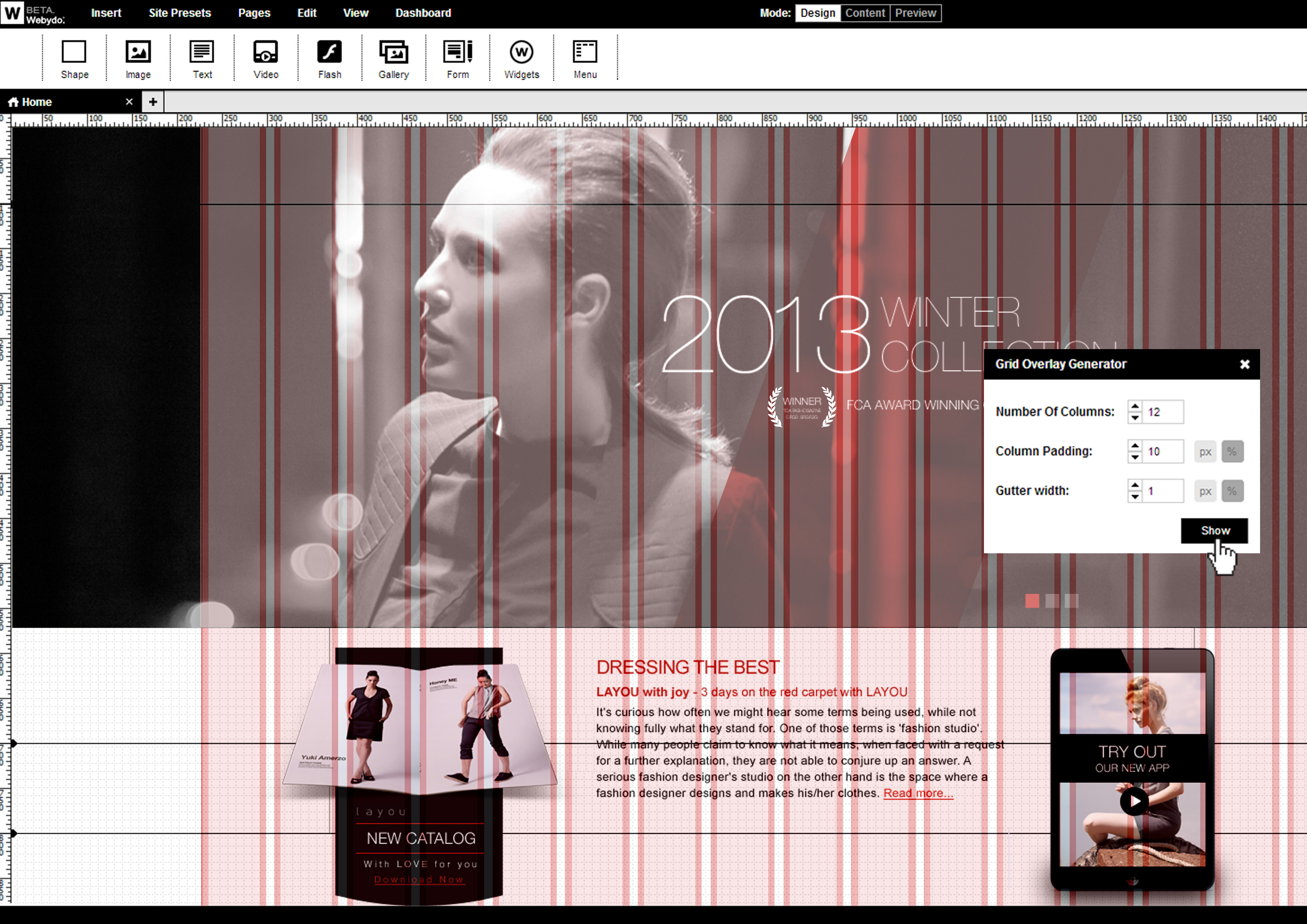 Still in start up mode, the Webydo closed a $7 million round of funding earlier this week. They have raised $9.7 million total. This company isn't just another web service. They work with designers and developers to continually improve the product. They offer an easy to use web interface and cloud hosting. There are plenty of other web based editors but they are not created equal. Webydo offers the most advanced yet easy to use drag and drop editing tool I have seen. The new parallax scrolling feature is just one of many great innovations to come.
---
June 8, 2014 5:45 PM
Cloud development
,
Microsoft
,
Microsoft Visual Studio
Microsoft wants developers to adopt cloud-based development, testing, and deployment. You may have heard Visual Studio is available online now. Visual Studio Online is free for up to five team members.
Microsoft Channel 9's Breakpoint shows developers how to code, manage, test, and deploy in the cloud. Episode 6 covers the finer points of on-premise and cloud-based deployment. Tune in to the hour long show for a deeper look at Visual Studio Online and the Windows Azure cloud. This episode also offers a closer look at the Application Insights product.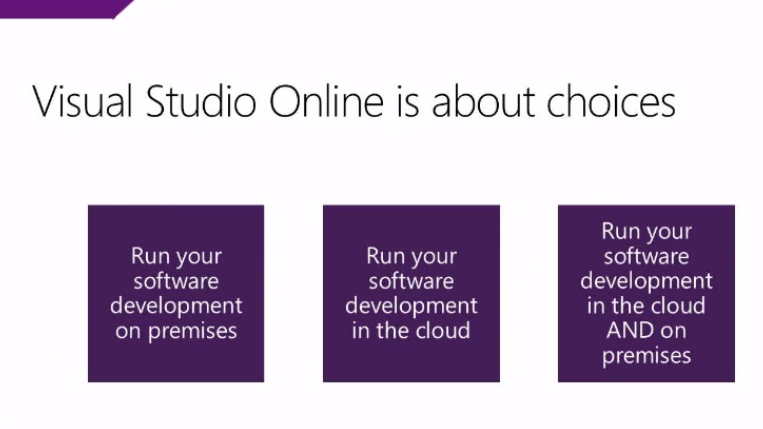 ---
April 30, 2014 8:50 PM
I wrote about the FedRAMP program for SAP Innovation in early October 2013. Later that month, development firms behind the failed Healthcare.gov launch were revealed. Many of those firms promptly deflected blame.
Among the then approved FedRAMP contractors was a company named CGI Federal. They too deflected blame for the Healthcare.gov failure to launch. CGI Federal was set to be fired from the Healthcare.gov project February 2014.
The FedRAMP program is supposed to help agencies save money on contractor services by streamlining the buying process and vetting providers ahead of time. The goal of saving money and reviewing a company's security chops sounds like a good idea, right? A quick read of the FedRAMP program gives the impression a third party review board is looking into a company's applied security standards and past work. That last part probably isn't an official duty of the review crew. CGI Federal is still on the list!?
A look into CGI Federal's past work revealed multiple troubled projects. Looking at past projects should have been part of the review process to join FedRAMP. A minimum number of completed projects for governmental agencies as a basic requirement might have helped save millions of taxpayer dollars on the failed Healthcare.gov website.
Know your development firm, especially if you're a government agency. Save taxpayer dollars by taking the extra time required to speak with former clients. Learning how your prospective firm works is important. The longterm success of your project is in the hands of the firm you hire.
---
April 29, 2014 9:46 PM
Microsoft
The race to offer Microsoft Office on multiple mobile devices has been humming along at a relatively slow pace. Microsoft apparently decided the Surface Tablet line would be difficult to resist even two years after the first generation iPad release. Consumers and businesses alike have embraced the Apple tablet device adapting it for multiple uses through the years.
Microsoft should have began work on an iPad version of Office after the iPad's first year. Future iterations could have been perfected as real world users interacted with the product. Microsoft could have experimented with subscription-based payment options. Office for iPad could have been a winner in a marketplace looking to open and edit Office documents quickly and easily. The native iOS version of the app could have been both beautiful and functional while offering users what no other app could. Additional product integrations could have become part of the Surface tablet line as a sort of bonus for buying Microsoft hardware.
Office for iPad here but with limited functionality. Competing products have been integrating for years to perfect the user interface and features offered. Competing products have experience Microsoft lacks in the mobile space. OneDrive with Office gives iPad users access to file and documents but is careful to keep them from being too productive. The same is true of the free version of select Office programs available through the web-based OneDrive interface. The lack of features and disappointing performance of tablet apps are enough to wish for the return of the typewriter as preferred composition machine.
Long before OneDrive offered limited Office document support (and changed its name to OneDrive), CloudOn gave users what they needed. CloudOn offered full Office functionality without sacrificing user interface or skimping on additional features. The system played well with native Office documents in addition to other formats. CloudOn gave more than expected and continued to grow its user base and feature set through the years.
Microsoft's late entry doesn't signal an impending demise but it does show weakness in a company that once ruled the business market with iron-clad licensing agreements. Choosing to wait is very different than being denied approval in the Apple App Store. A denied app might have been more respectable than seemingly ignoring user requests for more than two years.
---
April 24, 2014 8:30 AM
Launching a logic-driven database application on the web can be as easy as clicking your mouse. Zoho Creator lets you create and access your database on the web without a developer. You can select a blank project and click to build each function you require or choose an existing template to get started.
Database operations are added through a drag and drop interface. Your database query is built onscreen with each click.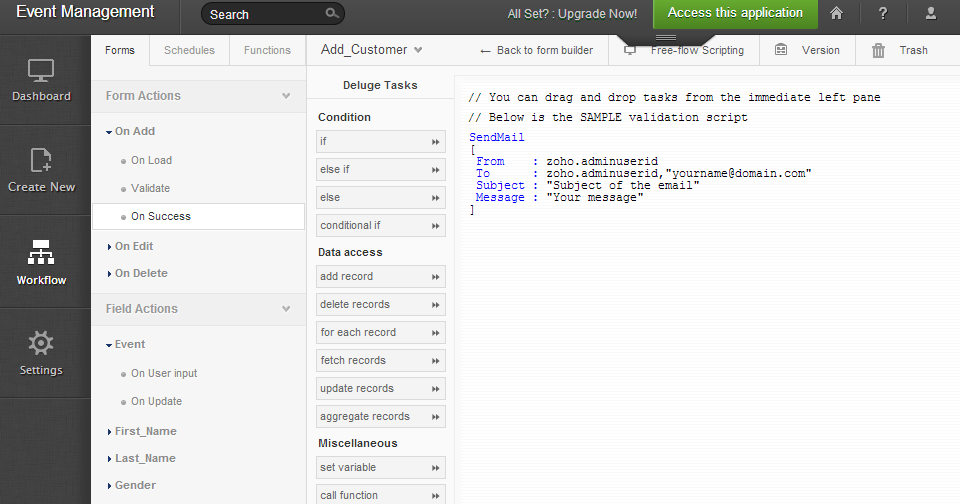 Drag and drop tasks for your database to perform.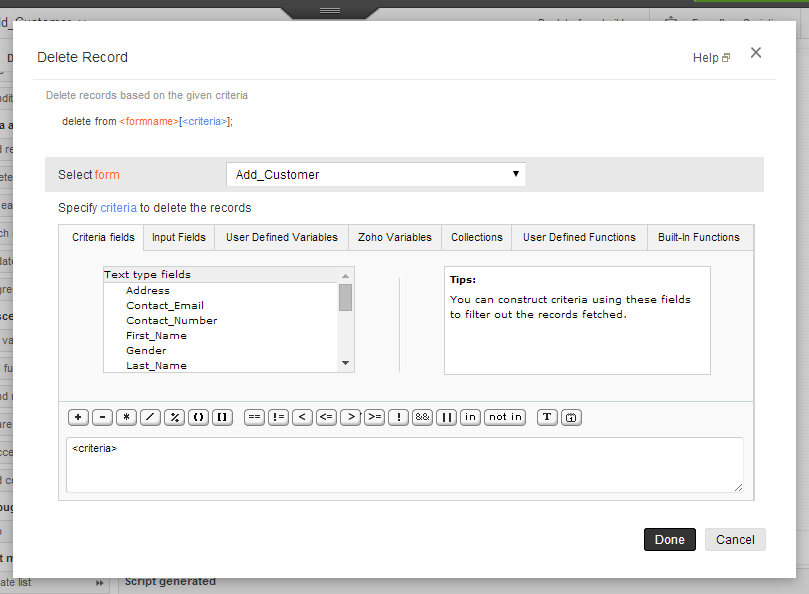 Simple form creation is also available. Zoho Creator forms have a familiar drag and drop form creation interface but contain options to set up advanced rules to process entered data. Wufoo is a similar form product but without advanced rule processing capabilities.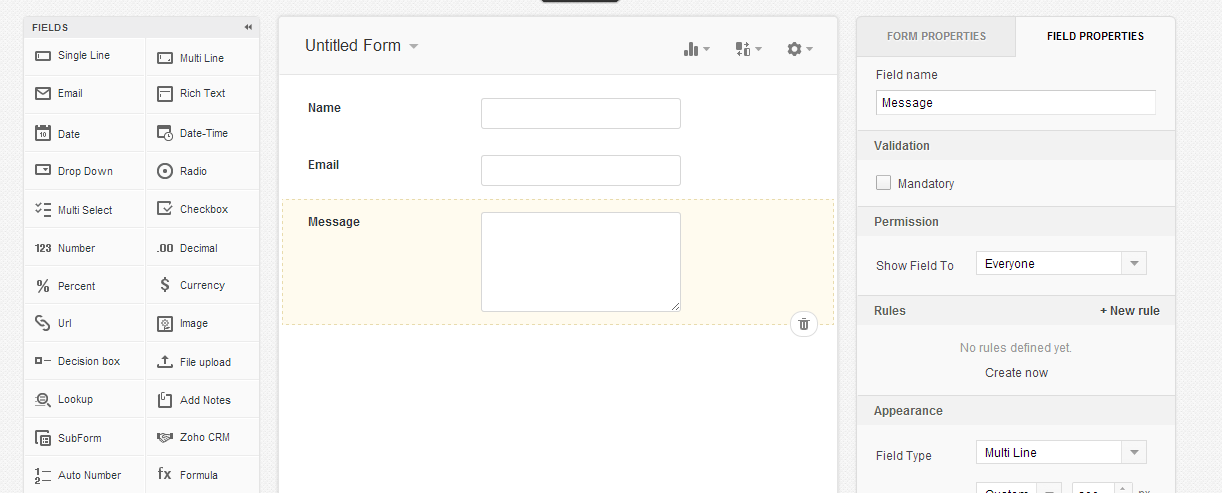 Zoho Creator lets users interact with an imported database or create one using forms and processing rules. At first look, the system seems to be a feature-rich form creation suite when it's really a robust web database. Zoho integrates with third-party services to form a unique product capable of more than just collecting data from simple forms. The list of capabilities runs so long its outside the scope of this post.
I once believed Zoho was a copycat company that focused on creating products similar to Google's. Products like Zoho Creator prove its uniqueness in the marketplace. Google's database tools don't offer the same easy-to-use interface and are generally targeted at experienced developers. Zoho tends to build its products for non-developer types. Zoho Creator is a tool you should certainly check out for database projects.
---
April 23, 2014 8:00 AM
Microsoft
Develop a new Windows device app using the new cloud-based development tool from Microsoft called App Studio. App Studio is a cloud-based, code free, app development platform for Windows devices. Creating an app is free. Publishing in the Windows store will cost extra ($19 for individuals, $99 for companies depending on your location).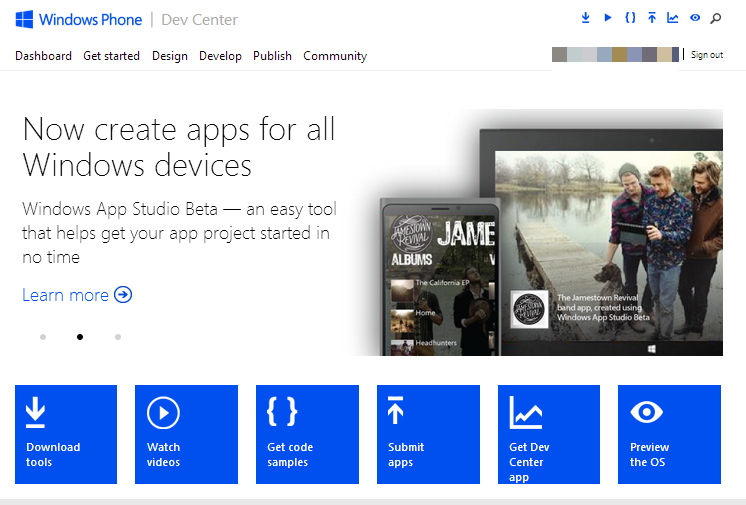 The App Studio development process is fairly simple. Microsoft has set up a wizard-like interface to walk you through each step. An onscreen preview is visible during the entire process (as seen below).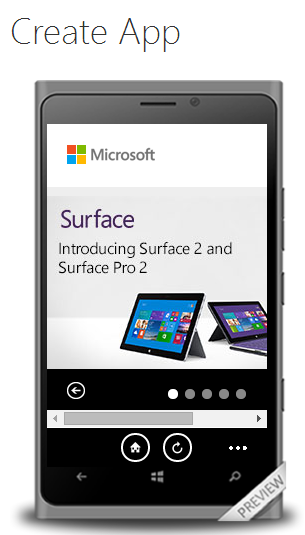 Microsoft provides a few basic templates to get you started. Descriptions and app previews are provided with each template to help you decide. These templates include sample pages with text and image containers. Template descriptions are interesting and seem to encourage app creators to develop apps for movie reviews, vacation travel, and personal hobbies to share with friends and family.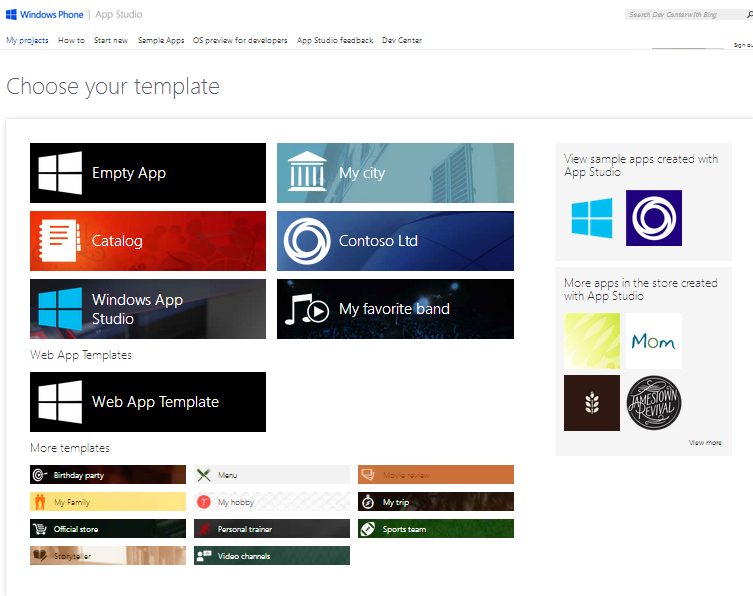 Microsoft provides basic templates but also allows creators to set up an HTML5 wrapper app. These web apps take your existing site and package it inside a wrapper for display on Windows mobile devices. Responsive websites are preferred, obviously. You can modify the look and feel of your Windows-style web app by applying themes and adding tiles before publishing in the Windows app store.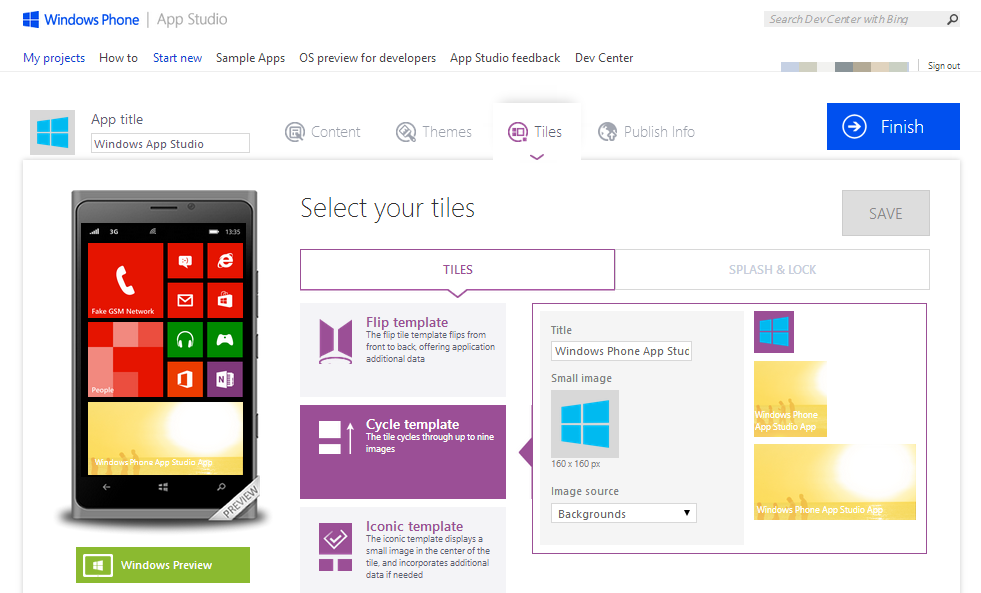 Developing in the cloud is but one option for the Windows Phone app store. Sample apps are also available for download if you want to dig into the code.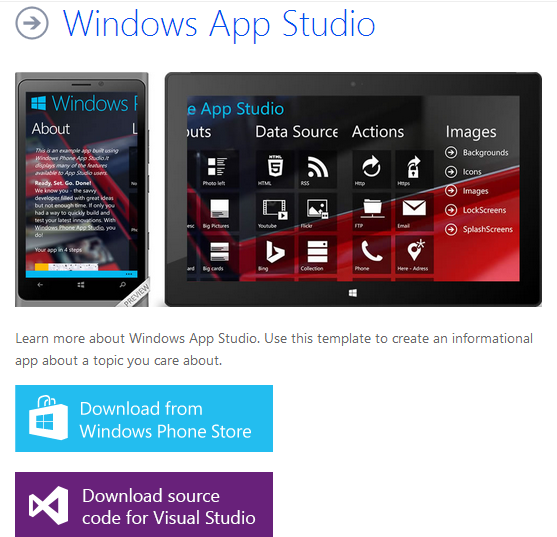 Completed App Studio apps are available free to download to your personal Windows 8.1 mobile device or PC (sorry Windows 8.0 users). You can generate a new installation package or download source code to Visual Studio. Installing your new app requires verification of your current copy of Windows 8.1 or Windows Phone 8.1.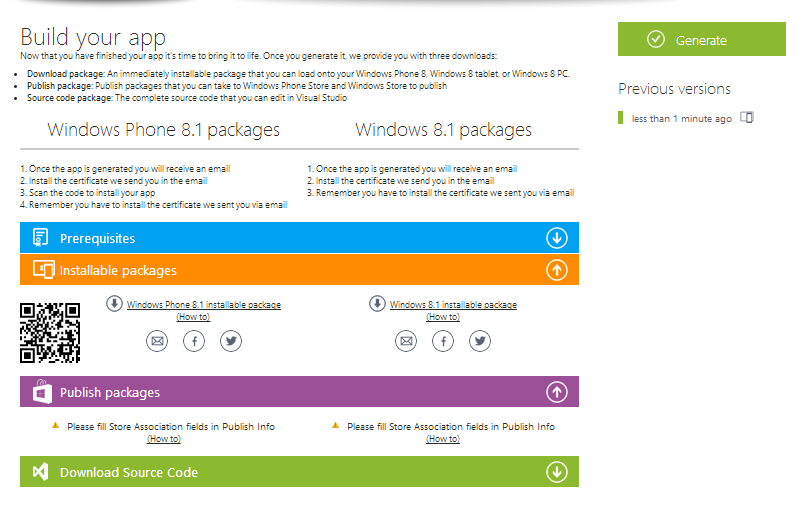 The new browser-based App Studio from Microsoft is its own incentive for app creators to focus attention on Windows Phone and Surface Tablets. No additional revenue split is being advertised for new publishers. Publishers currently receive 70% of an apps price (per sale).
App Studio is a feature-rich tool with potential to bridge the traditional Windows app development process with today's easy-to-use cloud tools.
---
April 21, 2014 8:32 AM
Cloud-based development tools are increasing in number. Few offer a touch interface for use on your actual mobile device. Adsy (current in beta) offers a mobile user interface for creating web apps fast. Basic services are available free and promise to remain free until…forever.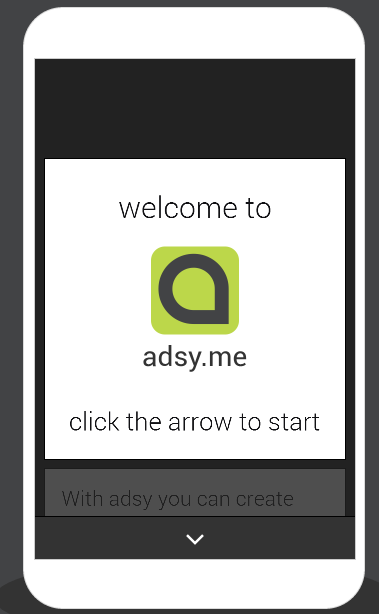 Creating an account is simple. Register your email address and create a username then you're ready to start creating. You can access the creation space on your mobile device or from a regular computer. Adding support for regular computers is a new feature of the once all-mobile product.
There's nothing to download and no code to review during the creation process. Apps can span many pages and contain images, links, videos, and more. Free accounts have access to a few plugins.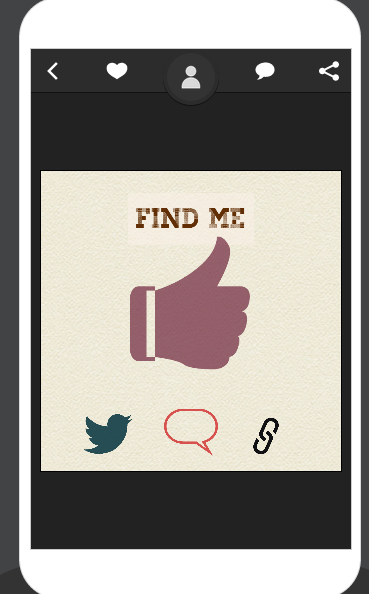 Adsy offers an intriguing approach to code-free development by giving users something they call "magic". As you might expect, the magic isn't really magic. In fact, it's an onscreen click area selection tool. Activating the magic selection tool is easy – just click the pointed finger icon to activate it. Next, scribble your desired click area (greenish smudges outlined in pink below).  Designating a clickable area automatically brings up a toolbox of options available. I added simple external links to my generic Adsy app.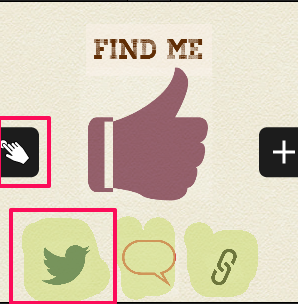 I created a simple app in less than 10 minutes without coding. While Adsy is an interesting entrant to the code-free app dev market it's not without weakness. The user interface isn't quite as intuitive as I would like. I prefer to dive right in without reading instructions. Adding a simple onscreen tutorial would help ease the user interface learning curve. Adding more free plugins would also be nice. Details about each plugin's functionality would be helpful too. Adsy probably won't change your web app marketing strategy but it may enter your future plans as it evolves. This tool is definitely on my list of services to watch.
---
March 26, 2014 7:00 AM
Microsoft
Microsoft waited too long to bring PowerPoint online. This is the short story of what became of the slide show presentation space in its absence.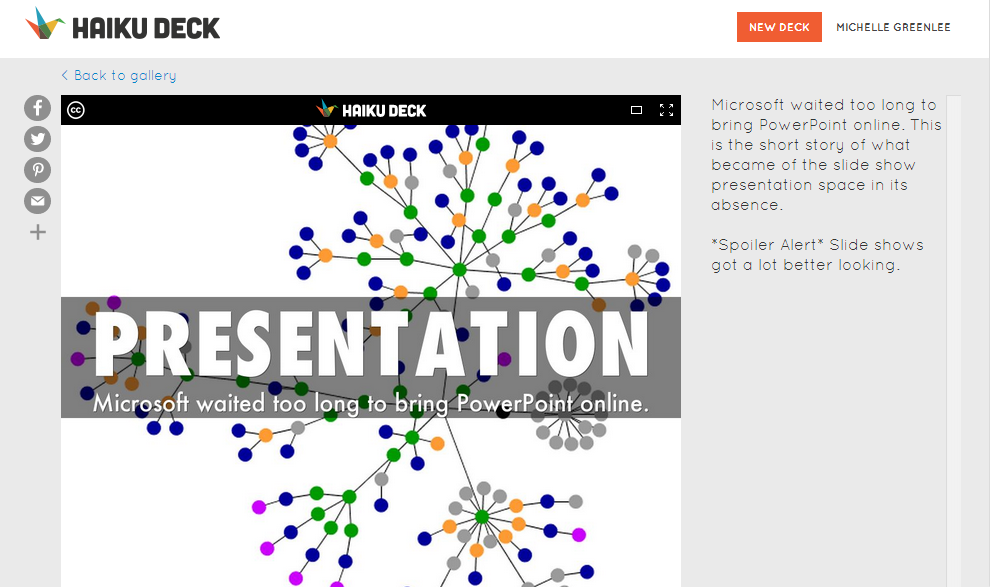 While Microsoft focused on the desktop, competitors took to the cloud.
Prezi – Prezi.com offers a free online tool for slide show creation and hosts the final product too.
Haiku – Haikudeck.com offers a free presentation creation tool and hosts the final product. It gives users access to a large image library complete with automatic source citing.
Google Drive – Google Drive has offered a hosted slide show solution for many years now. Google Drive offers users a simple way to collaborate on presentations. You can easily make a 4 minute presentation last a cool 35 with help from enough collaborators!
SlideShare – SlideShare is dedicated to hosting presentations. They offer business promotion tools for pro accounts but no creation tools. Most other hosted creation tools will allow users to export presentations for offline use. You could create presentations on one platform then upload to SlideShare if you were keen to do so.
Zoho Show – Zoho is the Google Docs clone from way back. It's proven to be just as good and sometimes better than existing Google tools. Zoho Show looks a lot like Google Drive Presentations but it's not an exact copy. Zoho Show allows you to both create and host your slide shows on its platform. You can use Zoho Show for free. They also offer pro accounts with additional features just like the others featured in this presentation.
Microsoft was late bringing PowerPoint online. Lateness brought consumers an excellent selection of hosted tools. No longer are you confined to the world of PowerPoint for presentations. Microsoft may one day be a relic of the past in the world of presentations. It may already be that relic in the present.
See the above slide show with notes on Haiku or without notes on SlideShare.
---