About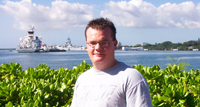 I am an IT professional and I work for a major media group in Phoenix Arizona. I have been with this company ever since graduating from DeVry University with a Bachelors Degree in Computer Engineering Technology. For the past five years I have worked in many positions in IT.
I started as a Help Desk Operator and did that for about nine months. During this time I learned a ton about the companies systems and infrastructure. After only nine months I was promoted into the companies Computer Technician department. Again here I took full advantage of my time and I again learned as much as I could. During this time I was responsible for every desktop in the company. That is roughly 3000 including Macintosh, Laptops, as well as PC Desktops. This time it took me about ten months to get a promotion. I moved into a position as a Windows Server Administrator. In this role I was responsible for about 250 servers running Windows NT SP4 to Server 2003. Also administered the domain, multiple Citrix Farms, as well as a Virtual Environment. In this position I learned so many things that I do not know if I can really even get into it. After about two years doing that I moved into my current position as a Database Administrator. I am still fairly green in this area but I am enjoying learning everyday. I work with MS SQL Server, Oracle, and Sybase instances.
As I think you can infer from the above I love my job and I love to continue learning as much as possible. I know that I do not know everything but I think I do know a lot about the positions that I have held and do hold. I look forward to helping those that need it as well as learning from those of you who can teach me a thing or two. I strongly encourage comments on the blog and I will attempt to address them. If you would like to contact me or read other things that I am doing please go to my website at Sysadminsmith.com. Please come check it out. This site is dedicated to helping any who need it for free. You can ask me a question and I will respond. You can also check out my Blog, it will have some of the same content as here but not all. Thanks and please help me out to help you.