---
May 29, 2012 2:12 PM
So we've returned fresh from the long holiday weekend, and spent part of today talking about EMC World.
Our senior news director, Dave Raffo, tackled live reporting from the event, filing stories from the conference that covered when EMC CEO Joe Tucci talked about the futures of hybrid SSD and cloud storage, as well as what EMC mentioned – and left out – during its announced upgrades for Data Domain and Avamar 6.1, and even some of EMC's upcoming projects, such the flash card-equipped Project Thunder appliance and XtremIO's all-flash array.  And Dave talked with executive editor Ellen O'Brien about the conference in the latest episode of our Storage Radio podcast.
Meanwhile, site editor Andrew Burton was in the trenches with conference attendees and experts, and filmed interviews with IT pros about their concerns about SSDs and cloud, experts' thoughts on EMC's "flash everywhere" SSD strategy and the latest news involving VCE's Vblock infrastructure package as reported by executive director Rich Castagna.
But what did you learn? What was surprising about EMC's announcements, and what was expected? Doesn't matter if you attended EMC World or kept up with the latest news on SearchStorage.com – let us know what you thought of this year's conference in the comments below!
---
May 10, 2012 2:57 PM
Over at SearchDataBackup.com, Dave Raffo reports on an Internet revolt of sorts (or at least, teeth-gnashing) over the newest version of Symantec's Backup Exec 2012.
Or, as one commenter wrote on the Symantec forum:
"I was going to post my negative views and my findings on the new product (besides the UI) but after reading some of these posts, I would feel like kicking a man when he is down, I'll wait for R1, this vesion is full of bugs is not just the UI or the selection list things. change is good… but damn!!!"
Ouch.
At the risk of over-simplfying the complaints, it sounds like the issue is that changes to the UI were meant to make Backup Exec easier for new customers and incorporate new tech, but they have proven to be, uh, a challenge for some existing users so far.
So is Symantec handling the criticism well? Deepak Mohan, SVP of the company's information management group, told Raffo that:
"We're finding new customers love the interface. There's a fraction of existing customers saying they want the old stuff, they don't want to move to the 21st century. They don't have the time to spend learning the new interface."
Okay, maybe not the most diplomatic way of handling it. But Symantec is clearly trying to push ahead with innovations in the storage space, as company CEO Enrique Salem told SearchDataBackup.com earlier this week.
And the company points out in the Backup Exec story and on the comment board that the changes were made with input from customers. And those changes had to be made, because of new features such as support for cloud, dedupe and virtual backups.
And, well, customers using a new product need to take time to read the instructions.
So what say you? Is this a problem with BE 2012, or just some people who need to read the instruction manual. Tell us in the comments below.
But seriously, are the changes *that* bad?
---
April 24, 2012 3:49 PM
With news this week of EMC extending its Data Domain Boost (DD Boost) software to Oracle's Recovery Manager, we cracked open some champagne here at Data Defenders and cheered that it was about time.
Just kidding, we didn't cheer. But, the move to integrate backup software with the applications it is designed to protect was definitely interesting enough for a quick "hmm, neat idea" over a cup of coffee here at the office.
Our senior news director, Dave Raffo, wrote:
EMC first unveiled DD Boost two years ago as a way to speed backups by offloading part of the data deduplication process to the backup server. DD Boost already supported EMC's NetWorker and Avamar, as well as Symantec's NetBackup and Backup Exec backup software. Now EMC is extending that capability to one of the applications that enterprises need to protect. EMC's goal is to get more database administrators (DBAs) using RMAN to back up to Data Domain appliances.
Dave also tells us that when DD Boost is used in concert with RMAN and Data Domain, the Oracle product can manage Data Domain replication with catalog awareness, plus take advantage of Data Domain's dedupe and other functionality.
So we're asking: will this kind of integration make you take another look (or maybe a first) at Data Domain appliances? What do you think of this kind of backup software/application integration in general? Cool idea? Who cares? Tell us in the comments below. I know this blog gets rowdy; keep it civil.
---
March 13, 2012 2:43 PM
How honest is the average person when they find a lost smartphone?
Symantec's Kevin Haley tells us it's not just whether they return it, but whether the finder starts digging through personal and business data you have stored on the device, as well.
In a blogpost at Symantec's website, Haley describes an experiment where the company intentionally scattered 50 phones in several cities to learn whether they'd be returned and if the data on them would be left alone. Haley wrote that the devices could be monitored remotely, and were loaded with faked corporate and personal data.
So what happened when the phones were found?
Most were accessed by their discoverers, who tried to dig in to the simulated personal or corporate info, some of which was rigged to look like salary information or a remote network access app, wrote Haley.
Also, apparently there are still a lot of people out there who believe in the schoolyard chant "finders keepers, losers weepers" even with a device loaded with the name and contact information of the owner, according to Haley.
The post includes a lot of good tips for organizations to follow in case a mobile device is lost — you should definitely check it out.
---
January 25, 2012 4:28 PM
Coraid Inc., announced a "technology alliance" partnership with Veeam Software this week, including the news that Coraid's Etherdrive SAN product is verified for use with Veeam's Backup & Replication v6.
According to a statement from Coraid, the partnership allows customers of its SAN product to use Veeam for backing up and replicating data at an off-site location for disaster recovery, and operate an entire virtual machine from an image-level backup.
Veeam's Backup & Replication v6 offers backup for VMware vSphere and Microsoft Hyper-V, includes built-on dedupe and compression and other abilities.
---
January 25, 2012 9:36 AM

Profile: Andrew Burton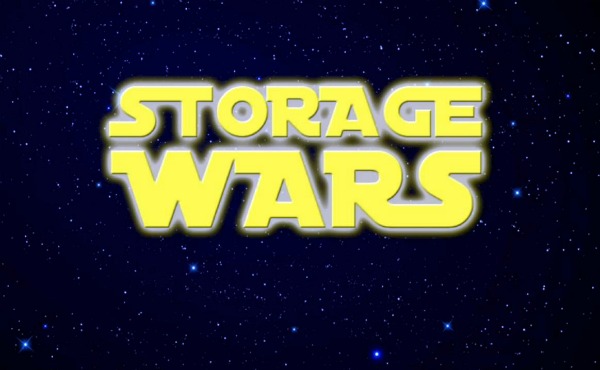 Toigo Partners International proudly presents: STORAGE WARS.
---
January 18, 2012 3:52 PM
Spectra Logic announced a program this week allowing buyers of its LTO-5 tape drives to swap the units for LTO-6 machines expected to be released later this year.
Spectra says for some of its tape libraries – including the T200, T300, T680 and T950 – the LTO-6 standard allows the company to boost capacity from LTO-5's 3 TB to a compressed 8 TB of storage, plus increase data transfer rates from 280 MB per second to  a compressed 525 MB per second.
They will also be equipped with native 8 gigabit Fibre Channel interfaces that are also compatible with 2-, 4- and 8 gigabit FC switches and host bus adapters. The company's T120 and T150e libraries will offer either 8 gigabit Fibre Channel or 6 gigabit SAS interfaces.
The company said their LTO-6 machines will be compatible with the older LTO-4 and LTO-5 tapes, and will operate with Spectra's BlueScale library management software.
---
January 16, 2012 11:49 AM
California-based IDrive Inc., this week announced an update to its online backup service will cover an "unlimited" number of PCs, tablets and mobile devices.
According to IDrive, business customers can store 50 GB for $9.95 per month or $99.50 for the year, and that cost includes "priority customer support." Other business options include 100 GB, 500 GB and 1 TB in storage, which are also available in monthly and annual pricing packages.
For home customers, the service stores 150 GB for $4.95 per month or 500 GB for $14.95 per month. The backup service also offers a free option with a 5 GB storage limit.
The service offers support for Windows PCs, Mac OS X, Android and Apple's iOS, plus the company says it stores up to 30 earlier copies of archived files, and they don't count against a customer's total storage limit.
It also offers common features like 256-bit AES encryption, continuous data backup and data restores, and 24-hour customer support.
IDrive says it has about 800,000 subscribers for its storage products.
---
January 10, 2012 12:43 PM
Deciding that a bunch of random letters and numbers don't say "backup vendor" to their customers, Seagate Technology LLC's i365 backup division switched its name back to its old "EVault" moniker last month.
The new (old) name – officially EVault, A Seagate Company, though they "informally" go by the more proletarian EVault – continues the love affair many IT vendors have for pasting an "I" or "E" before a brand name.
That's a practice that started in the late 1990s when some marketing people knocking back Zima in the midst of a Seinfeld/Friends/Fraiser marathon decided that an extra vowel sound was needed for tech companies to be "with it" and has become less cool every second ever since.
So why go back? Let i365 EVault's press release explain:
EVault is a strong name. The EVault name conveys many of the benefits important to you. EVault stands for electronic vault. Digital data goes in, and it stays put until you need it back. Secure. Reliable. Simple. Efficient. It's what people ought to know about our backup and recovery services. Now it's in our name.

EVault is a strong brand. The EVault name is well known and well liked by data protection professionals, and we want to leverage that more. By retiring the i365 name, we make it simpler for everyone to remember who are and what we do. And we're free to focus on building a single, world-class brand.

EVault is who we are. Fact is, since 1997, EVault has always been who we are—the backup and recovery experts.

We're EVault—still your backup and recovery services experts.

[Edit: emphasis theirs.]
Of course, dumping the i365 name also saves their marketing people a lot of work to distance themselves from a well-publicized data backup failure involving the Parish of Orleans District Court last year.
At the time, the court's IT staff blamed an update from i365 Evault that wiped out some of the court's real estate records, while a company executive blamed the court staff in an email. A subsequent investigation didn't clear up who exactly was to blame for the lost records, but the court stuck with i365.
---