Jul 31 2008 4:41PM GMT

Profile: Matt Stansberry
Tags:
Internet search company Yahoo partnered with wireless data center monitoring startup Synapsense to tune its hot-aisle/cold-aisle configuration, implementing cold aisle containment strategies and raising the inlet air temperatures on servers.
The Web giant reduced data center cooling energy use 21%, and reduced its PUE (Power Usage Effectiveness) ratio from 1.52 to 1.44. According to a presentation given by Christina Page at Yahoo and Troy Mitchell, of SynapSense at the recent Silicon Valley Leadership Group Data Center Energy Summit in San Francisco, the project will save Yahoo $563,000 annually on its data center energy bill.
The study took place in 8,000 square foot room within Yahoo's 40,000 square foot data center in Santa Clara, Calif. The room featured a hot-aisle cold-aisle configuration, 3-foot raised floor plenum, 12-foot ceilings, seven computer room air handlers, and four PDUs.
Folsom, Calif.-based Synapsense conducted process of optimizing Yahoo's cooling systems as a high profile proof of concept project.
Synapsense builds battery powered monitors to track data center environmental conditions. The monitors use low power wireless [2.4 gigahertz] to communicate that data to a server. Synapsense's software synthesizes that information and displays it as a live image, which allows data center managers to look at real time maps of their data center and view air pressure distribution, humidity and temperature.
The wireless monitors measure the temperature on inlet and discharge of the racks, the temperature at the inlet and discharge of the Computer Room Air Coniditoner (CRAC) units, humidity at the CRAC units, and sub-floor air pressure.
Experts say data centers often supply up to three times the cooling that the servers actually need, and the majority of that air is being wasted. In order to make that cooling more efficient at Yahoo, Synapsense isolated the cold aisles, slowed fan speeds, and raised inlet air supply temperatures to the servers to 72 degrees.
The slides below are from Yahoo and Synapsense's presentation at the SVLG event. Slide one shows Yahoo's cold aisle containment system. Slide two shows Synapsense's LiveImaging feature. Slide three shows where Synapsense places the sensors in the data center. Slide four shows the layout of Yahoo's server room.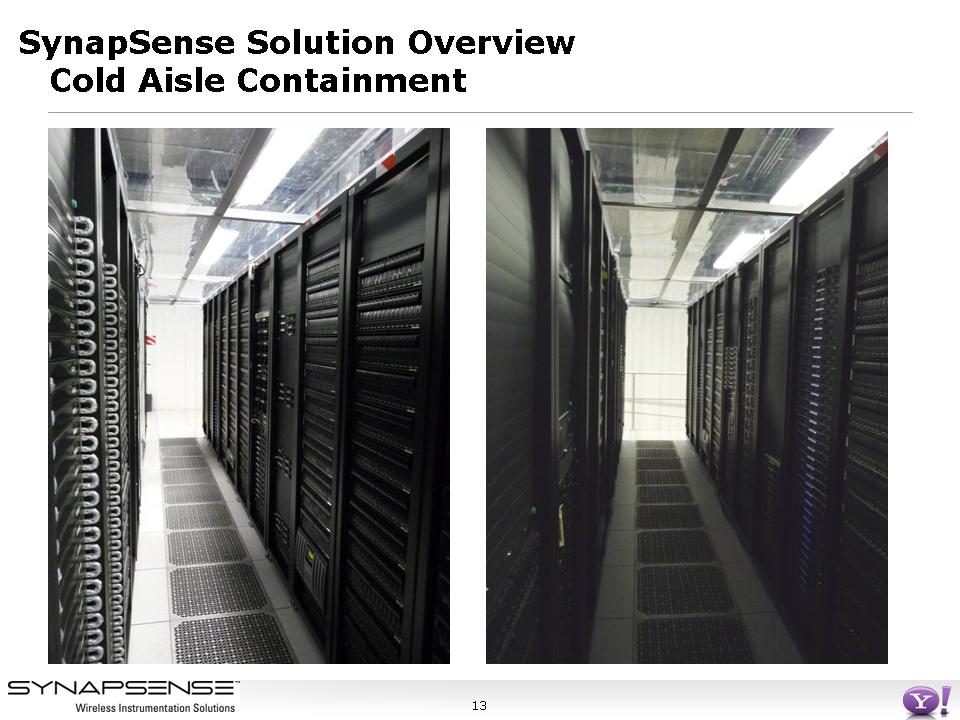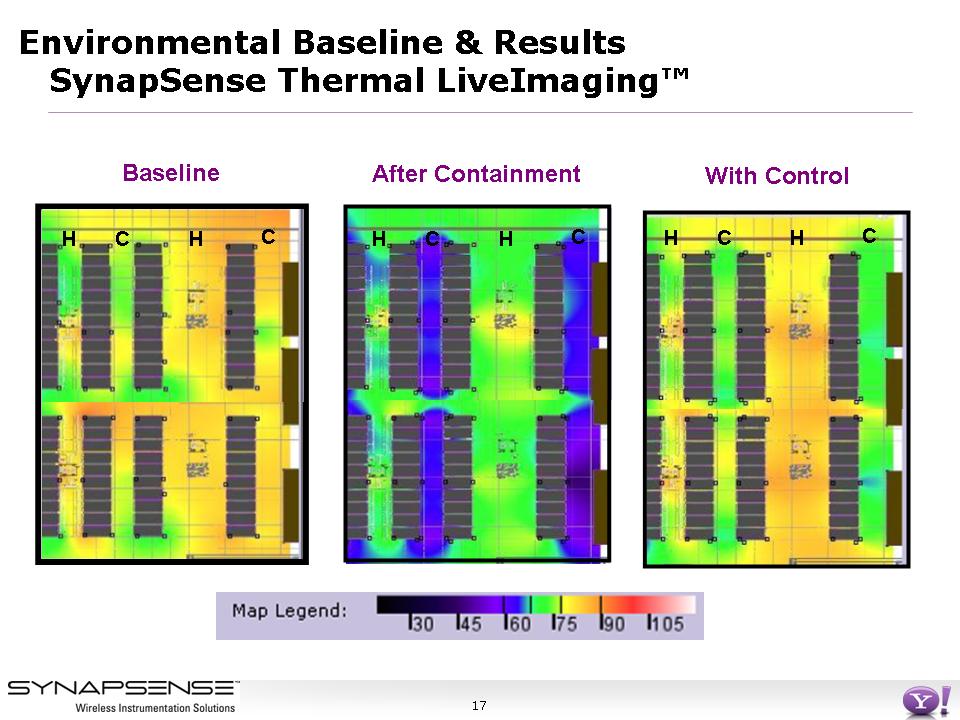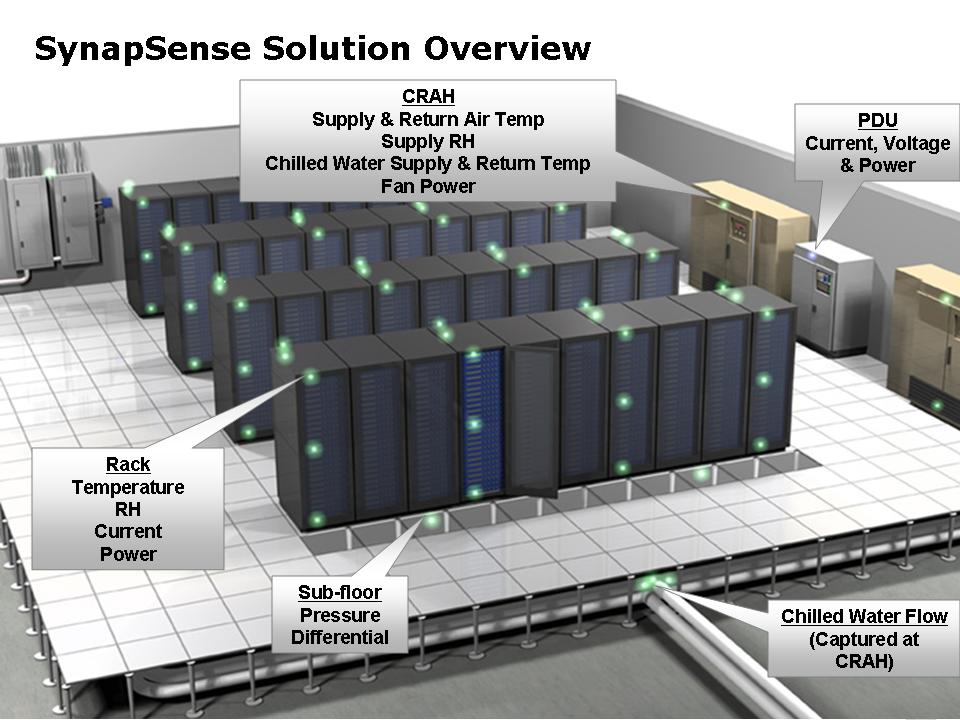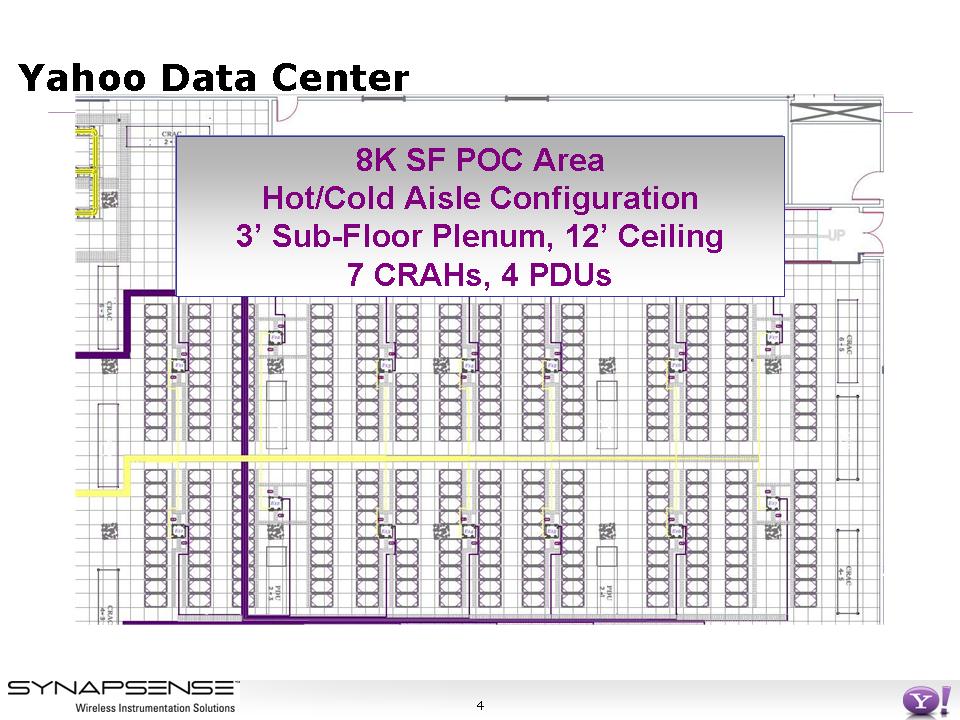 Yahoo had been supplying air to servers at 51 degrees in the cold aisles. But even with hot-aisle cold-aisle configuration, there was a lot of air mixing going on in the facility, and air in the cold aisle began to warm at the top of the racks, coming in nine degrees warmer. By containing the cold aisles, the variance from the bottom to top of the rack was reduced from nine degrees to two degrees.
Synapsense installed Variable Speed Fan Drives in all of the racks in this proof of concept area. Fans were reduced to 80% of their full speed. According to Synapsense's Mitchell, a 20% fan speed reduction results in 50% reduction in energy use.
Managing Yahoo's carbon footprint
Page, formerly of the Rocky Mountain Institute (an environmental engineering consulting firm), is responsible for managing Yahoo's carbon footprint. She says Yahoo has tried various cooling strategies in other locations, including cold aisle containment and economizers.
Page works with Yahoo's facility managers, finding ways to mitigate the company's carbon emissions across office buildings and data centers. Page says the data centers account for well over half of Yahoo's carbon footprint.
Yahoo committed to carbon neutrality in 2007 — making changes to its operation for efficiency and buying the remainder on the carbon offset market. According to Yahoo, the annual CO2 abatement for this project was 1,670 metric tons.
When asked if Yahoo intended to apply Synapsense sensors and cold aisle containment across the remaining 32,000 square feet of raised floor, Page said Yahoo is waiting for final results of the proof of concept to make a decision. "As the temperatures settle in the facility, we expect to have new results in the middle of August," Page said. "It's currently under review whether to expand the rest of the data center. We're excited to see final results."