Dec 4 2008 5:55PM GMT

Profile: Leah Rosin
Tags: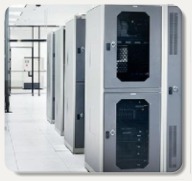 We all know how big business operates: Each and every quarter, the bottom line must be met. This pressure on businesses creates short-term thinking and investing, less  risk taking, and enormous scrutiny of capital expenditures. All of this leads many companies to be hesitant to make big changes, even when "going green" is all the rage.
Recently I was heartened to find a company that is not as bothered with the short-term motivations of publicly traded companies, and for which going green is a meaningful proposition. ViaWest operates 16 data centers in five states (Colorado, Nevada, Oregon, Texas, and Utah), and as a private company, it can afford to invest in the long-term benefits of going green in data centers.
On a recent visit to the company's Hillsboro, Ore. data center (formerly Fortix, acquired in 2006), I learned how passionate its staff is about sustainable operations. Jim Linkous, the vice president and general manager for the company's Oregon data center, and Casey Vanderbeek, senior sales engineer, were happy to tell me about some of the company's achievements in this area, as well as some future plans. The Hillsboro facility has earned Portland General Electric's Gold status for using wind power to start with, but ViaWest has a comprehensive green initiatives plan that goes beyond buying sustainable power.
Utilizing clean, renewable, wind power energy programs (Colo. – Windsource; Ore. – CleanWind; Utah – Blue Sky)

Deployment of high efficiency cooling units which have yielded in excess of 50% in total energy savings
Preference toward clean chilled water systems for cooling over direct expansion systems
Through geographic planning, ViaWest has maximized the use of free cooling/ambient air opportunities
Regular Thermal analysis and reviews to ensure effective cooling throughout the data center facilities
Specialized Hot/Cold aisle management & ducted air return to optimize, and reduce the need for additional cooling units
Strict recycling programs at all ViaWest facilities – Approximately one ton of cardboard is recycled in every 90 day period
Utilization of high efficiency lighting throughout all ViaWest facilities
New construction and expansion projects that promote the use of recycled building materials
Server Virtulization stragey to enable long-term efficiency and decrease the average deployment size by 20%
For lack of a better term, they have a holistic approach to sustainability that others should take note of. The company's green strategy isn't a gimmick; it is part of their overall business strategy, and it's paying off.
Founded in 1999, the company has state-of-the-art managed hosting and colocation facilities and continues to grow. In 2006 the company received a $31 million infusion of debt financing. This allowed the company to acquire Fortix among others. This investment has paid off, with increases in outsourcing to data centers over the past few years. ViaWest exceeded industry market growth predictions in 2007 and Linkous expressed confidence in a continuation of that growth in the coming year, despite an economic downturn. In fact, the company has already leased a nearby building at the Hillsboro campus that is being prepared with power supplies for future expansion to meet current and future customer needs. This has been spurred by the increased demand for managed hosting and colocation throughout the industry.
Along with successful growth the company continues to focus on implementing sustainable initiatives that may cost more at the outset but that are better for the environment and the bottom line over the long term. As the facilities and equipment age out, the company is upgrading the cooling systems with new, more efficient technologies. Senior Vice President of Sales Operations Steve Prather shared an example in which cooling units in the company's Cornell, Colo,. facility were replaced with cooling towers that are 53% more efficient. The company has also taken advantage of free cooling where it is geographically appropriate.
Prather emphasized that ViaWest does not take a one-size-fits-all approach in its green initiatives throughout 16 data centers. Rather it evaluates facilities individually and optimizes efficiencies based on a location's unique characteristics.
This stands in contrast to the company's otherwise streamlined approach to facility management. Linkous emphasized that in large part the data center operations side of the house has been successful because of the leadership of its COO and cofounder, Nancy Phillips, who has firmly established company "best practices." Linkous and Vanderbeek shared that these guidelines enable the facilities to run similarly smoothly, regardless of locale. Their evidence that this model is successful is the relatively low annual churn rate of ViaWest customers (less than 1%).
Whether it's recycling cardboard (1 ton per 90 days), using windpower, taking advantage of virtualization technologies, or conducting regular thermal analysis in existing facilities, if it saves energy and resources, ViaWest is willing to spend the money to make it happen, knowing it will pay off over time.
I think that data center managers should take a look and consider if going green still really seems so hard. And if you're at one of the "big guys" that is focused on quarterly profits and you just want to scream, make some noise, use ViaWest as an example of what you could be doing differently. At SearchDataCenter.com we like to point out these examples of green initiatives done right, because we know you might need some ammunition when you go before your board or CIO and request capital expenditures to make improvements. As always, email us with your green data center success stories.
While explaining a few of the facility's features, Vanderbeek said,"A lot of going green is so simple: placing chillers properly, doing hot-aisle and cold-aisle containment right." It really can be that simple. And it really can pay off.