Aug 14 2008 9:28PM GMT

Profile: Matt Stansberry
Tags:
Uptime Institute executive director Ken Brill warned panelists at an online seminar today to be wary of very low Power Usage Effectiveness (PUE) ratios touted by some data center operators. "If your management begins to benchmark you against someone else's data center PUE, you need to be sure what you're benchmarking against," Brill said.
Brill said he's seen companies talking about a PUE of 0.8 — which is physically impossible. "There is a lot of competitive manipulation and gaming going on," Brill said. "Our network members are tired of being called in by management to explain why someone has a better PUE than they do."
If you're going to compare your PUE against another company, you need to know what the measurement means. "You need to know what they're saying and what they're not saying," Brill said. "Are you going to include the lights and humidification system? If you're using free cooling six months of the year, do you report your best PUE?"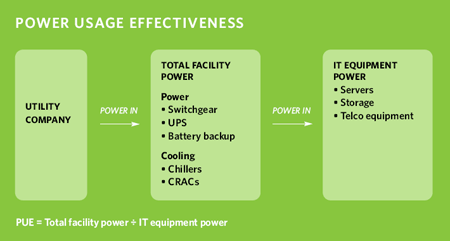 Brill conceded that The Green Grid's PUE whitepaper has gained traction in the industry, spurring more action and debate than any other efficiency effort so far. But Brill takes issue with the measurement's use of the term "power". According to Brill, the fundamental problem with PUE is that it's a snapshot in time. Power by definition is a spot measurement, Brill said. Power over time is "energy". So power is measured in kilowatts, energy is measured in kilowatt hours.
Proponents of PUE like Microsoft's Christian Belady have advocated measuring PUE over time, but Brill said that is not expressed explicitly in the standard.
I think it's a bit of a stretch to assume C-Level execs are even aware of PUE (let alone calling data center staff out on the carpet about it).
I recently wrote an article about a data center manager that made huge efficiency improvements at a massive facility, saving hundreds of thousands of dollars through engineering projects. I asked him what his CIO thought about the data center efficiency he was achieving, and he told me the CIO had no idea. He'd never actually met the CIO…
Nonetheless, Brill makes a very important point. The first goal of PUE is to make a ratio to improve on internally. But the larger goal is to use the metric to compare data centers — as a benchmark against competitors, or as a way to compare various configurations, geographical locations, and technologies. Without standardization, comparative measurements will be meaningless.
Are your executives measuring you against competitors' PUE? We'd like to hear from you.