Sep 11 2008 8:42PM GMT

Profile: Mark Fontecchio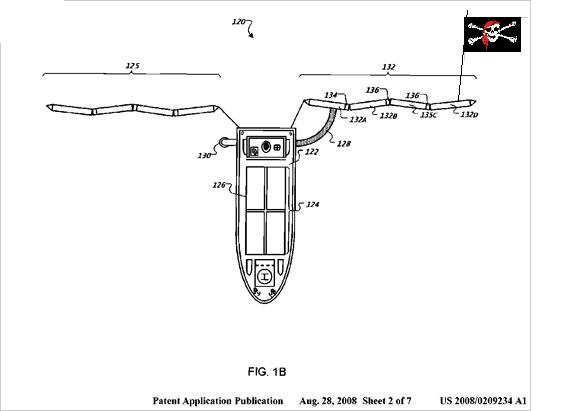 Early last year, Google filed a patent for a water-based data center. It would include a data center floating in the ocean, somewhere between 3 and 7 miles offshore, getting its power from Pelamis machines that can produce energy from crashing waves. The documents on the patent just hit the U.S. Patent Office's Web site this week, and Slashdot caught onto it. Other news organizations followed. What there hasn't been much discussion on are issues such as uptime, power capacity, corporate taxes, data center pirates, and the impact on the environment.
Uptime and power capacity

Miles Kelly from 365 Main, a data center colocation company,  raised an interesting point about uptime and power capacity for a water-based data center.
"I think it's an innovative idea, though generating 10 to 20 megawatts of power needed for a large modern data center is not a simple undertaking," he wrote in an email to me. "I'm not a wave-power expert, but I'm certain one will need more than wave power to run servers on the ship (assuming there are more than a handful of servers)."
Uptime is another issue:
"Google may not be planning for essential computing load on the ships, meaning it's okay if the servers on the ship go offline for one reason or another.  It's possible they'd view the floating computing capacity as temporary or best effort, but would have other data centers available to pick up the slack if needed."
Corporate taxes
Much of the stories around the Google patent speculated that building data centers offshore would allow the company to place its jurisdiction outside of the United States, thus ensuring that everyone's privacy is secured. But there is another side effect to this. If outside of U.S. jurisdiction — and indeed, every country's jurisdiction — Google may be able to avoid real estate and other corporate taxes that it would otherwise have to pay, even if building alongside the Columbia River in Oregon or in the middle of Iowa.
If they were to avoid corporate taxes in the U.S., that would be pretty amusing. Imagine if Google was able to use the U.S. government's patent office to protect intellectual property that could then be used to avoid U.S. taxes.
Unsurprisingly, Google doesn't look at it this way. Its justification for a water-based data center is as follows:
…it can be beneficial to distribute computing power closer to users. As such, data centers may be moved closer to users, with relevant content sent from a central facility out to regional data centers only once, and further transmissions occurring over shorter regional links. As a result, every request from a user need not result in a transmission cross-country and through the internet backbone–network activity may be more evenly balanced and confined to local areas. Also, transient needs for computing power may arise in a particular area. For example, a military presence may be needed in an area, a natural disaster may bring a need for computing or telecommunication presence in an area until the natural infrastructure can be repaired or rebuilt, and certain events may draw thousands of people who may put a load on the local computing infrastructure. Often, such transient events occur near water, such as a river or an ocean. However, it can be expensive to build and locate data centers, and it is not always easy to find access to necessary (and inexpensive) electrical power, high-bandwidth data connections, and cooling water for such data centers.
Kelly added that "any breaks from operating in international waters would be offset by the costs of operating so remotely.  Plus, the incentives offered by aggressive regions in the US
are already quite handsome (north/central Washington for example, another place where Google operates)."
This is a good point, but I wouldn't overlook the tax benefits to Google for this plan. The company has already shown that it will figure out a way – including by bullying local and state governments – to pay as little taxes as possible, all the while employing far less people than would an aluminum smelter.
Data center pirates
So Google will become the new pirates of the ocean, their data centers spread across the seas, Sergey Brin and Larry Page standing at the helm, complete with their eyepatches, swords, single earrings, and maybe hooks for hands and parrots on their shoulders to top things off.
What's next, ice-side economizers?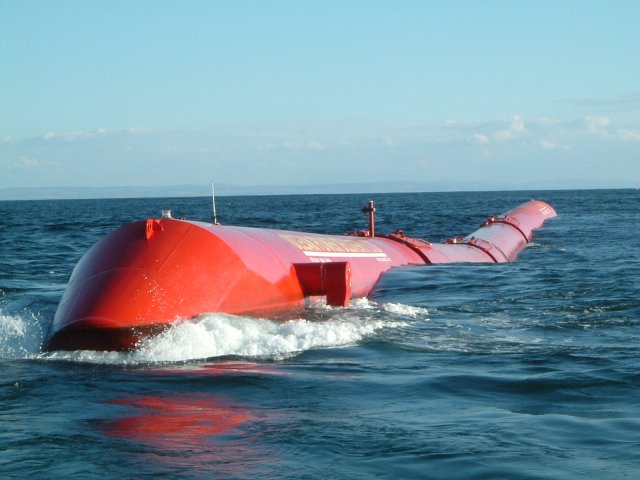 So Google has cultivated the Columbia River for energy. Now it wants to colonize the ocean with data centers. Let's take a look at this plan.
To the right is a picture of a Pelamis Wave Energy Converter, which is what Google proposes to use to power its water-based data center. Each Pelamis machine is almost 400 feet long — longer than a football field — and as thick as some redwood trees. They produce 750kW of power each. In Google's patent application, the company presented a scenario of about 40 of these machines spread over a square kilometer and producing 30 megawatts of power. Not exactly non-intrusive.
Perhaps Google will next take its engineering prowess up to Antarctica, where it will figure out a way to harness ice shelves to cool servers. In the next couple years, I wouldn't be surprised if a new Google patent application popped up for ice-side economizers. But hey, as long as I can continue making super-fast Internet searches, who cares, right?