Jan 26 2009 9:37PM GMT

Profile: Mark Fontecchio
CHICAGO – The American Society for Heating, Refrigerating and Air-conditioning Engineers (ASHRAE) has expanded recommended guidelines for ambient data center temperatures, but they're warning that the new range could cause data center noise increases.
There has been a lot of talk recently about raising data center temperatures to improve energy efficiency, as the air conditioners don't have to work as hard to cool the room. ASHRAE TC 9.9 recently changed its recommended upper data center temperature from 77 degrees Fahrenheit (25 degrees Celsius) to 80.6 degrees Fahrenheit (27 degrees Celsius). Munther Salim, a mechanical engineer at HP EYP Mission Critical Facilities, said raising the set points in CRAC units is the "number one thing you can do to save money."
Google is raising data center temperatures. So is Microsoft and Intel. But Michael Patterson, a thermal engineer at Intel, warned that raising the data center temperature could have an effect on "acoustical noise levels."
"Servers with (variable frequency drive) fans on servers — the increase in power comes mostly from the increase in fan power after 25 degrees Celsius," he said. "Servers in 27 degrees Celsius may have higher acoustics due to higher fan speed."
Patterson showed the following graph: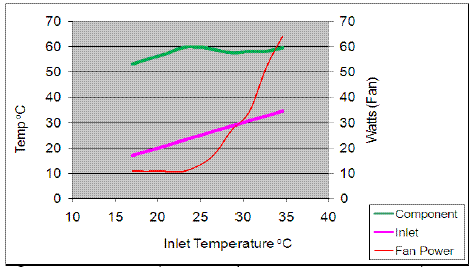 As you can see, fan power (the orange-reddish line) rises exponentially after about 25 degrees Celsius, which happens because of the increase in fan speed to keep the server components cool enough in a warmer environment. According to an ASHRAE document on the extended environmental envelope, "it is not unreasonable to expect to see increases in the range of 3-5" decibels if the ambient temperature increases from 25 to 27 degrees Celsius.
"Data center managers and owners should therefore weigh the trade-offs between the potential energy efficiencies with the proposed new operating environment and the potential increases in noise levels," the document states.
Are there any other solutions? Some suggest reversing the trend of server manufacturers to miniaturize components. Just a few years ago, 1U servers might have one single-core processor. Now they might have multiple quad-core chips. That leads toward having to dissipate more heat in a smaller space. If servers were made bigger, the fans wouldn't have to work as hard to do so much in such a tight area.
But that might not be feasible for some users. According to a SearchDataCenter.com survey earlier this year, 32% of users say that lack of space is most limiting their data center growth. Making servers bigger won't help that.