Mar 24 2010 12:44PM GMT

Profile: Mark Fontecchio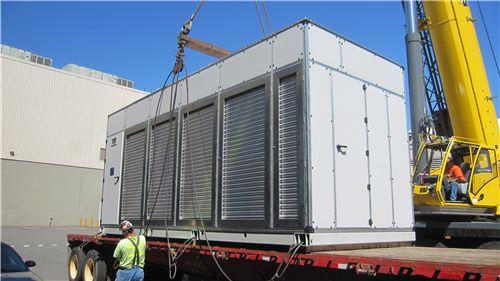 In a blog yesterday morning, Microsoft General Manager of Datacenter Services Kevin Timmons described the company's new modular data centers. It calls them ITPACs, which is short for IT Pre-Assembled Components. The video is below:
The WMV file, if you don't have Silverlight or don't feel like downloading it, is here. The video basically shows how the ITPAC is put together like a Lego structure, and it goes like this: base, frame, flooring, server racks, transformer, control panel, partitions, fans, exhaust dampers, bus bars, servers, lights, mixing dampers, air washer drain pans, air washer supports, air washers, intake louvers, filters, skin. The unit is built to take advantage of outside air cooling as much as possible, with server intake air ranging from about 50 to 90 degrees Fahrenheit.
"Using fans to create a negative pressure for cooling, ambient air can be pulled through on one side, run through the servers and exhausted out the other, with some of the air re-circulated to even the overall temperature of the unit," Timmons wrote.
He added that by being able to use no mechanical cooling units, the power usage effectiveness (PUE) will range from 1.15 to 1.38, which is top of the line. Timmons continued:
Our development team is considering a number of different sizes of ITPACs in order to make the units easily shippable, and they could contain approximately 400 to 2,500 compute servers and draw 200 to 600 kilowatts depending on the server mix between compute and storage. Another exciting development is that in our research and development, we found that with automation a single person could build one of these units in only four days.