Jan 28 2009 5:39PM GMT

Profile: Mark Fontecchio
In a story earlier this week, I reported on the American Society of Heating, Refrigerating and Air-conditioning Engineers (ASHRAE) TC 9.9 expanding its recommended guidelines for data center temperature and humidity ranges. One person who wanted that range to expand beyond what it did was Christian Belady, the principal power and cooling architect at Microsoft. Belady gave me the following image to make his point (click the picture for a much larger version):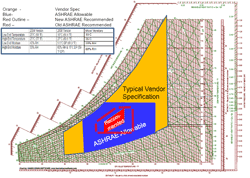 This is a typical psychrometric chart that looks at dry bulb temperature, wet bulb temperature, dew point, relative humidity and other factors. Because there are several variables involved, you often get these odd shapes when plotting ranges.
As the key in the upper left shows, the solid red block was ASHRAE's previous recommended range. The red outline is its current recommended range. The blue block is ASHRAE's allowable range, which ASHRAE defines as an environment able to support IT equipment running, but with marked breaking down of equipment compared to the recommended range.
Then comes the yellow block, which is the typical vendor specification. Belady's argument is that ASHRAE should be pushing beyond that yellow block, not cozying up within it. If the vendors will warranty equipment within that yellow block, why should ASHRAE have a range inside it?