Aug 19 2008 3:41PM GMT

Profile: Mark Fontecchio
Tags:
The Green Grid has another tool for data centers to measure their companies' efficiency, saying it could be a valuable way to communicate with upper management on the state of the data center.
The IT efficiency-focused group has published a new paper on the "productivity indicator." Christian Belady, the principal power and cooling architect at Microsoft who was the driving force behind the PUE/DCIE metric, edited the paper and said it should be used as "a communication tool" between various members of a company – IT workers, data center facility folks and company executives.
"What this does is give you a quick visual of how you're doing, especially if you're communicating up to executives," he said.
The paper suggests building a radial graph with five "spines," with each spine representing a metric:
Server utilization: The activity of the server processors relative to its maximum ability in the highest frequency state.
Data center utilization: The amount of power drawn by the IT equipment relative to the actual capacity of the data center.
Network utilization: Percentage of bandwidth used compared to bandwidth capacity.
Storage utilization: The percentage of storage used compared to the overall storage capacity.
The paper doesn't say how to come up with each of these numbers, but there are tools and software out there to get the data points for each of them (see the definition of storage utilization, for example). And if for some reason you are still trying to figure out how to measure network utilization, for example, you can still plot a graph using the productivity indicator, but with fewer spines. Here is a sample picture of a productivity indicator radial graph: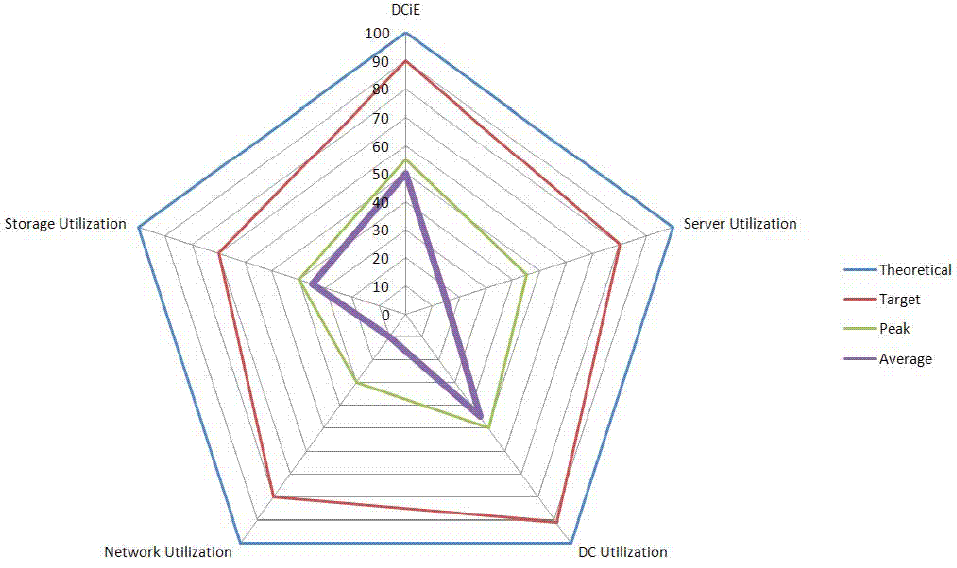 Belady and John Tuccillo, a Green Grid member from APC, said businesses can add target lines if they want as well. They could have targets for six months out, a year, and 18 months out. Companies can use it for whatever data center metrics they're actually using. So if it's not a pentagon, it might be a square or a triangle with four or three data points, respectively. In which case it might look like this:

Companies can also break down one of those categories, such as data center utilization, into a more detailed radial graph all its own, such as this: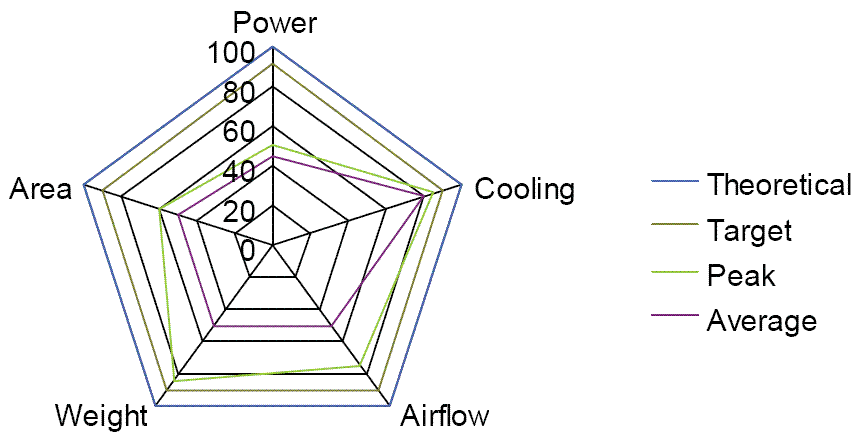 They emphasized that this isn't something that companies should use to compare to other companies. Instead, it's a way for businesses to realize their existing energy situations and set target goals for themselves down the road.
"Different companies have different risk thresholds. A business may say, 'You know what? My storage utilization, because of my business plan, should only be at 50%,'" Tucillo said. "One of the strengths of this tool is that it allows for the end user to weigh the spines to what their business practice is."