Nov 21 2008 12:29AM GMT

Profile: Matt Stansberry
Over the past two years, SearchDataCenter.com has published articles on the cheapest places in the U.S. to operate a data center. The data center site selection reports from 2006 and 2007 consistently rank states in the Midwest and the South as low-cost options for data center locations.
A reader recently pointed out that we write a lot about green data centers, and that these lists of data center locations are easy on the finances, but hard on the planet.
So I cross-referenced our cheapest data center locations against the power-generation profiles of each state.
It's important to note that all forms of electricity generation have some level of environmental impact. Even "eco-friendly" hydropower, which is fueling the current data center boom in the Pacific Northwest, is driving the Pacific Salmon into extinction in the lower-48.
That said, global climate change is a much broader crisis. And with a Carbon Cap and Trade plan increasingly likely to be implemented in the U.S. under the Obama administration, greenhouse gas emissions are the most pertinent criteria to weigh environmental and financial impacts of data center location.
The top electricity fuel sources in the U.S. listed in order of largest to smallest carbon footprint are:
Coal: Around 50% of the electricity generated in the U.S. comes from coal, which is an ecological nightmare to mine (often by removing mountaintops, filling Appalachian streams with a toxic sludge). When coal is burned, carbon dioxide, sulfur dioxide, nitrogen oxides, and mercury compounds are released.
Natural gas: Burning natural gas produces far less carbon emissions than coal. Though methane, a nasty greenhouse gas, can be emitted into the air when natural gas is not burned completely or as the result of leaks and losses during transportation. Natural gas wells and pipelines can be ecologically disruptive, but have nowhere near the potential for environmental devastation that coal mining does.
Nuclear power: Accounting for nearly 20% of our electricity generation, nuclear power is practically greenhouse gas-free. If only we could figure out what to do with the spent uranium! A recent NY Times article pointed out that back in 1980, the U.S. department of energy promised utility companies that it would begin accepting nuclear waste in 1998 at Yucca Mountain in Nevada. The government began accepting payments from utilities at one-tenth of a cent per kilowatt-hour generated at their reactors. But now the DOE predicts that a waste repository will open by 2020 at the earliest, and clearing the backlog could take many decades. Because of the delay, the government will owe damages to the utilities of $11 billion or more. Oh yeah, and thanks to radioactive waste's 10,000 year shelf-life and the seismic volatility of the region, Yucca Mountain may never open. So much for cheap clean power.
Hydropower: Green, mean salmon-extinction machine, accounting for around 6% of the nation's electricity. It's renewable and cost effective, but many dam operators in the West are facing hefty upgrades to equipment to make their operations more fish-friendly, and some high profile dams are being removed, instead of upgraded with modern fish ladder technologies — like the Klamath River in Calif.
The image below outlines the fuel percentages nationally for electricity generation and is from the EPA's Clean Energy Site.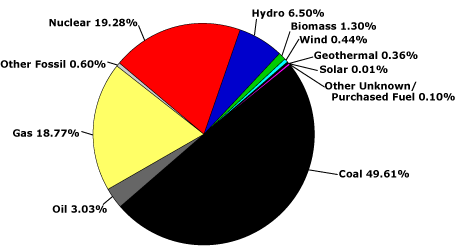 Let's look at the states. The information below was retrieved from the Energy Information Administration.
South Dakota
Sioux Falls S.D. cleaned house in 2006 and 2007 as the cheapest city to locate your data center according to The Boyd Co.'s research. Surprisingly, South Dakotans get over half their energy from hydropower. Though the majority of other half comes from coal, it's certainly a bright spot on this list.
Florida
The Sunshine state on the other hand, does not fare quite so well. Florida didn't make a showing on the 2006 list, but it sure cleaned house in 2007, taking six of the top ten spots. Not only is this state a hurricane prone, air-conditioning hog, it also is a huge fossil-fuels consumer. Natural gas and coal are the leading fuels for electricity production, and each typically accounts for about one-third of net generation. Nuclear and petroleum-fired power plants account for much of the remaining electricity production.
Texas
A recent Newsweek article said Texas produces more carbon emissions than most countries, but the state government and business community don't seem too concerned. The reader who prompted me to examine this issue had a litany of complaints about coal-fired power plants in Texas, some of which you can read at StopTheCoalPlant.org. The Lone Star state gets half its electricity from coal and the other half from natural gas. It also boasts the largest amount of wind farm turbines in the U.S., but renewables aren't making much of a dent.
Indiana
Indiana isn't poised to win any environmental awards. A recent article in the Indiana Economic Digest pointed out that Indiana ranks first among the states for the percentage of carbon dioxide emissions from coal, and seventh largest emitter of CO2 overall.
Alabama
Birmingham scored high on both the 2006 and 2007 reports as a cheap data center location. Over half of Alabama's power is generated by coal, but it's also one of the biggest hydroelectric producers east of the Rocky Mountains. The state also relies heavily on nuclear power.
North Carolina
Coal is King in the financial industry hub city of Charlotte. Coal-fired power plants typically account for more than three-fifths of North Carolina's electricity generation, and nuclear power typically accounts for about one-third. Hydroelectric and natural gas-fired power plants produce most of the remainder.
So basically, every time we check a bank statement online or our Facebook page, we're killing the planet a little bit. Or even blogging for that matter…