Dec 1 2008 2:53PM GMT

Profile: Mark Fontecchio
What costs more in your data center, server hardware or power? Well, it depends on your zip code.
James Hamilton, an architect at Microsoft, recently wrote about the cost of power compared to servers in large-scale data centers. He concluded that servers cost more than power in cooling — in Hamilton's scenario, the server hardware costs three times more than power. Take a look: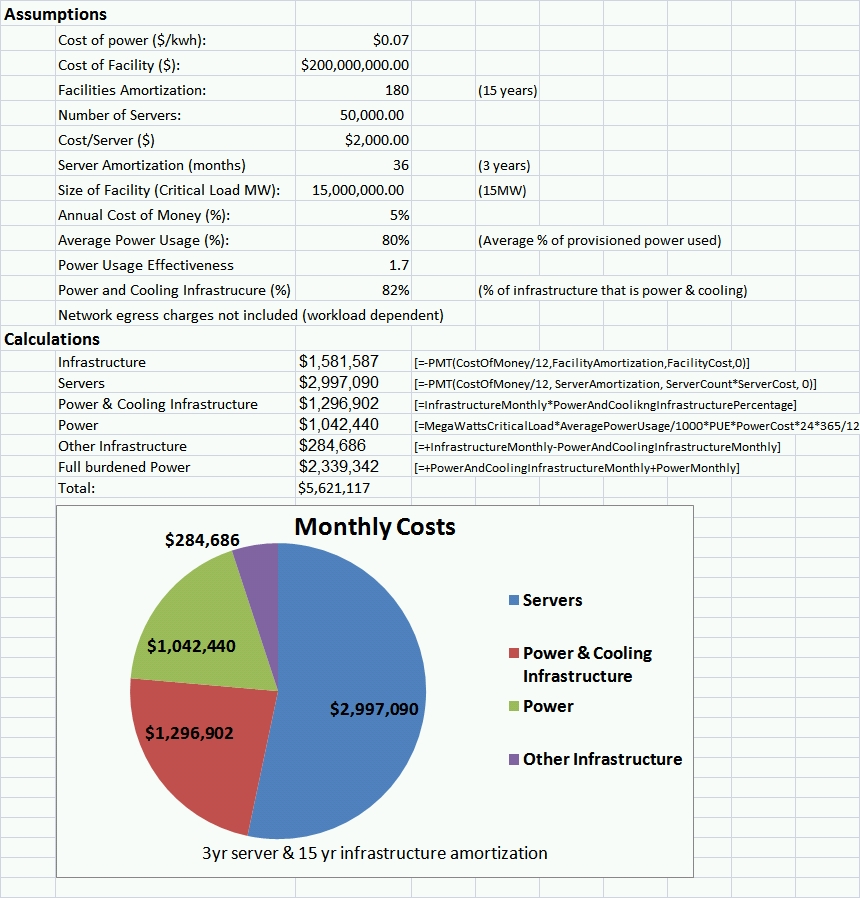 Hamilton made available the spreadsheet on overall data center costs that he created to make the calculations.
Two assumptions caught my eye: one on the cost of power, which Hamilton put at $0.07 per kilowatt-hour (kwh); the other on the power usage effectiveness (PUE) being 1.7.
According to the Uptime Institute, the average PUE is 2.5. This average was calculated using data from Uptime's data center user members, many of which are large companies running large data centers. So I plugged that PUE number in instead. A worse (higher) PUE number leads to higher power costs, because there is more power being wasted.
On the cost of power, I wasn't sure whether $0.07/kwh was cheap or not. It seemed cheap to me, but I'm not that familiar with power rates. I went to a Web site run by the Energy Information Administration, a division of the U.S. Department of Energy. The EIA publishes a regular newsletter called Electric Power Monthly that has these rates. The data I looked at was in a spreadsheet called Average Retail Price of Electricity to Ultimate Customers by End-Use Sector, by State.
As it turns out, location matters a lot. The cheapest location for power is West Virginia, where the industrial rate is 4.34 cents per kwh. If you build a data center there with a PUE of 2.5 and use Hamilton's spreadsheet,  server hardware costs three times more than power. If you build it in Hawaii, where power costs 29.51 cents per kwh, then power costs more than twice as much as server hardware.
The national industrial rate in August was 7.61 cents per kwh. Using that assumption to build a data center with a PUE of 2.5, server hardware costs about 80% more than power.