Sep 25 2008 6:04PM GMT

Profile: Mark Fontecchio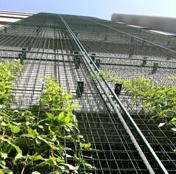 The idea for Power Loft, according to its president Jim Coakley, happened back in 2005, when he and EYP Mission Critical Facilities head Peter Gross were having some drinks. The idea was this: Focus a colocation company on high-density data center space.
That's what Power Loft is doing today, aiming to scale his facilities up to 300 watts per square foot, which ends up being about 10kw/rack, according to Coakley.
Now the company is building a 200,000-square-foot facility in Manassas, Va. Coakley is hoping that construction, which started last year, will be done in the first quarter of 2009.
"We have not yet leased," he said. "We're still in the second phase of construction and activity looks good. I'm curious to see if we do get the high-density crowd like we were hoping. I'm pretty confident that we can operate more efficiently than anything I've ever been involved in."
What's the benefit for customers? Well, some want that level of high density to accommodate high-density equipment of their own, such as blade servers. Others simply want the ability to scale from 150 watts per square foot and go up from there, without having to rent out more floor space. That is something Power Loft is offering.
EYP, which Coakley has dealt with since about 2002, is assisting Power Loft with the design and construction, and will continue to do the same with future facilities. EYP is now a divisional company of Hewlett-Packard, having sold to them last year. Power Loft is one of the dozens of cases that HP is touting as new data center service customers for the company.
For its Manassas facility, all of the power and cooling infrastructure is on the first floor, and all the data center space is on the second floor. They're also building a "power transmission backbone" that will be capable of expanding in AC or DC power. DC power has become a point of interest for some data centers because of the possibility of saving energy costs by eliminating some of the transfers between AC to DC and back again.
Power Loft has combined eight 20-ton CRACs into a single, massive, 160-ton air handler in the hopes of operating the cooling load more efficiently. The design is LEED-certified and includes a green roof — what Coakley called a "Chia Pet roof." It also has vines on the outside of the building and will use waterside economizers to help save on power costs in the cooler months.
Coakley said that after Manassas, Power Loft hopes to expand to San Antonio, Colorado and Atlanta, and then possibly tackling the overseas market after that. Powerloft is using Total Site Solutions, a Columbia, Md.-based company, to maintain the data center facilities once they're built.