---
December 19, 2008 8:38 PM
What were the biggest data center stories of 2008? This list is our top ten: 1. Hot-Cold Aisle Containment: Physically separating the hot and cold aisles in the data center is on every data center manager's to-do list this year. The top articles on this topic...
---
December 8, 2008 4:20 PM
John Savageau was appointed CTO of the colocation firm CRG West back in September. We recently caught up with Savageau to discuss how the job is going so far and what trends he's seeing in the data center market. Tell me about your new...
---
December 4, 2008 5:55 PM

Profile: Leah Rosin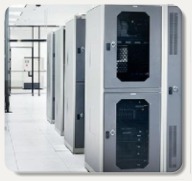 We all know how big business operates: Each and every quarter, the bottom line must be met. This pressure on businesses creates...
---
December 3, 2008 12:03 AM
Say goodbye to chillers and CRAC-units, say goodbye to raised floors and traditional disaster recovery. And say hello to the new paradigm, courtesy of Microsoft's data center team. Microsoft's goal in 2008 was to shake up the data center community in a big way, starting with
---
December 1, 2008 2:53 PM
What costs more in your data center, server hardware or power? Well, it depends on your zip code. James Hamilton, an architect at Microsoft, recently wrote about the cost of power compared to...
---