---
April 5, 2016 2:00 PM
SmartBear
SmartBear's new developer focused test automation tool is called TestLeft. So what? There are many magic rings in this world. The so what factor is down to the tool being able to help developers working in an Agile and continuous delivery environments to create robust tests within IDEs, which...
December 8, 2015 10:02 AM
Agile
,
SmartBear
Tis almost the season to be jolly -- so why not find out your Agile development Jedi Rank?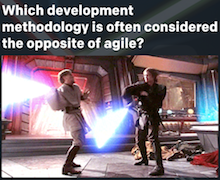 SmartBear Software...
---