---
August 13, 2018 2:08 PM
Human Resources
,
SuccessFactors
SAP is about to embark upon the US leg of its SAP SuccessFactors SuccessConnect conference series… so what can we expect?
With the European element of this conference having already been staged in Berlin this past June, SAP has the challenge of presenting what we...
---
April 7, 2016 9:58 AM
IBM
,
SAP
There's new harmony across the techie ether this week as IBM and SAP cast off their normal "no, our database is better" T-shirts and partner up on what they like to call co-innovation solutions.
---
July 28, 2015 10:20 AM
Microsoft
,
SAP
In 2015, it's okay to start your company name with a smaller case letter and end with capitals.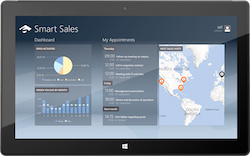 Taking...
---
---
August 22, 2014 3:42 AM
Big Data
,
sailing
,
SAP
Your average technical writer generally needs a really good reason before agreeing to get up at 5 am and take the early train to Cardiff central... ... but it turns out that SAP Extreme Sailing is indeed reason enough. What is Extreme Sailing?
---
May 22, 2014 3:19 AM
Mobile
,
Mobile Application Development
,
SAP
,
Software
,
Sybase
This is a guest Computer Weekly post by Rick Costanzo, SAP executive vice president and general manager of global mobility solutions. Costanzo joined the company around the time of Mobile World Congress 2013 and in this article he articulates the...
---
March 31, 2014 5:36 AM
Mobile Application Development
,
SAP
SAP is a clinical German company with a stoic approach to hard graft and no perceptible sense of humour, right? Vorsprung durch Technik has its place at SAP for sure, but the firm has a hidden penchant for jocular transgression...
---
March 6, 2014 7:43 AM
Developer
,
HANA
,
SAP
Three years ago in 2011 we described SAP HANA as an in-memory computing platform and high-performance analytical appliance with a strong emphasis on ERP. Today in 2014, SAP would rather we just call HANA a computing platform -- but have developers ever been really able to "code to HANA"...
---
February 17, 2014 3:16 AM
Conferences
,
d-code
,
SAP
,
TechEd
SAP has renamed its TechEd conference series as d-code. Possibly redolent of an open homage to the developers, developers, developers cry now almost ubiquitously banded around the industry, SAP had to share the never-exclusively-trademarked TechEd name with other firms including Microsoft who have...
---