---
December 6, 2015 11:32 AM
Ecommerce
,
multi-channel
,
NetSuite
The challenges of designing software that supports international business are many, manifold, multiplex and... crucially, multilingual. NetSuite is aiming to facilitate 'multilingual' multi-channel ecommerce with a new version of its One World business management suite.


RSS Feed

Email a friend
September 24, 2015 9:46 AM
cloud
,
ERP
,
NetSuite
What makes a Silicon Valley technology evangelist spokesperson -- and how do you spot one? NetSuite's Fred Studer would argue that it comes down to having a Twitter profile that reads as follows: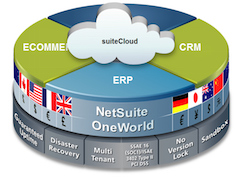 ---
May 3, 2015 6:17 PM
NetSuite
,
SuiteWorld
Apologies for the Z, but this is Silicon Valley and customisation becomes customization for the duration of this electronic missive. NetSuite holds its annual SuiteWorld user, customer, partner, developer, practitioner (Ed - we get it, everyone is invited right?) conference and exhibition this...
---
July 21, 2014 6:19 AM
Ecommerce
,
NetSuite
,
Omnichannel
The arrival of that job title we now call CAO (chief analytics officer) comes with a few other new realities for the 'next-generation' IT shop. This next-gen IT Nirvana sees analytics now driven from a top-down perspective (i.e. the boardroom and the central IT function) and, also, successfully...
---
May 15, 2014 12:48 PM
B2B
,
NetSuite
,
robot
,
ROBOTS
,
X2X
NetSuite SuiteWorld 2014 is staged this week in sweltering San Jose temperatures approaching 40 degrees C. But despite the early heat wave, the focus here has been one of product updates and customer connection points. NetSuite has used this event to detail new features in its product base to the...
---
May 14, 2014 12:51 PM
Microsoft
,
NetSuite
NetSuite is keen to reinforce the fact that it is the only true cloud ERP player; the firm was around before this thing "called cloud was called cloud" and so has engineered both its customer and user/developer offerings for a more native embrace of the online world. When NetSuite talks about its...
---
May 17, 2013 6:16 AM
cloud
,
NetSuite
It's official. The software application development discipline now extends to a wider definition and the cloud software application developer has arrived. Call him (or her) a '
---
January 8, 2013 2:35 PM
cloud
,
Management tools
,
NetSuite
The cloud needs managing. This we know to be true. If we accept this truth then we must ask ourselves how we address the minutiae of detail needed to integrate (or perhaps re-integrate)...
---
December 12, 2012 7:12 AM
ERP
,
NetSuite
,
SAP
As SAP has been grabbing the lion's share of the ERP headlines in recent weeks, it seems only fair and just to look a little further afield. Updates on the ERP newswires today even feature commentary on the fact that some of SAP's products are now being certified for use with Oracle's Database...
---