---
April 7, 2016 9:58 AM
IBM
,
SAP
There's new harmony across the techie ether this week as IBM and SAP cast off their normal "no, our database is better" T-shirts and partner up on what they like to call co-innovation solutions.


RSS Feed

Email a friend
January 16, 2016 9:00 AM
cloud
,
Cloud Applications
,
IBM
How do you end up being a 'significant software provider' in the still-shifting world of hybrid cloud? IBM thinks it knows how -- the firm has just been ritualistically anointed by Forrester Research in its latest...
---
November 3, 2015 6:50 PM
Developer
,
IBM
IBM tells us it likes developers, but don't be fooled -- everyone has been saying that since a certain bald headed CEO started bouncing around the stage screaming the word. But down at the guts level, we know IBM's intentions are pure enough i.e. the firm has spent years now validating its work...
---
---
October 25, 2015 4:41 PM
Analytics
,
Big Data
,
Hadoop
,
IBM
,
information
,
Spark
IBM, it turns out, was quite clever. The company renamed its old Information on Demand conference to IBM Insight just before the whole big data analytics (which leads to 'insight', obviously) thing really started to take a hold across the tech industry about two years back...
---
April 7, 2015 3:53 PM
IBM
IBM is offering its Bluemix platform up for the NASA Space App Challenge virtual event to help developers build applications that contribute to space exploration. Bluemix is a Platform-as-a-Service (PaaS) -- it is an implementation of IBM's Open...
---
October 28, 2014 4:55 PM
IBM
IBM makes a direct play for the "data developer" (or perhaps "data architecture developer") this month at its Insight 2014 conference. Not quite a formalised term as such, IBM has previously talked...
---
October 28, 2014 4:31 PM
Developer
,
IBM
,
Security
IBM has announced new high-speed analysis and criminal investigation software. The product is designed to uncover hidden criminal threats buried deep inside massive volumes of disparate corporate data. Non-obvious relationships, it's complicated IBM i2 Enterprise Insight...
---
October 26, 2014 12:24 PM
Analytics
,
IBM
,
Watson
The first rule of technical conferences is: conferences start before the conference.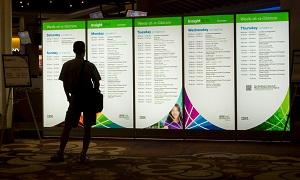 ---
June 25, 2014 6:28 AM
IBM
IBM's software intelligence promotion du jour is focused on transforming how organisations engage with "business content" and make it more usable. Business content? Could a more generic and meaningless term be possible?
---