---
March 16, 2018 10:59 AM
Data Analytics
Hitachi has aligned its data analytics divisions and and fused it with its Pentaho acquisition to call the new entity Hitachi Vantara. So... Vantara… kind of sounds like 'advantage' with a bit of Latin 'avanti' in there for added good measure right? Branding shenanigans aside, Hitachi...
February 6, 2014 7:07 AM
Data Analytics
,
TIBCO
TIBCO has this week announced its cloud-based Spotfire data discovery and visualisation platform.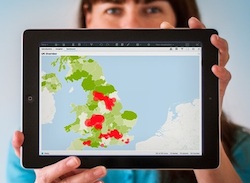 ---
---
July 25, 2013 7:05 AM
Big Data
,
Data
,
Data Analytics
,
Microsoft
This is a contributed piece for the Computer Weekly Developer Network by Matt Ballantine, principal evangelist at Microsoft UK. Ballantine recalls a curious observation taken from a conversation with a colleague who'd just arrived back from UCL...
---
June 18, 2013 7:48 AM
Data
,
Data analysis
,
Data Analytics
,
Data integration
The term "data programmer" now appears more readily on job posting boards serving the software application development community. More accurately, the job tends to be referred to as data programmer / data analyst. A random job listing taken today reads: "The Data Programmer...
---
December 13, 2011 3:54 AM
Big Data
,
Business Intelligence
,
Data Analytics
,
JasperSoft
Computer science purists have long baulked at some of the 'dumbed down' drag-and-drop technologies that have proliferated in recent years. While true programmers will have generally always cut their teeth on a
---
November 10, 2011 12:05 PM
Data analysis
,
Data Analytics
,
HANA
,
SAP
,
SUP
,
Sybase
,
unwired
Corporate technologies acquisitions can go bad, it's a fact. AT&T bought NCR to try and gain a foothold in the PC market and the deal ended up as rotten as a box of stale eggs. The Skype and eBay deal went pretty sour from the start and HP's purchase of Compaq was not without its woes. Oracle...
---
September 14, 2011 5:12 PM
Applications
,
Data Analytics
,
Database
,
HANA
,
IN MEMORY
,
SAP
,
Sybase
SAP has predictably saved up news relating to its HANA product for this week's TechEd show here in Las Vegas, but what is it? Described variously as the company's in-memory computing platform with a strong emphasis on ERP, it is perhaps more directly described as a high-performance analytical...
---
July 11, 2011 11:52 AM
Business Intelligence
,
Data Analytics
,
Data Management
,
Sybase
As I'll shortly be on the road to Sybase's TechWave developer and database professional symposium in September, my ear is uncommonly well tuned to news emanating from the company's PR portholes (or should that be portals?) just now. Hot off of its press release grill this month is news of the...
---
June 24, 2011 1:44 PM
Big Data
,
Cloud Computing
,
Data Analytics
I'm doing a cloud data integration and analysis lunch/panel-discussion next month at Gordon Ramsay's Claridges in front of a small group of industry experts. This means that right now, I'm doing some planning in terms of gathering discussion points.
Note to self: remember not to ask...
---