---
April 18, 2016 7:27 AM
Artificial intelligence
,
Communication
First there was Artificial Intelligence (AI), then came machine learning... neural networks and finally cognitive computing technology.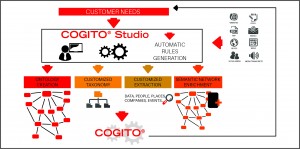 RSS Feed

Email a friend
April 15, 2016 2:30 PM
Communication
,
Data
,
Data services
,
Developer
,
Genband
,
IP-based
,
ISVs
,
Mobile
,
Real time
It's Spring conference season and that means three things: 1. People should use more tooth floss & avoid 'convention coffee breath' if at all possible. 2. Florida, Vegas, Barcelona, Amsterdam, San Francisco and various other symposium-friendly locations will be doing good business. 3. The...
---
October 21, 2014 7:07 PM
Collaboration
,
Communication
Jive Software kicked off its JiveWorld 14 event this October with an informal 'day zero' style executive summit hosted by the firm's sharply dressed man CEO Tony Zingale.

0 Comments

RSS Feed

Email a friend
---
December 15, 2011 6:38 AM
Communication
,
Data
,
devices
,
IBM
,
Internet
,
Internet of Things
Embedded software application development could be a significantly increasing trend for 2012 and onward if IBM's latest thinking is borne out in tangible product development. This is the upshot of IBM's latest moves to produce what could effectively be a whole new Internet - or the "Internet of...
---