---
June 7, 2017 8:57 AM
Artificial intelligence
,
data discovery
TIBCO is in the middle of a raft of product updates and extensions. The data integration firm's TIBCO Spotfire Data Catalog is describe as a data connectivity and data management product with a 'composite join capability' that automatically finds and relates structured and unstructured...
April 18, 2016 7:27 AM
Artificial intelligence
,
Communication
First there was Artificial Intelligence (AI), then came machine learning... neural networks and finally cognitive computing technology.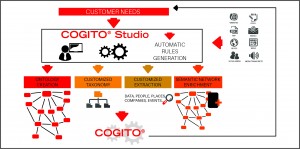 ---
January 4, 2013 4:41 AM
Artificial intelligence
,
touch
Artificial Intelligence (AI) software company Expertmaker is trying to pin down the AI trends that developers will need to be aware of for the next round of apps that emerge in this space. Expertmaker founder Lars Hard says that AI-powered search is next on the horizon as are "smart and adaptive"...
---