---
January 24, 2018 10:33 AM
Agile
,
RAD
How do developers feel about so-called 'low code' platforms? In truth, we don't really know yet as their very existence is a comparatively new phenomenon on the clock that tracks spacetime in the total software...
December 8, 2015 10:02 AM
Agile
,
SmartBear
Tis almost the season to be jolly -- so why not find out your Agile development Jedi Rank?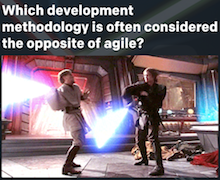 SmartBear Software...
---
January 23, 2015 7:47 AM
Agile
,
Agile software development
,
Contin
,
DevOps
,
Moogsoft
,
Operations
The new DevOps is more synthetic. In terms of real world workflows, the new approach to developer-operations intersections comes from a world that is more malleable, more pliable and altogether more bendy by far. DevOps: we have a problem
---
---
January 7, 2013 4:34 AM
Agile
,
API
,
cloud
,
Programming
It's January 7 in the year of whichever lord you care to worship. This date means that we are mercifully past the "predictions for application development in 2013" phase where companies mark the end of the 12-month with sagacious musings attempting to predict trends, tendencies, propensities and...
---
---
November 21, 2011 5:34 AM
Agile
,
Agile software development
,
Hindu
,
methodologies
,
methodology
,
Programming
,
Scrum
,
Software development
,
Waterfall
Just as the Indian subcontinent has its Hindu's, Christians, Buddhists and Jains, software application development has its many methodologies from
---
September 2, 2011 10:49 AM
Agile
,
Coverity
This is a guest blog written by Rutul Dave of Coverity. The company is focused on software developer defect tracking issues relating to software integrity; as such, its products and services tackle source code analysis tasks.
I recently read a LinkedIn discussion from the Agile...
---
August 10, 2011 9:57 AM
Agile
,
ALM
,
Jedward
,
Linux
,
Serena
,
survey
,
Windows
It was British Prime Minister Benjamin Disraeli who coined the phrase, "Lies, damn lies, and statistics..." and given the amount of PR fluff that the IT industry throws up in terms of "shocking new stats", the man was clearly before his time. Only yesterday we saw this story on the...
---
November 19, 2010 9:46 AM
Agile
,
Agility
,
Integration
,
Testing
Much of the last decade's software application development publicity has been characterised by vendors at various segments of the application lifecycle telling us that a huge percentage of projects go bad and fail to deliver.
Failing to deliver: on time, on budget, on spec or even at...
---