Dec 23 2014 12:05PM GMT

Profile: Adrian Bridgwater
Tags:
Christmas-focused technologists will need to remind themselves of the most pertinent acronyms this season. As a quick refresher…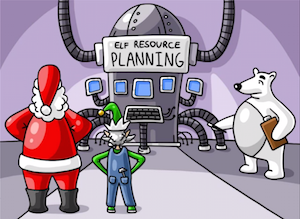 – Enterprise Resource Planning (ERP), – Enterprise Asset Management (EAM), – Enterprise Service Management (ESM) – … and also – Elf Resource Planning (ERP) — not to be confused with Enterprise Resource Planning. Not afraid of a bit of shameless PR-spun marketing silliness this holiday period is ERP specialist (of the first kind) company IFS. The company has playfully suggested that Santa uses an ERP system (the elf kind) to strategically plan the logistics for his trip on a magic sleigh that travels at 25 times the speed of sound to deliver 120 million presents worldwide Every year Father Christmas sets off from his HQ in Lapland tasked with delivering presents to children the world over. **Go with it, it's a tech joke** Using IFS Mobile Workforce Management with dynamic scheduling, it's calculated that Santa would need to travel at 19,210* mph from bedtime to sunrise in in order to travel the 144,000 miles required to deliver presents. **Santa's brandy ration** Rudolph and team will need 3,660 tonnes of carrots to fuel them through the night. The reindeer, in turn, will pull over 180,000 tonnes of toys (and packaging) in the magic sleigh. Assuming a standard shot of brandy is served up at the households Santa visits he will consume over 4.7 million pints of brandy over the course of the night putting him roughly 60 million times over the legal limit. "Businesses of all sizes face logistical challenges; granted, not every business has a magical CEO capable of circumnavigating globe overnight squeezing down chimneys of all shapes and sizes to hand-deliver individually gift-wrapped presents, but then not every company has a CEO who only works nine hours of the year and drinks more than enough brandy to fill an Olympic-sized swimming pool," said a Santa believer at IFS.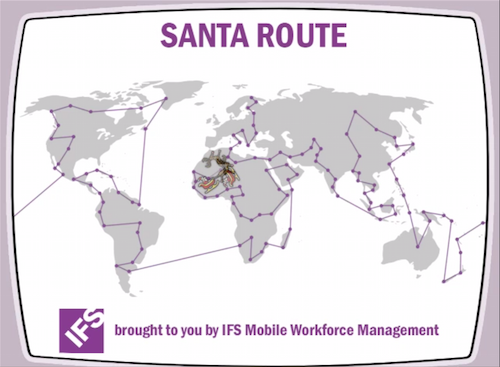 Oh okay then, they did all the work and it's Christmas — here's the plug. IFS Dynamic Scheduling Engine (DSE) is deployed around the world by more than 6,000 users to optimise the scheduling of all kinds of field resources from technicians to assets using algorithms to automate and optimise scheduling decisions based on configurable and reconfigurable business constraints. Virtual mince pie anyone?