---
November 5, 2010 11:42 AM
Developers
,
IBM
This is a guest post by Kevin Bowkett from IBM's CICS TS Development – in this post for the Computer Weekly Developer Network, Kevin talks about the harsh realities of software development and how we should look to proven methodologies for support and process where it is available.
Kevin says that those involved in the development and delivery of technology projects – managers, developers, functional testers, information "documenters" – will be familiar with the stress of budget constraints and ever-changing client demands.
But is there an easier way? Is there a way to avoid additional stress and the software application development-induced development of grey hair?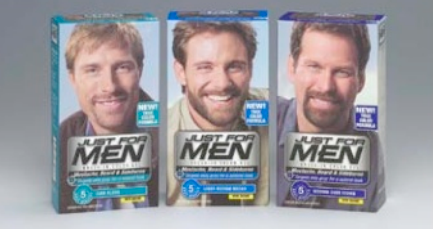 As project development evolves in line with the pace of technology managers need to keep abreast of the latest tools to ensure they can respond effectively to changing workflows and methodologies. One significant development for project managers has been the move away from the legacy waterfall approach to today's more iterative process, enabled by recent technological improvements.
IBM's CICS (Customer Information Control System) Transaction Server for zOS technology, the lynchpin of most electronic transactions (which now carries up to 30 billion electronic transactions per day) is a good example of a technology that has benefited from an iterative development process.
During its 40+ year evolution CICS TS has evolved its development, which was heavily influenced by the waterfall approach, to adopt best practices of the time. In the last five years or so, this has lead to CICS TS successfully adopting iterative development and the resulting benefits have been well received.)
Looking to quote his colleagues inside Big Blue's hallowed portals, Kevin references a recent quote by Nigel Hopper, CICS Development Team Leader at IBM. "The migration to Agile and Rational Team Concert (RTC) has enabled us to adapt to change more readily, track the work more accurately and identify defects much earlier in the project. This has allowed us to prioritise the work better, ensuring we can give the customer the new capabilities that they are looking for as well as improving the overall quality of the product."
RTC has brought significant benefits to the development of CICS TS. It provides the team with a single point of control to monitor progress, team dependencies and workflows, thereby enabling us to respond in a more agile manner to changing requirements.
Beta versions of CICS TS demonstrating the new capability can be provided more regularly than with previous approaches and new requirements and niggles can be addressed on an ongoing basis before they become bigger challenges. Clients also reap the rewards of iterative development as new ideas are easier to incorporate so value can be realised much quicker.
Ultimately, the sooner that a remedy is brought to bear upon the project, the smaller the headaches for all involved and the fewer the grey hairs!
November 4, 2010 11:58 AM
Agile
,
Projects
In honour of David Carradine's Shaolin monk character Kwai Chang Caine from seventies TV series Kung Fu, this story starts with a reference to Master Po — the blind 'master' who named the young monk 'Grasshopper' after a famous scene in the series pilot which will be familiar to many fans.
Developers without the spiritual guidance of a Kill Bill style Kung Fu master may instead feel they can benefit from the assistance afforded by a technical training book. Agile Samurai: How Agile Masters Deliver Great Software is the latest offering from publisher The Pragmatic Bookshelf.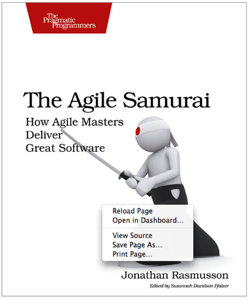 Agile proponents tend to highlight the fact that software projects rarely go as planned; and that becoming a more "fierce" software-delivery professional can enable developers to develop pragmatic new skills, such as what to do when you discover your schedule is wrong and how to look like a pro when correcting it.
Author Jonathan Rasmusson shows the reader how to kick-start, execute, and deliver your agile projects with the finesse of a master. "By learning the ways of the Agile samurai, you'll be ready to kick some software project butt," says his publicity statement.
If kicking "some software project butt" is a bit too gung-ho for you, then at least it's interesting to see Agile advocates using fresh communication channels to try and ply their wares. The book itself appears to be filled with light-hearted illustrations and claims to, "Slice away at the padding and esoteric theory that make other books less-than-agile."
---
October 27, 2010 6:22 PM
Cloud Computing
,
Data
,
Data Analytics
,
IBM
Spending a few days with IBM at the company's Information on Demand conference comes with three guarantees: you'll get a tightly run event (they've been doing this for a few years now after all); you'll get plenty of news; and you'll be hit with plenty of new Americanised terms such as the "templatizing" of business intelligence tools and the "operationalizing" of data analytics.
Well, as cheesy as these terms may be – they are used with such gung-ho gusto that you at least get to see that the company truly believes in the software technologies that it is currently developing in the data management space.
Supporting the furtherance of IBM's investment into this market is the launch of the company's new UK Cloud Computing lab at the Hursley IBM Innovation Centre in Hampshire.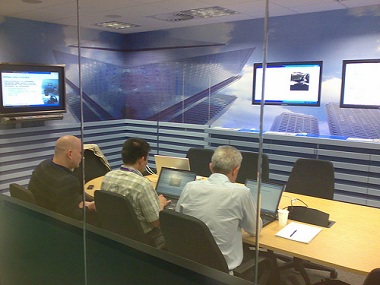 Image: courtesy of IBM
The company says that a recent IBM developerWorks survey of 2,000 IT professionals from 87 countries, 91 percent of respondents said they anticipate cloud computing to overtake on-premise computing as the primary way organisations acquire IT by 2015. Industry analysts also are predicting significant growth for cloud computing services, estimating that this year's US$68 billion market opportunity will reach nearly US$150 billion in four years.
Partners at the new Cloud Computing Lab in the Hursley IBM Innovation Center can access the latest in IBM cloud technologies to develop and test new cloud services and work with industry experts to build a go-to-market plan. IBM says that a typical project at the lab will help a partner explore a wide variety of cloud computing models and become cloud builders, application, technology and infrastructure providers — as well as cloud resellers and aggregators, depending on their individual business.
Partners can access the lab from any of IBM's network of 38 Innovation Centres worldwide. As a result, partners at these centres can work virtually with the cloud experts at the Hursley IBM Innovation Centre to enable their technologies and gain the skills they need to build and deliver new cloud services.
"Our business partners are ready to cash-in on cloud computing, and they are looking to IBM for hands-on assistance to drive new business opportunities," said Jim Corgel, general manager, IBM ISV and developer relations. "The new Cloud Computing Lab will help our partners gain the skills they need to build next generation business applications and services for the cloud using IBM technologies."
---
October 26, 2010 5:21 PM
Big Data
,
Cognos
,
Data
,
Data Analytics
,
IBM
IBM has thrown a lot of stats out to support its Information on Demand conference being held in Las Vegas this week. Of quirky interest perhaps was the slightly random fact that 92 percent of monetary transactions in India take place using cash, so there could be a major impact on global data if and when India starts to use electronic payments at any major level.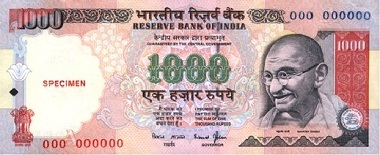 Indian Rupees: more popular than chip-and-pin by far
Also thrown out as a data-driven trend to ruminate on this week was IBM's comment that 80 percent of data is unstructured — and this is mainly down to video and email and texting. That figure may be inflated given IBM's willingness to tell us how well Cognos 10 business intelligence (BI) will save us from unstructured data hell, with its new collaborative tools and new support for mobile devices.
Senior VP for middleware software and IBM veteran Robert LeBlanc talks profusely about all the problems associated with unstructured data & how IBM wants to help manage it, but he doesn't explain why this modern phenomenon has come to be so, so why should we trust him?
Is it enough to simply say that this is IBM, or does that old adage (nobody ever got fired for buying IBM) not apply any more? It's almost like IBM is talking up the spiraling global unstructured data mountain and saying well hey guys, 'it's not OUR fault, but we're here to help you fix it'.
"A new car now has around 30 processors in it, so you are going to see information being created everywhere at levels never previously imagined – so performing analytics on that data and scaling it to the level where it becomes big data analytics will be very important – Hadoop is one of the biggest things in the industry right now and IBM is there to support the growth of these new technologies," said LeBlanc.
"We have to get to a world where we get to workload optimised systems that are focused on a particular set of capabilities or a particular process — and you are going to see a lot more of that from IBM," said LeBlanc.
Ah ha so finally, we get gutsy and get some hard core opinion from Big Blue. In fact the opening sessions do get better once you get past the "showboating" of day one with the "Dale Winton" style ultra-upbeat presenter Mark Jeffries.
The keynote sessions themselves are enticingly titled: Smarter Systems – Powering A Flexible Information Platform; Empowering Information Governance; and Maximising the Business Analytics Vision — and you can watch them all online here throughout this week.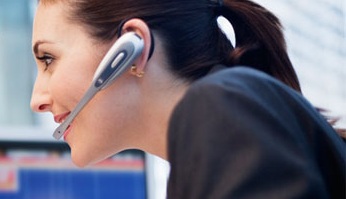 We started this story with global data stats, so let's end it the same way with some interesting notes on what's happening to our planet's appetite for information. These stats come from an internal IBM source and were shared for the first time this week.
This year alone, 1,200 exabytes of data will be generated from a variety of sources.
According to industry analysts, enterprise data growth over the next five years is estimated at 650 percent.
80% of this data will be unstructured generated from a variety of sources such as blogs, web content, email, etc.
In fact, 70% of this data is stale after ninety days.
The mobile workforce is expected to reach more than 1.19 billion by 2013 and mobile transactions are expected to grow 40 times 2015, generating even more data for businesses.
Today, 70% of first customer interactions with a product or service starts on the web.
More as it happens throughout the week…
---
October 25, 2010 7:16 PM
Data
,
Data Analytics
,
Data Management
,
IBM
,
Storage
This week sees IBM host its Information on Demand conference in (fabulous) Las Vegas. But this is not an extension of the IBM Rational Software Developer Conference, so what is this event all about? I initially thought we were going to be fed and endless stream of business intelligence (BI) content as there is some fairly heavy Cognos branding emblazoned across some of the welcome areas.
In truth, this event is rather more focused on 'real-time data analytics with scalability'. Now that was five words if you don't count the 'with' — and if IBM is doing one thing this week so far, it is using a long list of descriptive terms to talk to the 10,014 registered attendees for this conference.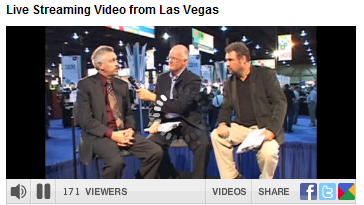 Robert LeBlanc, IBM VP for software & middleware took to the stage for a broad brush definition of what the company's recent CEO survey had uncovered in terms of 'insight' into current data trends.
CEO's want creative leadership according to LeBlanc — something he says translates into new and innovative business models where customer relationships are approached from a data-centric viewpoint i.e exactly HOW should a company share information with its customers?
But if that sounds like marketing-speak then LeBlanc's next comments were peppered with so many 'flowery' tech-business terms that he started to lose me to be honest. "We're looking at data environments with new additional volatility," — "We're looking at fundamental economic enablement," — and finally (wait for it) IBM and its partners want to explain how we should, "Operationalize the benefits of a single view of scaled integrated data."
Thankfully, LeBlanc spent some time explaining what IBM is really doing to make this "operationalization" actually happen. It is work to enhance the company's massive storage compression technologies, innovation within the IBM information server, fault tolerance provisioning and more.
Some more hard facts for you: IBM has invested US$14bn in data analytics over the last four years, over which time it has made 24 acquisitions. The company also employs more than 200 IBM mathematicians who focus exclusively on nothing but data analytics — and this has given rise to over 500 patents in the field of analytics to date.
Somehow you just wish the speakers could start off with more hard facts and less big picture postulating – or am I being picky? More to come throughout the week…
---
October 22, 2010 3:29 PM
cookbook
,
Development
,
Processors
In the spirit of a good Friday blog, I want to mention the recent release of a new book called "Cooking for Geeks: Real Science, Great Hacks, and Good Food" from O'Reilly. The company so well known for its 'CookBook' series of developer-centric books normally focuses on C++, Java or .Net as its main ingredient source – but this new geek cookbook is actually directed at software programmers' interest in the kitchen and all its mechanics.
But hang on – developers don't cook do they? They eat pizza and drink copious amounts of Dr Pepper and Mountain Dew don't they?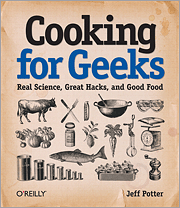 Well, the opposing theory is that software engineers ought to be interested in the mechanics of, well, pretty much everything really and that these guys (and girls) ought to be fascinated by the science behind what happens to food while it's cooking – right?
"Cooking for Geeks applies your curiosity to discovery, inspiration, and invention in the kitchen. Why is medium-rare steak so popular? Why do we bake some things at 350° F/175° C and others at 375° F/190° C? And how quickly does a pizza cook if we overclock an oven to 1,000° F/540° C? Author and cooking geek Jeff Potter (@cookingforgeeks) provides the answers and offers a unique take on recipes–from the sweet (a "mean" chocolate chip cookie) to the savory (duck confit sugo)," says O'Reilly.
"Readers of Cooking for Geeks will be much more comfortable walking into the kitchen, picking up a frying pan, and trying something new after reading the book," says the book's author Potter, who has been cooking since he was a child growing up in California. "Cooking for Geeks shows you how to have fun in the kitchen by blending science with cooking and takes a playful, quirky approach to teaching you how to be a better cook."
The publicity information accompanying this book's launch say that thus book will help you: "initialise your kitchen and calibrate your tools," as well as give you the chance to "learn about the important reactions in cooking, such as protein denaturation, Maillard reactions and caramelisation, and how they impact the foods we cook."
So what's your take on this? Should programmers be interested in the science behind their food? Will they want to know the perfect temperature to broil a Philly CheeseSteak sandwich at?
Or will they just order the Dominoes/Papa-John double pepperoni meatzanator and not think about how it came to be as they get back to the command line?
---
October 21, 2010 7:36 AM
COTS
,
Mobile
,
OKL4
,
Security
,
Virtualisation
,
Wireless
Open Kernel Labs (OK Labs) is a company that describes itself as an embedded virtualisation software for mobile phones specialist. Its SecureIT Mobile offering is based on the company's OKL4 Microvisor and is said to enable mobile OEMs, mobile network operators (MNOs) and integrators the option to build secure wireless communications devices from commercial off-the-shelf hardware and software.
The company contends that in the past, secure communications devices emerged from highly proprietary design and acquisition cycles, resulting in systems that were, "Hard to build, expensive to acquire, difficult to maintain and impossible to upgrade."
OK Labs attempts to justify its position in the market by using a selection of warm fuzzy terminology. Stating that government agencies such as 'homeland security' (as is it were a global term and not an Americanization) need, "secure communications in a user-friendly form-factor" in the shape of "commercial-off-the-shelf (COTS) solutions".
That all sounds safe, simple, pre-packaged and secure doesn't it?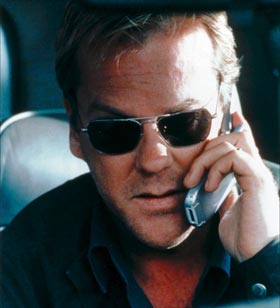 Ideally says OK Labs, secure mobile communication builds on commercially available devices that deploy off-the-shelf software platforms and applications (running Android, Symbian, etc.).
The company also says that devices need to support regular communications and applications for "normal" conversations (personal communications, social networking, etc.) but also support secure exchanges (encrypted voice, text, even video) among similarly equipped devices and/or infrastructure. In keeping with "COTS Initiatives" launched by the US and other governments.
That was the US and 'others' if you missed that. The 'rest of the world' as it is sometimes known. Or 'the other guys' if you prefer, you know – not American.
"Police, firefighters (that's firemen) and other government workers need a single device for both secure and personal communications," said Steve Subar, president and CEO of OK Labs. "Previously, such devices were only seen on TV or in movies, with actual secure handsets requiring costly development of custom hardware and software. Now, OK Labs SecureIT Mobile solution brings together the technology and knowhow to streamline the supply chain and deliver secure smartphones built on COTS hardware and software."
OK Labs has produced a SecureIT Mobile White Paper at http://www.ok-labs.com/landing/secure-it-mobile/ if you wish to read more on this subject.
---
October 19, 2010 6:32 PM
Developers
,
lifecycle management
,
Security
Software security has been and still continues to be a top line issue for most organisations. Yet software development teams still continue to produce and deploy insecure code and applications with serious consequences for their brand, reputation and, of course, the finances of their customers and their own organisation.
So where can we draw the line? Where are the real truisms to be uncovered here? What are the indisputable industry axioms, tenets and best practices that we should all be aware of?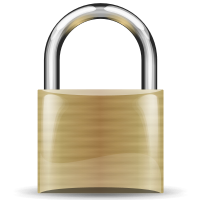 The following 'textual debate' is based on an original piece by Bola Rotibi CEng. who is research director of software development, delivery and lifecycle management for Creative Intellect Consulting Ltd.
We need to ask those involved in the software development, delivery and lifecycle management processes questions that can really expose and uncover the mechanics of their current practices. More importantly, we need to look at how they recognise and address the software security challenges that are presented by a variety of deployment platforms and application architectures in play today (e.g. web, mobile, virtualised desktops and production environments etc.)

Essentially, we must look at how software security risks are identified and how much importance is placed on the governance, education and training process.
Software Security Survey: evolution of role, delivery and deployment
Fundamentally, the premise of our recent research survey and stream is to understand the security challenges facing software security architects, software developers and in general the software delivery team in building applications deploying to multiple runtime platforms and environments. This is especially necessary as an increasingly mobile user audience is accessing software applications in multiple ways (using multiple devices) with high expectations for engagement and experience.
Editor's note: This point should be reinforced to say that users demand a consistent experience across all these new devices (desktop, mobile, tablet pc – and let's add virtualised desktop in there too). The challenge here is that the responsibility for consistency across the application landscape falls at several feet i.e. the architect who lays out the initial development model, the GUI designers who work on look and feel – and the programmers who build the mechanics. Ensuring consistency across these levels, then across devices and still retaining security and application effectiveness and integrity – well that's a tough call.
Our survey will address whether software security is handled better within certain industries and why? What are the trigger points and drivers for actively engaging in, improving or evolving a software security strategy and how important a role does tooling and automation play? These are important questions for determining how capable IT organisations are in dealing with software and application security effectively now and in the future.
The answers will allow many interested parties to anticipate the gaps and holes that are currently preventing IT organisations from tackling software security appropriately and successfully. It will also offer suggested strategies to improve an organisation's ability to do so in the light of evolving deployment environments and delivery models.
It is vital that software is developed correctly and effectively but also securely, not least because the alternative creates a barrier to future innovation and has a detrimental impact on the end user's overall experience and capacity to trust.
The survey link is shown right here: http://www.surveymonkey.com/s/SecuritySurvey-CIC
All respondents will get a copy of the full report and will be entered into a draw to win a half day consulting session with Creative Intellect Consulting Ltd in the field of software delivery and application lifecycle management.
---
October 19, 2010 10:10 AM
Developer
,
Interoperability
,
standards
Think back 10 or even 15 years and the technology newswires were alight with news of DECT, Unified Comms & new PBX technologies, all of which were designed to push a new envelope in telephony and communications and change the way we enjoyed crystal clear voice and sound over the airwaves.
Since that time we may have all become too preoccupied with VoIP, handset operating systems and open source contenders to the proprietary behemoths in the telephony industry to pay enough attention to the ground level work still being carried out.
Well, that and wondering when Microsoft is going to sort out Windows Phone 7 at least!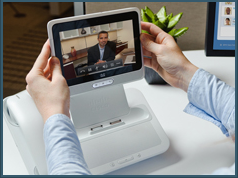 Anyway, darling of the quality headset market Sennheiser however is still with us and its interesting to note that manufacturers like this are pushing to extend compatibility with their products outward to the latest IP phone ranges.
As such, Sennheiser Communications has just announced that it has joined the Cisco Developer Network as in the Unified Communications technology category. In line with this, the company has completed interoperability verification testing its latest wireless DECT headset product with Cisco's IP Phones and IP Communicator 7.0.3.
Sennheiser's official statement on the news says that, "The Cisco Developer Network unites Cisco with third-party developers of hardware and software to deliver tested interoperable solutions to joint customers. With offerings such as DW Office headsets, customers can more quickly deploy a broad range of Cisco compatible business applications, devices, or services that can enhance the capabilities, performance, and management of their Cisco network."
We hear so much today about interoperability at the software level from a developer/programmer perspective, it's quite refreshing to pick up on some hardware-driven software-related developer interoperability.
Don't you think?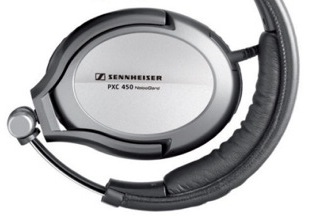 ---
October 18, 2010 3:07 PM
Development
,
Web development
This is the fourth guest post by Mat Diss who is founder of bemoko, a British mobile Internet software company that aims to pioneer new ways for web designers to quickly construct better websites that can be delivered across all platforms from desktop to mobile.
Here Mat continues his series of posts that demonstrate the advantages of designing with HTML5. In this blog, demonstrates the significance of the latest semantic elements…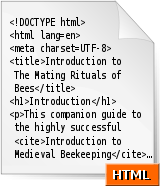 There is also another significant evolution in HTML that is improving the foundations upon which sites are created on. This is the inclusion of some new semantic elements, which more effectively describe the content of the page. The page at http://bemoko.com/html5demo/semantic uses these new elements such as <header>, <footer>, <nav> and <article>.
The designers of the HTML5 specification have identified a handful of elements, which most pages use. By standardising this, a site developer can describe the page in a common way.
This makes the site easier to maintain (other site developers can clearly identify specific parts of the page) and easier for other systems to interact with, for example text to voice representation for visual impaired or extraction of article for repurposing the content in another platform (e.g. mobile app).
Previously a site developer might have simply used a with appropriate classes set – however the class name would be an arbitrary choice so use by other services would not be possible in a standard way.
---