---
February 28, 2014 5:35 AM
Uncategorized
Microsoft has rolled out a second technical preview of Visual Studio 2013 Update 2. The new release shows Microsoft adhering to its pledge to "regular cadence" in terms of how frequently it now brings developer updates to its programmer audience. Microsoft Visual Studio 2013 Update 2 is released...
February 27, 2014 5:20 AM
CA
,
cloud
,
Mobile
Discussions between the Computer Weekly Developer Network and CA Technologies at Mobile World Congress this week lead to some real world feedback in terms of where the portmanteau-labeled discipline of DevOps might really be at today. As many readers will know, DevOps is a compound term...
---
February 24, 2014 4:00 AM
CA
,
cloud
,
Mobile
,
Mobile Application Development
Computer Associates changed its name to CA for a reason. The company has been apparently quite happy to remodel and reinvent itself to move with the shifts of the market over the decades since its formation in the mid-1970s. From Computer Associates to CA Inc and then to CA Technologies, the...
---
February 19, 2014 2:24 AM
CA
,
Security
This is a guest post for the Computer Weekly Developer Network by Jaime Ryan, director of product management & strategy at
---
February 18, 2014 8:41 AM
cloud
,
DevOps
,
F5
Should cloud focused software application developers and DevOps professionals trouble themselves with the mechanics of application streamlining? The Ops half of DevOps should surely find familiar ground here. But just how complex is cloud DevOps anyway? Specifically we are looking at technologies...
---
February 17, 2014 1:49 PM
designers
,
Mouse
Some design lessons in software application development are complex, multi-layered and based on extensive cognitive research of user behaviour in the face of different kinds of application use cases. Some lessons, on the other hand, are just simple..
---
February 17, 2014 3:16 AM
Conferences
,
d-code
,
SAP
,
TechEd
SAP has renamed its TechEd conference series as d-code. Possibly redolent of an open homage to the developers, developers, developers cry now almost ubiquitously banded around the industry, SAP had to share the never-exclusively-trademarked TechEd name with other firms including Microsoft who have...
---
February 8, 2014 12:01 PM
Games
Games developers target key playability attributes when they design their 'next big thing' to beat Angry Birds (now perhaps Flappy Bird) and other confirmed favourites. Great games have: a) a high score challenge factor b) levels to progress through c) an intangible simplicity and addictiveness...
---
February 6, 2014 7:07 AM
Data Analytics
,
TIBCO
TIBCO has this week announced its cloud-based Spotfire data discovery and visualisation platform.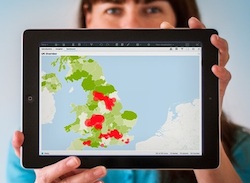 ---