---
November 29, 2009 4:41 AM
I realize this post is a stark contrast to my last post, in which I stated that Gartner snubbed unified communications on its list of top IT priorities and questioned its strategic relevance at a recent conference.
I supposed it is commentary on just how schizophrenic the unified communications market is–or on how fickle and inaccurate analysts can sometimes be. Either way, ABI Research was cited in a recent Business Week article stating that the $302 million unified communications market will skyrocket 1400 percent over the next five years to an astronomical $4.2 billion.
That impressively rapid growth won't be without its growing pains though, according to ABI Research. "Adoption will be held back by internal corporate "turf wars", a widespread lack of understanding of the benefits unified communications can deliver, and a high initial cost."
In the article, ABI Research practice director Stan Schatt says "We foresee a booming market for managed services, simply because unified communications is tricky and many companies won't want to spend the time and effort to do it themselves. That applies to the market as a whole, but particularly to smaller businesses."
A possible sign of the transition to unified-communications-as-a-service (UCaaS) is that unified communications tools and services are migrating to the cloud. A hybrid approach combining on-premise, in-house tools, with cloud-based UCaaS offerings may provide a sweet spot for many small and medium unified communications customers.
November 27, 2009 4:16 AM
Unified communications has been one of a small handful of dominant IT technologies–or at least buzz words–for the past couple of years, but analysts debate whether it is still worthy of so much attention.
Gartner senior analyst Nick Jones told an audience at the Gartner Symposium in Sydney that unified communications has lost its luster and that the technology did not even make Gartner's Top 10 list for strategic priorities for CIO's and IT managers.
That opinion was countered by Frost & Sullivan ICT research director Audrey William who explained that unified communications is still evolving and organizations are still struggling to define and understand the strategic benefits of unified communications, but the technology is nevertheless still important.
The fluid nature of the industry and the rapidly changing landscape with new players and new technologies being introduced while existing entities converge through various mergers and acquisitions complicates the decision process for customers.
Another factor that makes organizations reluctant to jump too quickly is that unified communications affects a broad range of hardware and software, as well as busines processes. A hasty decision could be costly so customers are taking their time to understand what they're getting into while also waiting for the dust to settle in the industry.
That approach has merit, but that dust is also clearing. Williams said "The market now only consists of a hand-full of vendors, so it's even more important to understand the roadmap of some of these vendors and what role they will play during the next three to five years, because ultimately companies will be using one of these vendors' solutions."
---
November 26, 2009 6:29 AM
One of the keystones of unified communications is 'presence'. Another word for presence might be status, but presence is a status–plus a little bit more. Of course, that is only if it is done right and kept up to date. Social networking tools like Twitter and Facebook could be leveraged to update presence in real time.
The difference between presence and status is a matter of detail. With the status in a traditional instant messaging program you can generally tell if someone is online, or offline, and whether they are actively using their computer, or perhaps have stepped away for a few minutes. But, that's about it.
Presence takes status a step farther by providing relevant details like whether the contact is at the desk, or in the car. Presence lets you know if they are on a call, or in a meeting. In other words, status may let you know someone is available, but presence lets you know where and how they are available so you can make more intelligent decisions regarding the most effective way to communicate with them in the moment.
The problem is that the value of presence is dependent on you. Unified communications systems can generally tell when you're on a call, and they integrate with the calendar so they can update availability automatically based on your schedule. But, there are a number of gaps in that system which require some sort of manual intervention on your part to keep presence up to date.
You may have a hard time remembering to keep your unified communications presence updated, but if you're like most people you have no issue updating your Facebook status or tweeting about the inane details of your life. Eureka! I think we're on to something.
Seems like the logical thing to do is to leverage the Facebook and/or Twitter API's and develop an integration between unified communications and social networking that allows you to update your presence by tweeting or through Facebook status updates.
What do you think?
---
November 15, 2009 12:55 PM
Google announced its 4th acquisition of the year with the purchase of Gizmo5. Gizmo5 gives Google the ability to connect VoIP calls from the Internet or from mobile devices, changing the game for Google Voice and Google Wave.
AT&T recently filed a complaint with the FCC charging that Google was violating communications guidelines by blocking phone calls to certain areas. Google's response was that because Google Voice does not actually provide the backbone that carries the actual calls Google is not subject to those same guidelines. Gizmo5 puts some holes in that defense.
Google Voice has generated a lot of excitement providing a diverse set of advanced voice and messaging capabilities, but without Gizmo5 Google Voice relies entirely on your existing voice services. Google Voice is basically an extended feature pack that you implement with your existing mobile and landline phones.
By purchasing Gizmo5, Google now has its own VoIP capabilities and can beef up Google Voice to compete directly with Skype. The bigger picture, though, is what Gizmo5 provides Google in terms of expanding the unified communications functionality of Google Wave.
I have not been overly impressed with the early release of Google Wave, but the initial demonstration Google used to unveil Google Wave was quite impressive. If Google manages to mature the current Google Wave beta into the Google Wave it displayed for us at Google I/O 2009, and adds in SIP-based VoIP capabilities, Google Wave could be a potent unified communications platform and offer an impressive, cost-effective alternative to existing unified communications systems.
---
November 12, 2009 4:32 AM
Logitech is a name that most people are familiar with. It is a virtual household word when it comes to things like keyboards, mice, PC game controllers, and webcam equipment. Logitech is not a name, however, typically associated with enterprise-class video-conferencing. That is about to change.
Logitech announced the purchase of LifeSize Communications for $405 million. LifeSize has an established presence providing high-definition equipment for corporate video-conferencing systems. With 9,000 customers spanning 80 countries, LifeSize is not a newcomer to the field.
The move pits Logitech against major players in this market like Cisco and HP. Logitech can take LifeSize and do battle against Cisco and HP on its own, or it could conceivably pair up with Microsoft. A symbiotic relationship between Microsoft's unified communications and conferencing software and the Logitech / LifeSize hardware could be a win-win for both parties and create a whole greater than the sum of its parts for facing off against Cisco and HP.
---
November 9, 2009 5:43 AM
Cisco announced 61 new unified communications and collaboration products today. The massive unveiling demonstrates Cisco's commitment to the concept.
A Computerworld article on the product launch says:
Allen Cohen, vice president of enterprise solutions, said told Computerworld that today's new products and Cisco's recent agreement to buy videoconferencing vendor Tandberg for $3 billion demonstrate that "Cisco is doubling down [its investment] on collaboration."
I don't disagree that it shows Cisco is commited, but 61 products??? I realize that a vendor like Cisco can't create a one-size-fits-all unified communications solution and expect it to work for everyone, but 61 new products?!?!?!
My eyes glaze over just reading '61 new products'. I haven't even gotten to the part where I try to learn what each of the 61 new products does, how they work together, what impact they might have for a business, and what combination of this smorgasbord of products would work best.
I commend Cisco for its commitment, but I think it needs to understand that unified communications and collaboration is about simplification and efficiency. If it requires some sort of calculus algorithm just to map out the available options, customers will just be confused and choose something easier.
---
November 7, 2009 1:55 PM
Its unified communications meets WWF.
IBM had some serious issues during a live demonstration of its UC technologies at the Enterprise 2.0 conference. Its a presenter's nightmare. I am sure the stuff works better than that and I assume they even rehearsed the presentation just fine. But, during the actual live presentation all of sudden the bandwidth wasn't there to deliver a smooth experience. C'est la vie.
IBM rebounded from that experience and moved on to issuing challenges to Microsoft. Basically- IBM says its UC solution is superior to Microsoft's and its willing to prove it in a head-to-head, mano-a-mano, cage match at VoiceCon in Spring of 2010.
What do you think? Will Microsoft accept the challenge? Can IBM hold its own in a cage match with Microsoft UC?
Perhaps IBM can also get Hulk Hogan for a new marketing campaign?
---
November 1, 2009 3:03 AM
One goal that many companies and unified communications vendors are striving for is the seamless integration of mobile phones with the unified communications environment.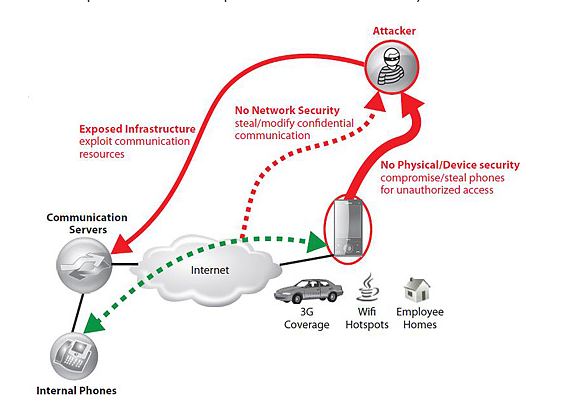 Sipera, a leading provider of unified communications security solutions, has developed SLiC (Secure Live Communications). SLiC helps security managers manage the privacy, integrity, and other critical security elements related to integrating Wi-Fi, 3G, GPRS, and other mobile technologies into the enterprise communications infrastructure.
According to Sipera, SLiC is the first such solution available to help customers seamlessly combine smart phone and other mobile devices, and allow employees to use VoIP and other cloud-based communications while maintaining security and privacy.
---
October 31, 2009 4:01 PM
OK. I swear that I am not anti-Google or anti-Google Wave, and I promise not to repeatedly bash Google Wave. In all honesty, I couldn't wait to get my Wave invitation and I am still very excited to jump in and see what its all about. My previous post about being underwhelmed has more to do with what it looks like now during beta testing and not living up to the hype, but that doesn't mean that I don't think it will eventually be a very capable product.
That said, there are two sides to the Google Wave coin. Its not all ice cream and rainbows, or sunshine and lollipops. First, the real-time collaboration is a huge benefit and the ability to see others typing as their fingers hit the keys is novel, but do we really need to watch others type…wrong…then backspace….then retype?
Have you ever written a message in anger or frustration? Then you take a step back and a deep breath, re-read it, and decide that there is a more appropriate way to say things so you edit the message before sending it? If you were holding that conversation in a Google Wave the other party would be able to watch as you type what a complete jackass….brain dead moron…..jerk….good person with the right intentions, but poor execution your boss is.
Real-time typing has its drawbacks.
What about the ability to chain and forward a Wave well after the fact? Say you start a Wave with a friend and you are venting between the two of you about a third friend. The Wave evolves and later the third friend is inadvertently added to the Wave. That person can go back to the beginning of the Wave, replay it, comment on it, etc.
Once its a Wave its sort of out of your control and the concept of assuming that everything you type will be shared publicly takes on a whole new meaning.
It will be interesting to see how some of the pitfalls of Google Wave are addressed as development evolves and the fully functional Google Wave eventually hits the Internet.
If you are on Google Wave, you can feel free to connet with me at s3kur3@googlewave.com.
---
October 30, 2009 12:32 PM
Facetime is a respected name in unified communications security. Its Unified Security Gateway, or USG 3.0, appliance allows enterprise administrators to control the web sites and applications that can be accessed by users, as well as monitoring and filtering content for Web 2.0 communications such as webmail, blogs, and social networking sites like Twitter and Facebook.
Aside from the goal of protecting intellectual property and sensitive information, the USG 3.0 appliance also provides the tools necessary to maintain legal and regulatory compliance related to network security and disclosing information.
Another threat that enterprise administrators have to contend with is malware and malicious attacks. Mike Rogers, vice president of Global Alliances and OEM for Sophos stressed the issue. "For the first six months of this year, SophosLabs detected 23,500 new infected Web pages–that's one every 3.6 seconds. This statistic underscores the necessity of ensuring safe Web browsing, which includes virus and other malware protection."
That is why Facetime is adding Sophos antivirus scanning and malware protection technologies to incorporate into the USG 3.0 appliance.
---