---
January 27, 2014 1:00 AM
IT staff
Large banking & finance institutions' outgoings on IT & telecom staff is £4,000 per employee. This is marginally less than that for medium sized institutions. The lower figure for the former reflects greater outsourcing of staff. Overall banks & financial concerns spend four times more on IT & telecom staff than all UK organisations.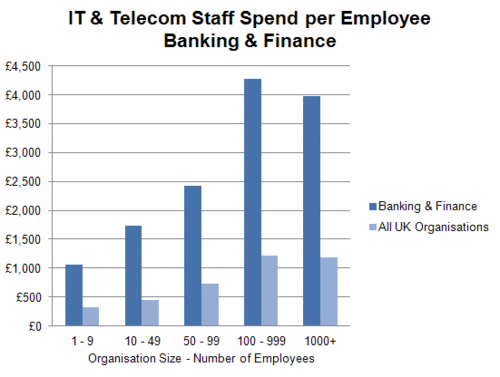 January 23, 2014 1:00 AM
Providers of health services outside the NHS spend £400 per employee on computer services. This is less than half of that expended by all UK organisations. For both groupings expenditure increases with size of organisation.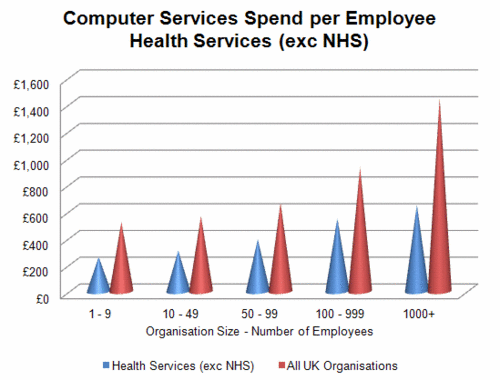 ---
January 20, 2014 1:00 AM
Large telecommunications firms typically outlay £90m each on telecom services which are used for their own business purposes. They constitute the highest spending sector among large organisations. Next in line are information services companies with half that commitment with banking & finance institutions close behind.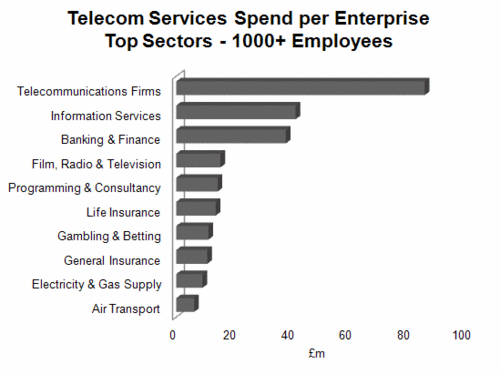 ---
January 16, 2014 1:00 AM
Turnover
For real estate companies, IT & telecom spend as a proportion of turnover increases with size. The differential is mostly small with ratios ranging from 3.3% for those firms with 10-49 staff to 3.8% for the largest concerns. The all UK organisations comparison shows a much greater jump for large enterprises.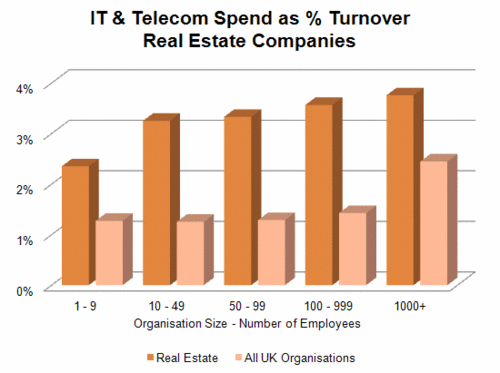 ---
January 13, 2014 1:00 AM
Computer programming
,
consultancy
,
Software
,
System software
Medium sized computer programming & consultancy firms with 100-999 staff devote £600 per employee on system software. This is twice the amount by their larger counterparts and a factor of 5 times that by the equivalent all UK value.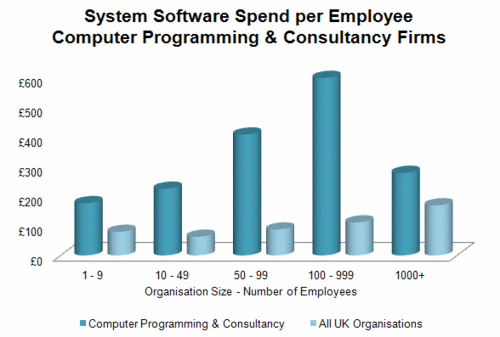 ---
January 9, 2014 1:00 AM
Application software
,
Software
Application software package spend by the motor traders amounts to £60 per employee. This contrasts the whole UK equivalent of £170. Large motor trade firms have an expenditure of £85 per staff employed which is a factor of two and a half smaller than the corresponding national average.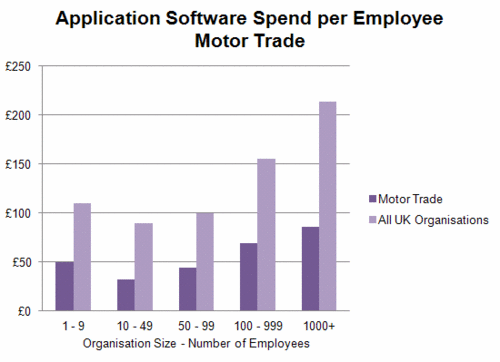 ---
January 7, 2014 10:54 AM
BYOD
,
Consumerization
,
information technology
,
smartphone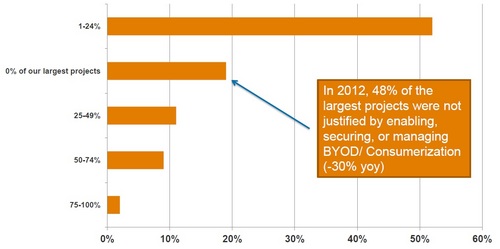 How many of your largest projects in the next 12 months will enable, secure or manage, Bring Your Own Device schemes (BYOD) or consumerisation of IT ?
Most UK organisations now have large projects underway to enable their employees to use their own smart phones and laptops at work. For over ten percent of UK organisations surveyed by Computer Weekly and TechTarget, BYOD accounts for between 25% and 50% of the IT projects currently underway . For another 9%, BYOD schemes are driving between 50% and 75% of current IT projects. The driving force for most organisations is not to reduce costs, but to make workers more productive and to make it easier to collaborate.
For more insights, download our report: Consumerisation of IT and BYOD purchasing intentions.
---
January 6, 2014 1:00 AM
Development tools
,
Software
Electronic manufacturers spend over £100 per employee on software development tools. This is 40% more than the whole UK value. Large electronic manufacturing firms invest £180 per staff member. This declines progressively for smaller sized concerns although expenditure continues to outstrip the national norm.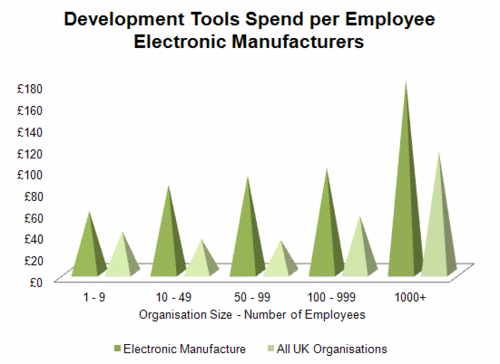 ---
December 23, 2013 1:00 AM
age
,
pay
,
region
,
Web developers
Web developers in their thirties earn on average £30k per annum in the UK. The highest rewards are for those working in London with a numeration of £35k. This is £5k more than the next best paid area in the South West. Least well rewarded are those employed in the North East where gross annual pay is £23k.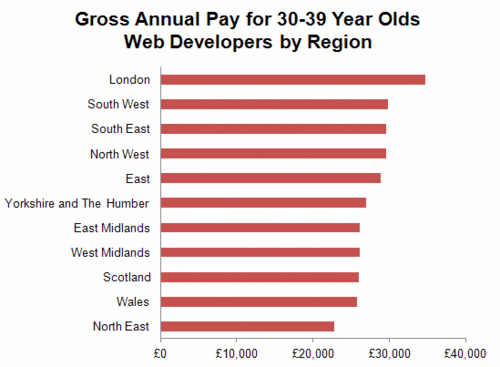 Source: KEW Associates
---
December 19, 2013 1:00 AM
age
,
IT managers
,
pay
IT
managers in the North West of England typically earn £46k gross per annum. Analyses by age shows pay norms peak when managers reach middle age at around
£50k. Once in their 60's the annual pay packet slides to £43k.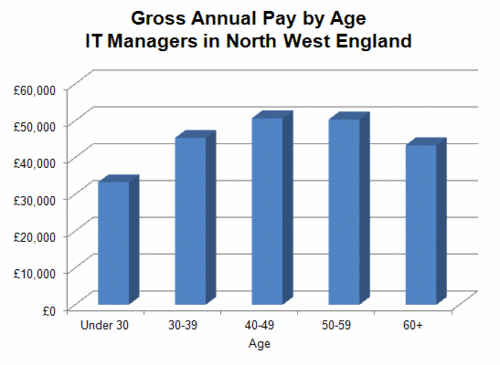 Source: KEW Associates
---