---
April 7, 2014 1:00 AM
IT staff
,
manufacturers
,
Manufacturing
Medium sized printing companies outspend all other similar sized manufacturing firms in their outlay on IT & telecom staff. At almost £600k per enterprise it is a third greater than next placed beverages & tobacco manufacturers. They in turn commit 8% more than electronic & optical concerns.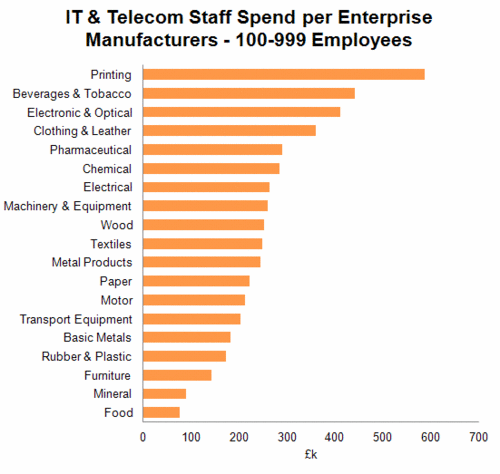 April 3, 2014 1:00 AM
Travel agents & tour operators spend £1,000 per employee on telecom services. This is twice the UK norm. Smaller travel business concerns outlay is around £1,400 which is twice the expenditure of corresponding large companies.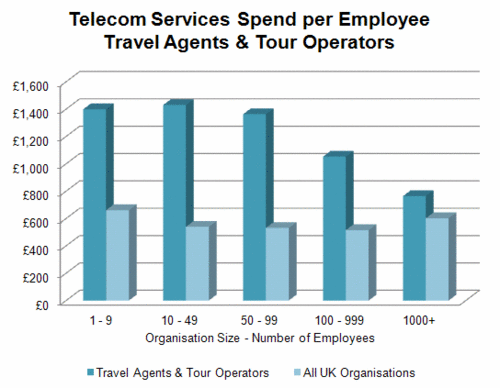 ---
March 31, 2014 1:00 AM
Medium sized retailers with 100-999 staff commit £500 per employee on computer services.  This is 25% more than their larger counterparts who invest £400.  Both, however, have expenditures notably smaller than the all UK values.  In the case of large enterprises it is by a factor of 3.5.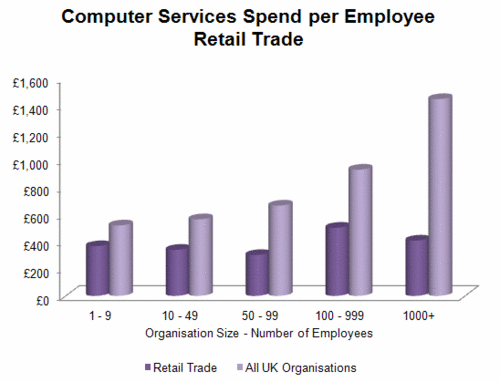 ---
March 27, 2014 1:00 AM
Development tools
,
Software
Wholesalers' expenditure on software development tools is
£40 per employee. This is half the
national average. For smaller wholesale
trading companies, the spend is comparable with the all UK value. The major difference is for large
organisations where wholesalers have a much inferior outlay.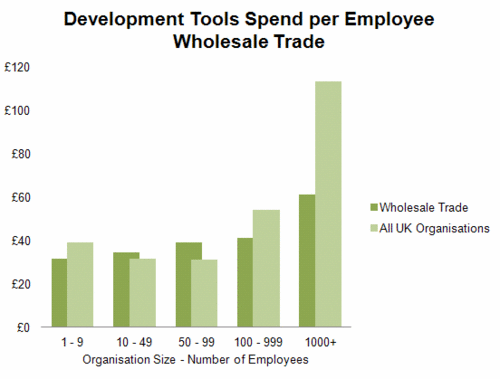 ---
March 24, 2014 1:00 AM
Software
Companies supplying waste management services spend £50 per employee on customised software. This is notably less than the all UK value of £125. Analyses by size of organisation shows similar levels of spend by waste management firms.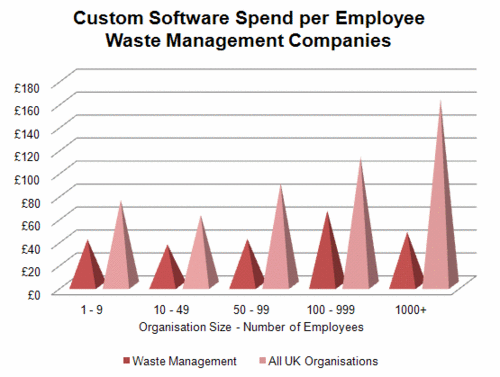 ---
March 20, 2014 1:00 AM
Post & courier firms have an expenditure of £170 per employee on hardware. This is half the national average. For organisations with 1000+ staff the proportion is a third. With the remaining employee bands the post & courier companies have a larger spend on hardware than the norm.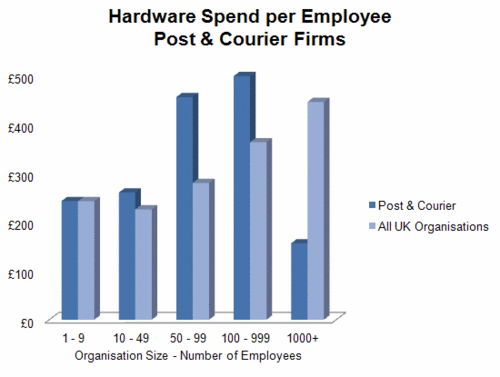 ---
March 17, 2014 1:00 AM
Application software
,
Software
External application software expenditure by the public administration sector amounts to over £700m. This is almost 50% more than that spent by telecommunications companies. Banking & finance and retail trade sectors each have an outlay of around £350m.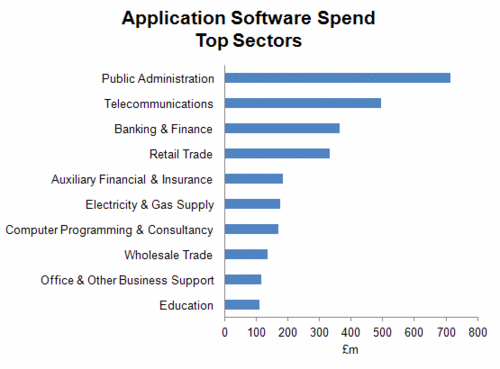 ---
March 13, 2014 1:00 AM
architect
,
Development tools
,
System software
Architectural & engineering consultancy firms with more than 1000 staff spend over £30m on external software. Almost half of that expenditure is on application packages. The remaining three major components have similar outlays.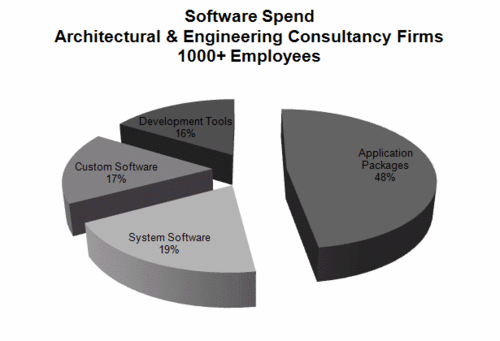 ---
March 10, 2014 1:00 AM
Turnover
Overall, telecommunications companies spend 11% of their turnover on IT & telecom. This is a factor of 6 greater than the all UK value. Large telecom firms commit 13% of their turnover whilst for those with 10-49 staff it is 4%.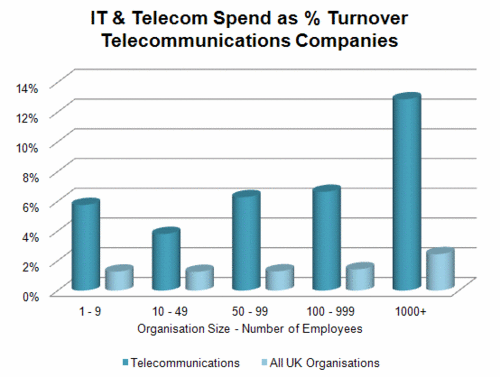 ---
March 6, 2014 1:00 AM
accountants
,
advertising
,
IT staff
,
market research
Medium sized management consultancies typically have an expenditure of £1.5m on IT and telecom staff. They are the largest such spenders in the professional & technical industry segment followed closely by advertising companies. The lowest outlay is by accountancy firms.
---