---
March 9, 2011 1:00 AM
SME
Overall in the UK, expenditure on external software tends to be greater the bigger the organisation. Chemical Manufacturers exhibit a more erratic progression with medium sized companies having the highest external software spend per employee.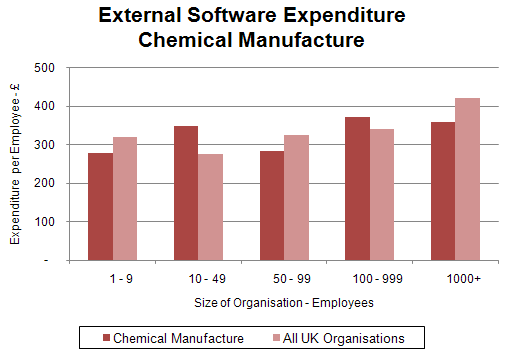 Source: www.kewassociates.co.uk
March 8, 2011 1:00 AM
SME
Medium sized Legal firms, with 100-999 employees, spend disproportionately more on their own software staff and external software than the rest of the Legal profession. Both medium and large concerns have larger internal software staff costs than external software spend.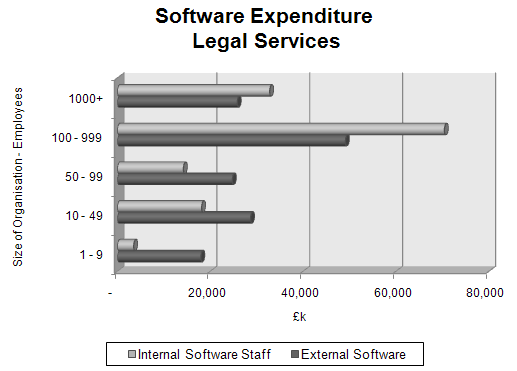 Source: www.kewassociates.co.uk
---
March 7, 2011 1:00 AM
Telecommunication companies have by far the largest annual IT expenditure. On average Telcos, with 1000+ employees, spend almost £300m on IT. Computer Services firms and Banks follow at half that value.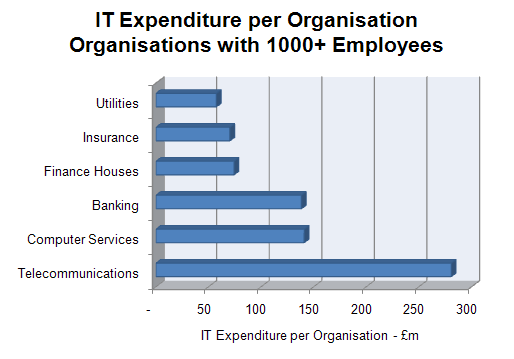 Source: www.kewassociates.co.uk
---
March 4, 2011 1:00 AM
IT staff
,
Public sector
,
SME
IT operations staff, including communications operators, represents a quarter of all IT staff employed by large Public Administration organisations. The number is boosted by disproportionally high number of communications operators.
Source: www.kewassociates.co.uk
---
March 3, 2011 1:00 AM
pay
,
salary
IT Managers employed in Banking are now enjoying more generous pay increases than their counterparts in other sectors. This follows a low in 2009 when pay declined in Banking whilst marginally increasing for all sectors.
Source: www.kewassociates.co.uk
---
March 2, 2011 1:00 AM
Uncategorized
The objective of this blog is to provide a graphical insight into the wealth of data available on the IT industry. Initially the coverage will focus on UK IT Spend and IT Staffing data produced by KEW Associates. This work provides detailed trend analysis by industry sector and organisation size including employment and turnover. It is based on substantial current and historic data sources including Government business surveys, Oxford Economics forecasts and Computer Weekly/KEW IT expenditure surveys.
---