---
September 5, 2013 1:00 AM
film
,
IT staff
,
radio
,
telecommunications
,
television
Large firms in the computer industry typically spend £180m each on IT & telecom staff. The outlay for a large telecommunications company is £130m. For an information services provider the sum invested is £70m. Next in line are banking & finance institutions, each spending on average £40m.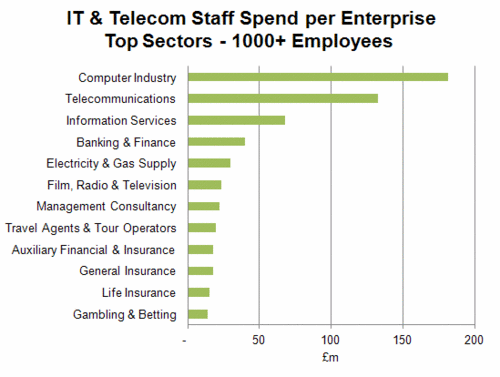 September 2, 2013 1:00 AM
Civil engineering companies typically spend £400 per employee on telecom services, falling well short of the all UK average of £600. For organisations employing 1000+ staff civil engineers have half the outlay of the UK norm. It is only the smallest concerns that exceed the national value.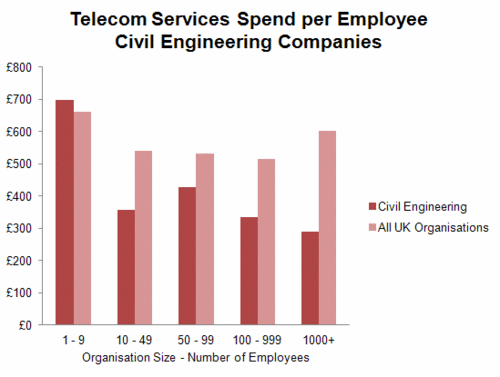 ---
August 29, 2013 1:00 AM
consultancy
,
Development tools
,
film
,
Programming
,
Software
,
telecommunications
Medium sized software publishers employing 100-999 staff are top spenders on development software tools with a typical outlay of almost £300k. Telecommunications companies are the next highest investors with half that amount. They are followed by electricity & gas supply enterprises whose average expenditure is over £80k.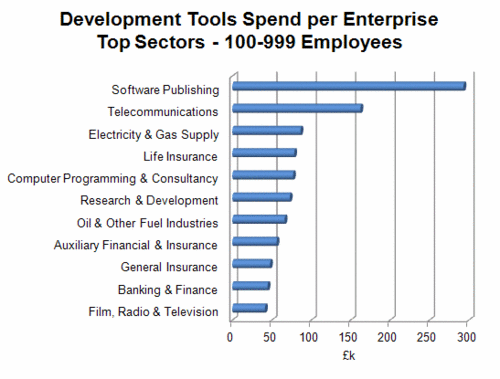 ---
August 26, 2013 1:00 AM
Application software
,
Software
Medium and large sized residential care and social work establishments spend about £40 per staff member on application packaged software. For smaller sized organisations, social workers have a notably greater amount invested.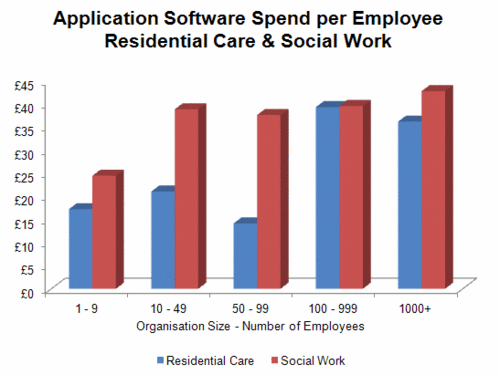 ---
August 22, 2013 1:00 AM
Software
Rental & leasing companies with over 1000 staff spend around £60 per employee on custom software. This is considerably less than the £160 spent by all large UK organisations. For all other size bands rental & leasing firms match or exceed the UK norm.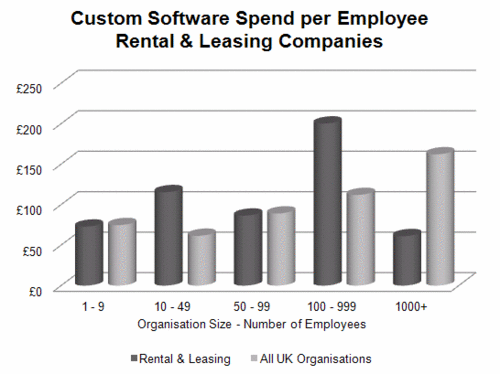 ---
August 19, 2013 1:00 AM
Turnover
Overall, membership organisations spend 5% of their turnover on IT & telecom products and services. This is two and a half times that for all UK enterprises. For membership organisations the highest proportion is invested by those with 100-999 staff with a ratio of over 6%. The top value across all sectors is by the largest concerns who commit 2.4%.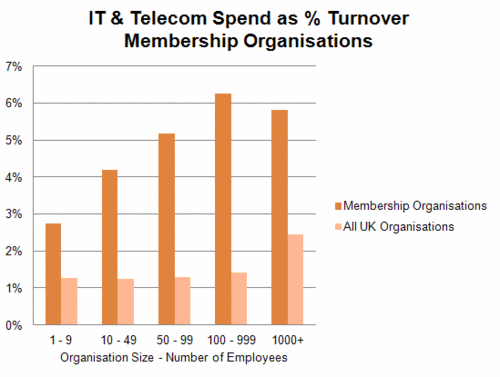 ---
August 16, 2013 10:31 AM
information technology
,
Spiceworks
The most popular reason for using a third party email service is to help comanies reduce the burden on IT staff, according to this research from software development company Spiceworks. Other features, such as the ability to back-up and archive emails, and manage email boxes, also feature highly.
These days, though, its hard to think of a good reason why organisations would want to manage their own email. Aside from companies in the finance sector, or working in other sensitive areas, such as government on military, where there are security issues to consider, there is no good reason for managing email yourself. Its rather like generating your own electricity. Its possible to do, and may even be cost effective for some companies. But its an unnecessary distraction. Better just to focus on your core business.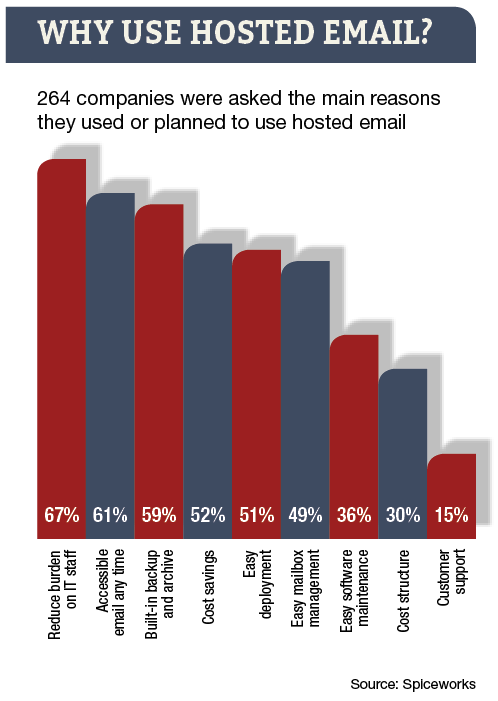 ---
August 15, 2013 1:00 AM
Development tools
,
System software
Buildings & landscape services companies spend £25m on software. The largest amount, some £10m, is devoted to application packages followed by £8m expenditure on customised software. System software has the lowest commitment with £3m.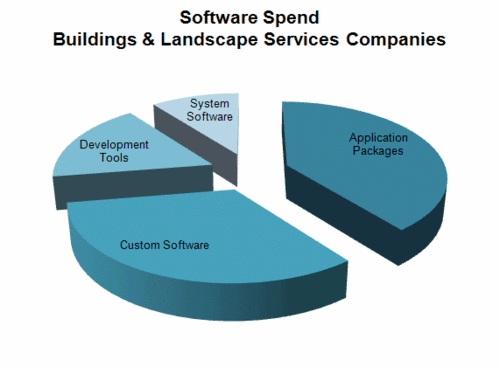 ---
August 14, 2013 11:35 AM
accountancy
,
CCH
,
Digita
,
excel
,
Iris
,
Sage
,
Software
This graph from Thomson Reuters shows the most popular integrated suite accountancy software used by accountancy firms. No surprise, perhaps, that Thomson Reuters Digita is listed as the most popular choice in this particular survey. Sage is used by 10% of the firms, and Iris by 18%. What is surprising, however is that 15% prefer spreadsheets, such as Excel, to dedicated accountancy packages.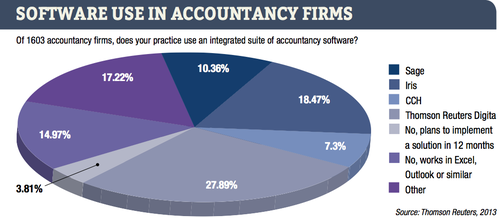 ---
August 12, 2013 1:00 AM
wholesale
Wholesale trade companies spend £350 per employee on hardware. This is similar to the all UK value for all industry sectors. There are notable differences by size of organisation. Wholesale traders with 50 to 99 staff exceed the all UK value by two thirds whilst for organisations with 1000+ employees it is the other way around.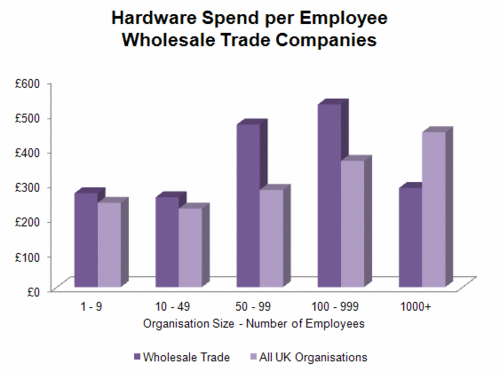 ---