Mar 15 2013 6:09PM GMT
Tags: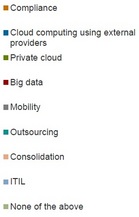 (Click to enlarge)
Compliance, data centre consolidation, and mobility are top of the list of IT initiatives planned by companies across Europe in 2013. Compliance has risen up the agenda, outranking even cloud computing, reflecting growing enforcement activity by governments and regulators. ITIL and outsourcing projects are less popular, Computer Weekly/TechTarget's IT Priorities research 2013 reveals.
You can download a report giving more results of our European IT priorities research free from Computer Weekly.