Jan 7 2014 10:54AM GMT
Tags: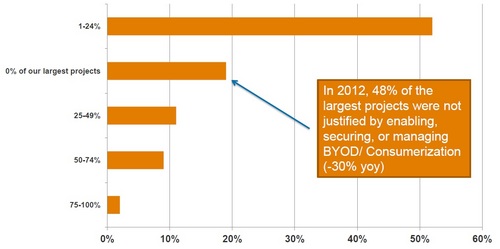 How many of your largest projects in the next 12 months will enable, secure or manage, Bring Your Own Device schemes (BYOD) or consumerisation of IT ?
Most UK organisations now have large projects underway to enable their employees to use their own smart phones and laptops at work. For over ten percent of UK organisations surveyed by Computer Weekly and TechTarget, BYOD accounts for between 25% and 50% of the IT projects currently underway . For another 9%, BYOD schemes are driving between 50% and 75% of current IT projects. The driving force for most organisations is not to reduce costs, but to make workers more productive and to make it easier to collaborate.
For more insights, download our report: Consumerisation of IT and BYOD purchasing intentions.