---
May 27, 2013 1:00 AM
Development tools
,
System software
Medium sized pharmaceutical manufacturers (100-999 employees) spend around £50k each on application software packages. This is twice as much that laid out on system and custom software. Development tools expenditure is half as much again.
---
May 24, 2013 11:29 AM
CompTIA
,
hiring
,
information technology
,
jobs
,
Skills
,
survey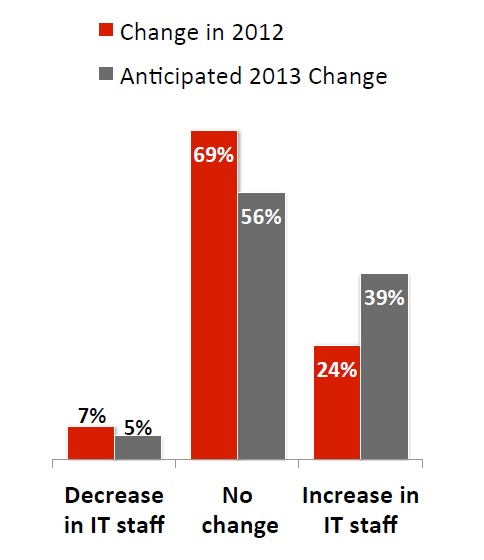 ---
May 23, 2013 1:00 AM
General insurance companies of all sizes spend dramatically more per employee on computer services than do UK organisations overall. Large general insurers' outlay is over £12,000 per staff member whilst the national value is...
---
May 20, 2013 1:00 AM
Courier
,
Post
Post & courier organisations with 1000+ staff spend only £80 per employee on telecom services. Smaller sized concerns have outlays considerably larger with companies employing 50-99 staff expending nearly £1,200 per worker.
---
May 16, 2013 1:00 AM
manufacturers
,
Manufacturing
,
Software
,
System software
Beverages & tobacco manufacturers with 1000+ employees spend over £1.2m each on system software. This is 40% more than large transport equipment makers. They in turn have an expenditure which is twice that of pharmaceutical manufacturers.
---
May 13, 2013 1:00 AM
Hardware
,
Software
,
staff
Small legal services concerns with 50-99 staff spend £150m on IT and telecom services. One third of that expenditure is on IT and telecom professionals whilst a quarter is on telecom services. A further fifth is directed at computer services. The remaining fifth is split between...
---
May 9, 2013 1:00 AM
Development tools
,
market research
,
Software
Small, medium and large market research companies spend around £70 per employee on software development tools. This is less than that by the very small concerns with under 50 staff. Apart from large firms (1000+ employees), market researchers have a higher outlay than...
---
May 6, 2013 1:00 AM
film
,
growth
,
telecommunications
,
veterinary
The fastest growing sector for custom software in 2013 is research & development. Organisations in this segment are increasing their spend by some 30%. Next in line are veterinary concerns who are advancing their custom software expenditure by almost 25%. They are closely...
---
---