---
March 28, 2013 1:00 AM
Development tools
,
growth
,
Software
,
System software
Packaged software spend by transport equipment manufacturers experienced healthy growths in 2011 and 2012. This applied to all three main components - applications, development tools and system software. It continues to do so in 2013. Demand is expected to dampen in subsequent...
March 25, 2013 1:00 AM
Health services organisations' IT & telecom spend per employee increases with number of staff. For the smallest institutions it is £850 rising to some £1,500 for the largest grouping. These figures are a factor of 2.5 smaller than those for the UK as a whole.
---
---
March 21, 2013 1:00 AM
film
,
Software
,
telecommunications
Small firms, employing 50-99 staff, typically spend under £5k each annually on custom software. Concerns involved in head office activities have the highest outlay at around £40k. A little behind are travel agents & tour operators followed by telecommunications and life insurance...
---
March 18, 2013 1:00 AM
Application software
,
Software
The smallest real estate companies spend by far the greatest amount on the sector's application software. Over 40% of such outlay is made by firms with 1 to 9 employees. The next highest grouping is those with 100-999 staff with around 30% of the outlay.
---
---
March 14, 2013 1:00 AM
Computer programming
Computer programming & consultancy firms spend almost £2,000 per employee on hardware. This is five times greater than that for all UK companies. Analysis by size of organisation indicates that computer programming & consultancy organisations with 50 to 999 staff lead the way...
---
March 12, 2013 11:42 AM
austria
,
Belgium
,
CIO
,
economy
,
Germany
,
Luxembourg
,
Nordics
,
Recession
,
research
,
Switzerland
---
March 11, 2013 1:00 AM
Hardware
,
Software
,
staff
Motor trade firms spend almost half their IT & telecom budgets on computer services and over a quarter on telecom services. Such companies spend less than 10% on IT & telecom staff which is one of the lowest proportions in the UK economy.
---
March 8, 2013 10:23 AM
austria
,
Belgium
,
Europe
,
Germany
,
IT priorities
,
Nordic
,
research
,
Switzerland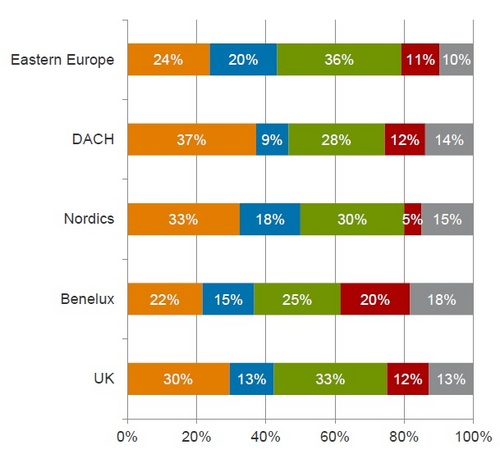 ---