Feb 19 2013 12:09PM GMT

Profile: Chris Leonard
Facebook is one of the leading platforms where companies try their social media meddle in hopes of drawing followers to their brand or products.  However, this is not as easy as posting articles on Facebook and the readers/purchasers will follow.  Facebook is a highly competitive arena based around a person's newsfeed.  Unless you are a high profile celebrity, the vast majority of your posts will be viewed in your follower's news feeds, not by them coming directly to you Facebook home page.  In general, your competitors on Facebook are not the ones you have in the real world.  They are everyone else who is in a users news feed.
Posts from their friends and family
Pictures of their friend's kids doing funny things.
Photos of cool trips their friends have taken.
The latest cat videos, Gangnum style dances and other Internet memes.
And Facebook itself, limiting views of your posts via its edge rank algorithm in favor of promoted and sponsored posts.
These are what you are competing with for the attention of users.  And to make matters worse, many users may have followed you to state that they like your products, but don't necessarily want to hear from you.  While they anticipate news from their friends, you have to avoid being seen as a corporate entity that is crashing their party.
So how do compete against friends, family and comic pets?
Short, focused and interesting posts with Pictures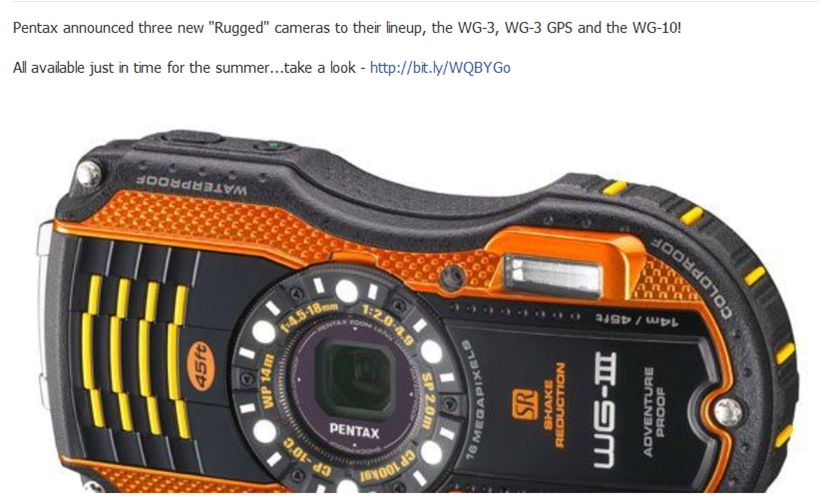 I don't need a new camera, but I'm going to click on this since its colorful and enticing.
Your Cover Photo
Changing of your cover photo has a higher chance of attracting views than a simple article does, so do this about once a week.  Just remember to stay within Facebook's Guidelines.
Humanize Your Company
Be "Bob" Not "Mr. Corporation" – there's a congressional analogy here.  The approval rating of Congress as a whole floats in the single digits to low teens, yet the popularity of individual congress critters is in the high 40s, 50, 60s, even 70s.
The takeaway – people like individuals, not entities, be they governmental or corporate. Your goal is to get your followers to see you as a person or collection of people instead of as "mega corp."  Invite them behind the scenes and into your world at work.  Feature community service activities in which your company engages, company events and outings, post in real time from shows and conferences you attend with videos, and show pictures of a day in the life at your company.  Use real names where possible.
Don't Forget Your Timeline
While the Timeline feature is no longer new, most companies have failed to embrace it.  Pepper your Timeline with relevant events in your company's history – release of major products, important dates in your industry, key initiatives, events you have or will be attending.  Having an extended history lends legitimacy and suggests a certain gravitas to those who visit your pages.