---
December 23, 2011 2:52 PM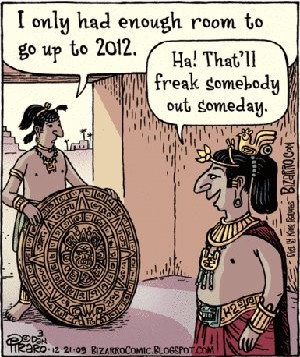 OK, we know. You've got apocalypse fatigue. But hear us out.
As 2011 comes to a close, cloud providers are on the brink of — well, not an apocalypse. Seismic shift might be a more appropriate term.
Cloud and networking guru Tom Nolle outlines five big cloud computing trends that will reshape the cloud provider market in 2012, making the cloud far more successful and profitable for the providers that get on board.
Perhaps the most interesting of all is Nolle's depiction of the rise of the "virtual cloud operator," a spin-off of the "virtual network operator" (VNO) wholesale telecom model.
If "cloud VNO" models are combined with cloud federation, then every application developer has the potential to be a cloud provider on a global scale. How many new services or features could be easily created and supported by this internetworked cloud infrastructure? The result could be an explosion of innovation that remakes the whole relationship among consumers, business users, networks and IT.
The question of "Who is a cloud provider?" is bound to get a lot more interesting if the playing field opens this way. This kind of shift will also undoubtedly leave prospective customers kind of jumpy about the cloud security and compliance implications (because not everyone is comfortable with multiple providers touching their data).
December 5, 2011 5:15 PM
They say a magician's best trick is diverting the audience's attention long enough to create the illusion that he just pulled a rabbit out of a hat or made a scantily-clad assistant disappear. I'm not quite so cynical to believe that there's anything subversive about all of the analysis of what SAP's $3.4 billion bid this weekend for SuccessFactors Inc. means for Wall Street or whether SAP overpaid. But I do think there are some other interesting things to look at besides the rabbit in the hat.
Here's a quick rundown at some other interesting angles the tech media and blogosphere is exploring.
• Bloomberg pulls no punches: This acquisition is the anti-Apotheker.
SAP AG's then-chief Léo Apotheker told investors in 2009 that the German company's homegrown technology was "significantly better" than that of Oracle Corp. (ORCL), which had "not done a good job with acquisitions."

[…]

[Successors and co-CEOs Bill] McDermott and [Jim Hagemann] Snabe have changed tack at the largest maker of business-management software to do a better job meeting demand for new technologies, such as cloud computing, real-time analytics and mobile applications. The SuccessFactors deal shows SAP's previous go-it-alone approach to the cloud was lacking, said Thomas Otter, a vice president at Gartner Inc.

"My first reaction was: what took you so long?" Otter said in a phone interview from Heidelberg, Germany, less than 50 miles away from SAP's headquarters in Walldorf. "This means a fundamental shift in terms of their cloud strategy, which has been rather slow to get off the ground. This is a tacit admission that their cloud strategy was a failure."
• All Things D says this is the start of a SaaS feeding frenzy, crunching the numbers to speculate on the next M&A target:
The first and most obvious thing that's going to result from the SAP deal is that speculation will surge about another, similar deal. Already this morning, analysts at BMO Capital have upgraded Taleo, a SuccessFactors rival, on the theory that it is now in play and that Oracle is the most likely buyer. Taleo specializes in cloud-based talent management software, and is about the same size by revenue as SuccessFactors. Publicly traded since 2005, Taleo saw its shares close Friday at $32.96, within 13 percent of its historic high of $37.10, giving the company a market capitalization of about $1.4 billion, making it a relatively easy target for Oracle and its $32 billion war chest. BMO boosted its price target on Taleo shares to $40 from $28.

Another one to watch is Workday, yet another provider of cloud-based human resources software, which last month raised $85 million at an implied valuation of $2 billion as warm-up for an expected IPO next year. It's on track to do about $320 million in billings in 2011, and is nearing profitability.

Another company that will probably be considered for takeout is NetSuite, the company that specializes [in] cloud-based software for running a business. Trading as of Friday at a valuation just shy of $3 billion, it could be a takeover target, too, though its business is humming along just fine. It's on its way to closing the year with sales north of $235 million — much of that derives from taking customers away from SAP.
• The New York Times' Bits blog calls us all back down to Earth regarding how long it's taken SAP to respond to Oracle's acquisition of RightNow Technologies. Enterprise customers are not moving as fast on the cloud as vendor marketing machines and frenzied bloggers and journalists seem to be:
After the sales boost, as the plan runs, SuccessFactors is the means by which SAP migrates the data bases of big business over to the new computing world.

This is a long-range plan, and not tomorrow's work at SAP. And so it is an interesting counterpoint to much of the rhetoric inside the tech world about the speed with which the new paradigm for computing — big data centers accessed over the Internet instead of computing systems run inside a company — will take hold among tech's biggest customers.

In Silicon Valley, said Lars Dalgaard, the chief executive of SuccessFactors, "There is a lack of understanding of how companies do things, and how lethargic they are about change."

He added that the existing systems "that tell how a plane lands, that keep a heart beating, you don't change that quickly."
---
November 23, 2011 11:11 AM
Alcatel-Lucent (ALU) has recently announced a cloud software and hardware package that it calls CloudBand, and here's the first thing you need to know about it: Non-network operators need not apply.
Alcatel-Lucent, which has a strong foothold with the telcos, is laying its new "carrier cloud solution" at the feet of network operators. Its vision is for operators to look beyond the cloud data center and give the network a starring role in cloud provisioning.
"By leveraging the power of the network, [operators] can actually offer a brand new tier of service and SLAs attached to service — guaranteed performance, guaranteed bandwidth, latency optimization, jitter optimization — that can only really be achieved if you … look at the connectivity layer and the compute/storage layer together," said Dor Skuler, vice president of cloud services at Alcatel-Lucent.
But let's not get ahead of ourselves. I have personal hangups about the word "solution," so let's break down what CloudBand actually is. Continued »
---
November 21, 2011 4:32 PM
(And by "more fun," of course, we mean more expensive, frustrating, damaging and high-risk)
We recently gave you some insight into five business challenges cloud resellers must anticipate when partnering with a cloud provider. Some news out of the UK cloud market is making me wonder if we're due for a counterpoint piece for cloud providers, outlining five warning signs your reseller is hustlin' you.
UK-based Livedrive, which provides a cloud storage backend, ended its contract with US reseller Backify because, it claimed, the firm was "a fly-by-night operation" that didn't pay for its services. The American backup biz, which offered [end users] a free backup service using Livedrive's systems, has denied any wrongdoing and blames Livedrive for technical problems.

"Backify had a problem because they weren't paying the fees that were due to us," Livedrive MD Andrew Michael told The Register. "The problem started because they were paying us by credit card and their credit card was getting declined when they were adding new customers."
No word on how much money Livedrive was allegedly fleeced out of, and Backify's website has since gone bye-bye. It isn't offering much by way of an explanation (or defense) except to say, "LiveDrive has terminated Backify's reseller account, and Backify.com is no longer in service." It also offers would-be customers a referral to Backblaze, a "better and more reliable backup solution," which (under the circumstances) looks like a Judas kiss for those guys.
---
November 15, 2011 12:58 PM
Is there such a thing as a quiet news week for cloud providers? No, we didn't think so either. Here are a few things worth watching from the past week:
Salesforce.com acquires Model Metrics: What do pigs, rabbits and polar bears have in common with Salesforce.com? They're all now on the list of animals known to eat their young. The cloud CRM powerhouse acquired one of its own partners, cloud integrator and consulting shop Model Metrics, for an undisclosed sum. Salesforce.com execs, including new COO George Hu and EVP Maria Martinez, said in prepared statements on Monday that Model Metrics' success in mobile and social cloud services will help Salesforce further "empower" its partners. Talkin' Cloud's blog had some interesting ideas about how this deal may play out for cloud partners:


"Model Metrics, in its previous life a Salesforce partner with more than 1,000 deployments under its belt, specialized in developing mobile applications that bridged the gap between a customer's smartphone or tablet and their cloud data according to their specific needs. If Model Metrics can teach that strategy to Salesforce's partners — maybe even helping resellers become mobile ISVs — it could boost business all around."

Nirvanix finds recurring revenue in private cloud: Cloud storage provider Nirvanix announced that it has inked its biggest deployment this year: eight petabytes of unstructured data in a private cloud built for the University of Southern California school system. Note the key words there: private cloud. Large enterprises (and, yes, universities) are highly unlikely to put all or perhaps even most of their storage in the public cloud (at this point in the game, at least). But on-premises private cloud? That sounds less scary to them. It also sounds, at first blush perhaps, like a vanilla software sale for the provider — except for the fact that this will be fully managed as a service for USC (the "recurring revenue stream" alarm bells should be going off now). And this is how cloud providers will compete and stay afloat in the market. Nirvanix describes its private cloud storage as "a local instance of a cloud storage node in your organization's data center premises while you only pay for storage that you actually consume." And in case anyone wanted to take a page from its playbook, here's what Nirvanix had to say about the USC deal specifically:


Deployed within USC's central data center, the Nirvanix Private Cloud Storage solution will enable the university and its clients to upload digital content from any location and ensure that it is available anywhere around the world by virtue of Nirvanix's Cloud File System software. Additionally, any changes made to files stored in the Nirvanix Private Cloud will be immediately reflected across the whole cloud, ensuring that multiple users collaborating and accessing the same file always have the latest version. This level of data consistency is critical for such a massive amount of unstructured data and is not available from any other cloud storage service or storage system vendor.

"How many conventional storage devices can even handle eight Petabytes distributed around the world?" said Paul Froutan, former head of Google data center operations and current Nirvanix CTO. "The answer: none. This is why companies are shifting to the consumption economics and business flexibility inherent in cloud storage services."

CompTIA launches cloud credentials: Fellow TechTarget blogger and veteran tech writer Ed Tittel blogged about this last week, but we thought it was worth highlighting here, too, in case you missed it. Nonprofit trade association and IT certification giant CompTIA announced it will launch a cloud computing credential and exam in December 2011 for enterprises and cloud providers, CompTIA Cloud Essentials: 50 questions, 60 minutes, 720 minimum passing score (meaning 72%, or 36 out of 50 correct answers). The exam will cover: configuration of networks, including archive, backup and restoration technologies; business continuity and storage administration; system integration and application workload; and basic troubleshooting and connectivity. CompTIA consulted a variety of large, established cloud providers — including Amazon, Cisco, Citrix, EMC, Google, HP, IBM, Microsoft, Rackspace and VMware — to develop the exam's content. In the standard-less Wild West of the cloud market, something like this could be good news for MSPs and resellers that want to give customers an industry stamp of approval and/or become more knowledgeable and confidant about the technology itself. Tittel notes that CompTIA has not released any pricing information, but speculates that the exam will "probably be between $180 and $250 in keeping with other typical CompTIA exam price points."
---
October 14, 2011 10:27 AM
Although cloud security issues seem to elicit the most frantic FUD-fests from prospective customers, cloud performance will be an equally important benchmark that enterprises expect their cloud providers to meet. The most sophisticated (and secure) cloud service is worthless if it takes customers two or three minutes to complete every transaction.
But therein lies the rub. While cloud providers can invest millions in high-performance computing infrastructure and faster, flatter data center architectures, it could all be for naught if customers are complaining about flaky application performance due to Internet congestion or hellish latency (and guess whose help desk gets the irate customer call?). Sure, many cloud providers have enabled customers to provision private connections into their environments, but part of why cloud services appeal to enterprises is their universal accessibility via the Internet.
Web acceleration and content delivery network (CDN) provider Akamai is angling to get in this game. At its customer conference this week in Boston, Akamai unveiled a new service it's developing, codename "Chamonix," which is targeted directly at cloud providers.
The service aims to enable cloud providers to sell Akamai's Web optimization to their facilities as a "check box item," which would be provisioned and partitioned instantly and transparently for the cloud provider and its customer (versus the lengthy and manual integration once required to set this up). Cloud providers will be able to white-label it or use the Akamai brand.
Chamonix (along with Akamai's other managed services) should help cloud providers convince customers to get cozier with using cloud services for more than just testing and development, said Michael Cucchi, a director of product marketing at Akamai.
There's some evidence that cloud providers are taking performance more seriously. CloudSleuth, a cloud performance monitoring service and online cloud provider community sponsored by Compuware Corp., recently released some data they've been crunching for the past year on cloud provider performance around the world with their Global Provider View app (a fun little map/database to tinker around with, if you're so inclined).
The CloudSleuth team set up Compuware's Gomez monitoring nodes in about 30 locations and launched a very basic (and fake) application within dozens of cloud provider environments around the world. Each node, mimicking an end user in a different location, collected response times every 15 minutes from all the cloud providers' facilities that were part of the informal study — Rackspace's facility in Texas, Amazon's EC2 in Northern Virginia, CloudSigma in Switzerland, Windows Azure in Singapore, etc.
With most of the nodes placed in the U.S. and the laws of physics at work, naturally the results were skewed toward cloud providers nearby U.S. data centers. But the informal study "wasn't meant to [determine] who's best in the world at cloud," said Ryan Bateman, a CloudSleuth product marketing manager. Instead, it was designed to give enterprises some insight into what the user experience might be like for users in Dublin accessing a cloud-based application in Florida, he said.
So, what does this mean for cloud providers? One of the interesting takeaways from the data is that cloud performance more or less improved for a group of top-tier cloud providers between August 2010 and July 2011 (check out the second graph in CloudSleuth's blog post). During that period, response times shortened by about a second. CloudSleuth hasn't yet surveyed the cloud providers to find out how they achieved those results, but it's clear that cloud performance is on their radars.
---
September 28, 2011 4:57 PM
When we talk about compliance issues for cloud providers, there's one hypothetical use case that comes up so often it's almost cliché: A cloud provider takes on a business customer that, for regulatory compliance reasons, must ensure all of its data is kept inside the same country where it chiefly operates.
But cloud providers — in this case, U.S.-based ones — may face an entirely different roadblock regarding where they house customer data.
The Netherlands' minister of security and justice said earlier this month that American cloud providers may not be welcome to sell cloud services to the Dutch government, due to concerns that "the vendors could be compelled to share data with U.S. authorities under the provisions of the Patriot Act," according to this IDG News Service article. "Similar concerns are being raised in the European Parliament," and experts are advising private businesses to avoid U.S. cloud providers for the same reasons, according to the report.
IDG reports:
'Excluding U.S. cloud providers is not official policy yet. However, Vincent van Steen, spokesperson for the ministry of the interior, confirmed that the Dutch government is considering a ban on U.S. cloud providers like Microsoft and Google. "The minister is considering this," he said in an email. "This means that it could be a requirement for tenders and the awarding of contracts."

Nigel Murray, managing director of the consultancy firm Huron Legal, confirmed the Patriot Act could override European data and privacy legislation in a report by Dutch IDG news site Webwereld on Wednesday. "If data is transferred to the United States under the Safe Harbor protocol or an American injunction, U.S. Regulators can retrieve the data using the Patriot Act. This usually happens without the person concerned knowing anything about it," Murray told Webwereld.'
Thankfully, one of Microsoft's lawyers has since told us all not to freak out about the Patriot Act, according to CSO Magazine.
'Microsoft's Australasian legal chief says there is nothing to fear from the Patriot Act when considering a move to cloud-based services, because the US government can access your data regardless.

[…]

"In fact," he adds, "US courts have long held that a company with a presence in the US is obligated to respond to a valid demand by the US government for information — regardless of the physical location of the information — so long as the company retains custody or control over the data."'
Phew. That's a relie–oh, wait. Never mind.
If there's any good news here, it's that larger and more established cloud providers already working with multinational customers — as telcos or managed hosting providers — know how to navigate these waters. Also, European cloud providers have a business opportunity here if fellow members of the EU follow suit.
But depending on how this plays out (and how many other governments and businesses follow the Netherlands' lead), younger U.S.-based cloud providers and managed service providers (MSPs) will want to keep an eye on this issue. Their core customers may be smaller U.S.-based companies, but there's a good chance those companies will have a few satellite offices overseas — potentially in a country where compliance with the Patriot Act is a deal breaker.
---
September 15, 2011 9:05 AM
If purchasing cloud computing infrastructure were as easily customizable as ordering a pizza, cloud providers such as Rackspace and Terremark wouldn't be gravitating toward the Open Data Center Alliance and Facebook's Open Compute project for guidance on customizing cloud servers to meet their needs.
Unfortunately for providers, purchasing cloud servers today is like only being able to order a pizza that automatically comes with extra cheese, pepperoni, sausage, anchovies, spinach, grilled chicken, pineapple, mushrooms, onions, ground beef, roasted peppers, olives and artichokes (and as a native New Yorker, it truly pained me to write that. Pineapple has no business on pizza).
In a data center, those superfluous toppings translate into power-consuming server components that are unnecessary for cloud computing — such as USB ports, videos cards and sound cards — yet come standard on commercial servers.
Dell and HP need to take some pineapple off their pizzas, according to Bloomberg News' latest look at the incumbent server vendors' bottom lines (Dell Loses Orders as Facebook Do-It-Yourself Servers Gain). Custom-built servers now account for 20% of the U.S. server market, and vendors' cloud server dollars are slumping, according to Bloomberg:
Hewlett-Packard, which last month cut its profit forecast for the third time since November, can't afford to lose momentum in one of its better-performing units. Hewlett-Packard's revenue from the servers that are typically deployed in so-called cloud- computing data centers rose slower than the industry average in the second quarter, according to Gartner.

Dell, where sales have barely budged for two quarters, needs to keep server customers happy too. Dell's sales of servers based on PC chips — the type most often used in cloud- computing data centers — grew 4.4 percent in the June period, according to Gartner. Cloud-computing networks store and deliver software and services via the Internet.

In one indication of the growing demand for servers that are being built from the ground up, Intel Corp. (INTC) said its revenue from chips used to craft servers for data centers surged 50 percent in the second quarter.
Will cloud server vendors respond to this demand? Jeff Deacon, Verizon's managing director for cloud services at Terremark, told us recently that he's confident the day will come — eventually.
"There are other companies like Google that publish specs on their gear, and some of the interesting things they're doing around using batteries actually on the server chassis itself, rather than using UPS systems in the data center, to reduce costs significantly," Deacon said. "I think over time major hardware vendors are going to embrace [those ideas], so I think it'll be commercially available."
---