---
November 28, 2012 4:56 PM
A new study out of Infonetics Research reveals a little about who's sitting at the cool kids' table in the cloud provider cafeteria.
Microsoft Corp, IBM and Cisco Systems are on the short list for homecoming king top cloud service provider, according to Infonetics' recent survey of 107 North American enterprise IT decision-makers. The analyst firm did note, however, that other "unexpected vendors dominate the cloud landscape in key technology deployment areas."
Sorry, Google. They're just not that into you.
Keep in mind the sample size is pretty small, and the group surveyed appears to be overwhelmingly made up of die-hard cloud supporters; 91% of respondents interviewed said they use cloud services today, and 100% expect to use them by the end of 2014.
Still, some other data points seem to ring true: Software as a Service (SaaS) was the most popular cloud service adopted (our survey revealed the same thing), and the leading drivers for adoption now are "application performance and management of IT costs."
"There is no doubt, the cloud has come of age," said Sam Barnett, directing analyst for data center and cloud at Infonetics, in a statement. "While investments in cloud outsourcing are small in comparison to internal IT/data center spending, they are growing each year, with the number of enterprise organizations turning to cloud technology to manage budgets and transform service delivery increasing significantly in the last two years."
November 13, 2012 11:29 AM
It's getting harder and harder to remain skeptical when it comes to the value and profit potential of the cloud, and even more difficult to deny that public cloud adoption is maturing beyond just test and development like some cynics had speculated.
Further validating the public cloud's credibility is new research by Eileen Smith, program manager at IDC, who predicts that the U.S. public IT cloud services revenue will grow from $18.5 billion in 2011 to $43.2 billion by 2016. The market will experience a compound annual growth rate of 18.5% over the forecast period – making it increasingly challenging to argue that the cloud doesn't have staying power.
The "services and distribution" vertical, which includes retail and professional services, spent the most money on cloud services in 2011, accounting for 30.3% of total revenue that year. Smith also measured cloud spending in financial services; manufacturing and resources; infrastructure services (includes media and utilities); public sector; and home businesses and consumers.
The forecast tracked five cloud service segments, which IDC refers to as: Applications as a Service, System infrastructure software as a Service, Platform as a Service (PaaS), Server as a Service, and "basic" Storage as a Service. It's interesting to note that most of the services studied by IDC also ranked as high-growth areas in TechTarget's recent Cloud Pulse survey. Our survey asked 1,497 IT professionals about their use of and attitudes toward public, private and hybrid cloud, and the results indicated that respondents continue to be drawn to public cloud due to several advantages it has over on-premises deployments (such as increased infrastructure availability, scalability, cost management and the "as a Service" model).
Also worth noting is that two months ago, another IDC analyst released a forecast for global public cloud services spending over the same time period. Worldwide, revenue is expected to shoot up to $100 billion by 2016 — meaning that U.S. cloud revenue may account for almost half of worldwide spending. So, if there are skeptics still out there, soon enough you may have to leave the country to hear their arguments.
---
October 8, 2012 5:23 PM
There's a litany of reasons why enterprises don't want to buy public cloud services, but sunk investments in legacy IT tops the list, according to TechTarget's recent Cloud Pulse survey.
Looking over the results, I thought about how this adoption barrier might be more difficult to overcome than, say, security. I know many of you categorically disagree with that statement, but humor me for a minute: Of course, there are many prospective customers who will never believe the cloud can be secure, no matter what a cloud provider's strategy or messaging is. But there's definitely a population that's willing to consider cloud services if providers strengthen their IT security strategies, embrace transparency, conduct third-party audits and so on. I guess what I'm saying is there are tangible steps cloud providers can take to further fortify the cloud, and they have an opportunity to demonstrate this and possibly change the hearts and minds of enterprise IT pros.
But it seemed to me that there isn't much a cloud provider can do when an enterprise isn't interested in hearing the cloud pitch because it's already sunk hundreds of thousands or millions of dollars into its internal [fill in the blank, e.g., storage area network, CRM deployment, development platforms].
I spoke to several cloud providers about all this for a recent story we published, Why CIOs have problems with cloud computing: Sunk costs in legacy IT. You can (and should!) check out the story to see how providers such as Microsoft, Savvis and Bluelock are dealing with this issue (spoiler alert: hybrid cloud is a common denominator), but I also wanted to share some of the really great reader feedback we've received in the comments section of this article.
We asked readers what they thought the biggest barrier to cloud adoption might be. Here are a few interesting responses we got:
"In my point of view, solution providers still do not have a coherent [go to market], and, in most cases, they fail to provide a real business value proposition. The adoption of the model is restricted to IT service islands. In most cases, the focus remains on mere cost reduction rather than the possibility of having access to computing resources and preconfigured applications that add performance to companies into a new level of information processing and management, that only the mega corporations have today, through direct investment in IT assets, applications and IT and systems specialists."
"Empire's [sic] built – similar to the sunk IT investment, can often be a big barrier. A CIO who clings to the concept of "building his empire" doesn't want to lose that piece of his crown to an outsourced provider. If an IT Manager sees installing infrastructure as his key strength and can't adapt to the new services model, keeping the status quo is a safe play. It takes a CIO or other C level managers to reconsider what an IT department provides and whether it is best placed to provide it. I think an IT department can be equated with the public service – where it is run lean, it adds value, but as a bloated empire it just acts as a roadblock for innovation."
"I believe the real reason around the "fear factor" syndrome of Security is not IT security but job security. Loss of control is a huge factor which individuals are downplaying. Most companies will not consider allowing their core transactional systems and applications to reside off site. Also a detailed transition plan that allows migration in phases is a must for any cloud business case which is sorely lacking and in most cases excludes a vital issue and that is a mutual sharing of risk and benefits."
"It could be a combination. Big Firms typically want to have their infrastructure managed internally. It is not the question of money but security, tradesecrets etc. Cloud can be good solution for SMBs,other organizations and can help generate new businesses and bring IT to businesses that can not afford Big IT. In my opinion, both IBM and Microsoft have good offerings on Cloud along with Salesforce."
---
September 26, 2012 12:31 PM
Yes, yes, we know. Lies, damned lies and statistics. Still, this recent forecast from IDC (specifically, from its Asia/Pacific research division) caught my attention, as I've heard various analysts rattle off similar predictions here and there:
After five years of cloud hype, real examples of its business benefits are starting to present themselves. Cloud services and technologies are no longer simply used to replace aging or costly on-premises infrastructure and the scene will continue to evolve in the next few years.

However, in terms of the number of vendors in the market, IDC is of the view that about 30% of suppliers currently in the cloud market will be out of business by 2015 as it is a relatively new market with many players entering and leaving the playing field. Therefore, it is imperative for CIOs to ensure due diligence when selecting a cloud service provider.
It probably comes as no surprise that such a young market will experience some consolidation, but one out of three? Yikes.
I checked in with the analyst behind this research, Chris Morris — vice president of for Asia/Pacific cloud services and computing research and director of IDC's regional services research — to see if this consolidation will be global or specific to APAC. Here are his thoughts:
You will find that this will be a universal phenomenon in the cloud business. Competition is very strong with the current market actually being relatively small. For a new start-up, generating cash-flow to support their start-up and R&D costs can be slow, especially in emerging markets where there is a more cautious approach to public cloud. For an existing ISV with existing revenue streams from traditional licenses, making the transition from license-based business models to a subscription-based can also be difficult, as they essentially have to cannibalize their own business to make the move.

So some will falter and fall from business causes, while others — those who pick a business niche based on either industry vertical or horizontal business process — will be ripe for acquisition by the likes of IBM, Oracle, SAP et al.

But those 30% which fall from view will likely be replaced by at least that many new entrants. So for the CIO and any vendor managing an ecosystem of partners, managing the market churn will be onerous.
Cloud providers, consider yourself on notice.
Image courtesy of ajc.com.
---
September 13, 2012 11:37 AM
Although the cloud still has its skeptics, some new research from International Data Corporation (IDC) suggests their influence is going to dwindle — and fast.
Global spending on public cloud IT services is expected to exceed $40 billion by the end of this year, IDC reports. By 2016, cloud spending will approach $100 billion.
Over this four-year period, that represents a 26.4% compound annual growth rate. That's five times as fast as the IT industry overall, according to IDC.
Which cloud services are going to be the hottest markets? IDC says Software as a Service (SaaS) will "claim the largest share" of cloud services spending over the next five years. Interestingly, however, cloud storage and Platform as a Service (PaaS) will grow faster.
This probably comes as no surprise to cloud providers. Infrastructure as a Service (IaaS) is on track to become commoditized (if it hasn't already), and cloud providers are recognizing that selling SaaS and PaaS will be more profitable over the long term.
From a geographic perspective, the United States will occupy the largest share of the cloud market, IDC reported. Following closely behind the U.S. are Western Europe and the Asia-Pacific region (minus Japan). But the fastest-growth area for cloud spending? Emerging markets, whose "collective share [will] nearly double by 2016 when it will account for almost 30% of net-new public IT cloud services spending growth," according to IDC.
---
August 17, 2012 1:45 PM
Wired got an interesting scoop from Intel this week: Google has been buying chips directly from Intel for five years, bypassing traditional data center infrastructure vendors to build its own servers, storage and networking devices.
According to Wired's Robert McMillan:
"It's certainly not anything that the companies involved discussed openly, so it is kind of a big deal that they said something on the record," says Dean McCarron, who runs Mercury Research. McCarron reckons that about 10 percent of the approximately 16 million server chips sold each year go to big internet companies that are skipping the mainstream server vendors.

One of the reasons that data center operators are so hush-hush about their purchasing decisions is that they don't want to tip their hand whenever they're adding capacity. That can drive up prices for other components of the build out — bumping up costs for everything from real estate to networking gear.
Obviously, very few cloud providers have the means or motivation to follow Google's footsteps here. And while Google's strategy is grounded in using custom hardware to build a competitive advantage, it echoes something I've heard anecdotally from cloud providers big and small: Vendors often aren't meeting their needs, so they've taken to building their own systems.
This is no shocker for the larger providers, particularly the telcos, which have long developed custom systems and applications through their internal research and development divisions. Nor have I heard about a consistent area of complaint among cloud providers adopting a do-it-yourself strategy — sometimes it's with networking, sometimes storage, sometimes platforms. But it seems those anecdotes and stories like this one from Wired — in addition to the growing interest in open source projects like OpenStack and OpenFlow — all seem to point toward the suggestion that either vendors aren't satisfying cloud provider needs, or data center infrastructure has become such a differentiator that it's better to build rather than buy.
Either way, it's not good news for vendors.
---
July 16, 2012 4:55 PM

Profile: Gina Narcisi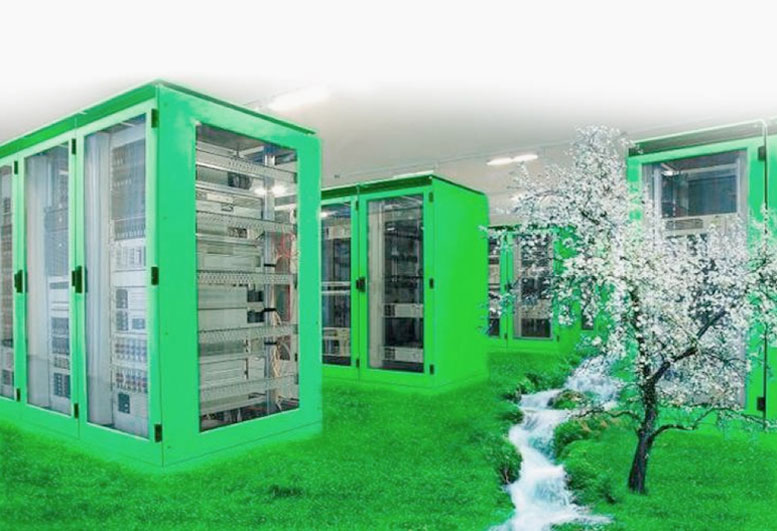 Looks like Apple hasn't flunked out of energy efficiency, but will still have to take that "green" data center class again in summer school.
The hardware and software giant has vowed to go coal-free by May 2013 and power their cloud data centers with renewable resources instead. Upon inspection, however, Greenpeace noted that Apple is still struggling in this arena.
A new Greenpeace report questioned whether Apple had a realistic plan to cut its reliance on coal and nuclear power, and graded the data centers a "D" in both the energy transparency and infrastructure siting categories.
Greenpeace did raise Apple's grades for the renewables and advocacy, as well as the greenhouse gas mitigation categories — bumping its previous D's to C's.
Apple currently powers its cloud with 33.5% coal energy and 11.6% nuclear energy.
To power the new data center that Apple will be use for its iCloud, the company will be relying on both a biogas fuel cell plant and a 100-acre solar power farm.
But the coal-free commitment may prove more challenging than Apple first thought, and Greenpeace admits that if Apple releases their strategy regarding more environmentally-friendly data centers, its scores could actually further descend once the organization learns what will fuel the quickly- expanding data centers if not coal.
Look like Apple should keep its heads in the books — that or perhaps it should take on a tutor.
---
July 16, 2012 3:26 PM
When someone hires a lawyer, a hand cramp typically follows.
That's not just the body physically rejecting the bill that comes in the mail later. Lawyers have an on-going love affair with paperwork, requiring signature after signature after signature. But what if this didn't have to be the case? Could a cloud provider save all the time, paperwork and money of shuttling legal documents back and forth? At least one Software as a Service (SaaS) provider, Wufoo, is using its partnerships to tap this to niche market, according to the Globe and Mail.
Wufoo, which was acquired by SurveyMonkey last year, offers a convenient form-building application that operates on a freemium model. Lawyers are up-and-coming cloud enthusiasts because SaaS applications like Wufoo are easy to use, universally accessible and help them skip the hassle of time-consuming paperwork, reports the Globe and Mail.
Wufoo's strategy is an interesting example because it has not only found opportunity in a niche market, but it also offers a testament to the power of cloud partnerships. Through a tangled web of partnerships with other SaaS providers, Wufoo is able to offer customers even more value by providing integration with other cloud applications, including Freshbooks, Apple's iCloud and Google Apps.
Enterprises are increasingly getting their feet wet when it comes to cloud adoption, and they will have various needs unique to their markets. It will be difficult for one cloud provider to meet them all.
In Wufoo's case, this special string of partnerships builds a stronger incentive for one vertical market, legal services, to adopt the cloud. If cloud providers are on the lookout for these industry-specific partnership opportunities, they will be able to build compelling cloud offers for various markets around the globe.
---
July 3, 2012 10:09 AM
The cloud is essentially a product up for sale, which means cloud provider big-wigs need teams of marketing and advertising specialists to make the cloud look as appealing as possible to potential clients.
Advertisers are typically trained to list the most enticing qualities of their product, avoid jargon or deceptive claims, and demonstrate why their products are the best. But what happens if the marketing team is playing up the wrong qualities? Would this hide the real value of the cloud, underrepresent its most desirable attributes and fail to convince enterprises to make the switch?
In a word: Yes. According to David Lithicum of InfoWorld, this is exactly what is happening. The typical cloud pitch that providers offer highlights the short deployment times by making the need for hardware and software obsolete. This is not where the real value lies, which means providers are marketing the wrong "cloud feature" to potential customers.
Lithicum feels that what cloud providers are missing is the "home run" of cloud advantages: the ability to easily adapt to continuously evolving requirements. But the problem lies in the fact that this concept of adaptability is hard to define, and it is therefore overlooked.
Need help developing the right marketing message — or avoiding the wrong one? Check out some of these resources:
---
July 2, 2012 4:04 PM
We're all in agreement, right? Dell's decision to buy Quest Software for $2.4 billion means it's putting its hardware-junkie days behind and moving with the market by adopting a more software-focused strategy.
But hey, could we please get a little more specific? The New York Times' Dealbook blog takes a stab at what John Swainson, president of Dell's software group, means when he says, "The addition of Quest will enable Dell to deliver more competitive server, storage, networking and end user computing solutions and services to customers" in the canned statement everyone is quoting.
Dealbook, quoting an analyst from Pacific Crest Securities, suggests that Dell may be after Quest's "back-up and recovery applications, virtualization services and its single sign-on solution," noting that its other software products are "slower-growth businesses."
Is there any cloud play here? Maybe not, and what's a blog good for anyway if not conjecture? But the points about virtualization and single sign-on seems to indicate we're at least getting warmer. Joe Panettieri at Talkin' Cloud offered an intriguing theory — posted yesterday before the deal was announced:
Quest Software specializes in IT management, desktop virtualization and cloud migration software and services. The company is one of the best-known providers of Office 365 migration services, helping customers to shift from on-premises Microsoft applications to SaaS versions of Exchange, SharePoint and more.

But here's the interesting twist: A lot of those on-premises customers use Dell servers. It's a safe bet Dell will leverage Quest Software to shift customers into Dell's own cloud — assuming Dell really is buying Quest.
If he's right, could it be what Dell needs to establish itself in the cloud provider market?
---