Jul 8 2009 8:13PM GMT

Profile: CarlBrooks
Cloud-based IT management provider Paglo has busted out with an interesting twist on managing network log files: Google-style browser search, cross referenced over time. Paglo says it's the first of it's kind. It's definitely unique. Here's a sample of the dashboard: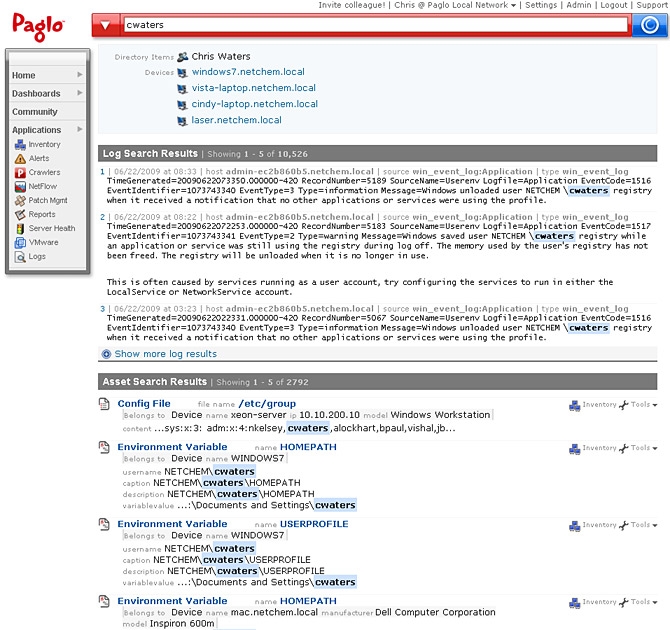 Anyone who's ever had to slog through truckloads of log files will see Paglo's utility instantly. With its intuitive search interface and comprehensive set of data analytics, this screenshot will make admins mouths' water.
Paglo is an example of a strange new beast that we'll probably be seeing a lot more of: a pure cloud-based management tool. To get started, simply download the open source Paglo Crawler to your network and it will get start gathering data from WMI or syslogs and feed them back to an individual index on Paglo's infrastructure.
Paglo CTO Chris Waters said the idea for Paglo sprang from seeing the ubiquity of search (everyone know how to use a search engine, right?) and applying it to the user demand they saw for log management.
"We know there's latent demand in the market for logs." he said. Since Paglo was already collecting, massaging and delivering complex data in real time, adding searchable logs to customers' data was a natural fit. (Click here to read about about folks running new kinds of databases in the cloud.)
Aside from its bravura log search tool, Paglo also has a fairly standard set of MSP features that will be familiar to any IT pro, including performance and network monitoring, and patch management for Windows. It's thin on other standard features, though, like remote desktop access or remote control. Clearly, it's biggest strength is the way it aggregates network information.
Most importantly, though, Paglo requires no initial investment — it's pure pay-as-you-go. More tradtional MSPs require onsite hardware and a hefty licensing fee to get started. Waters is banking on making it cheap and easy to get started and scaling out Paglo's virtualized, hosted infrastructure to keep growing. All of which, naturally, is only practically possible for a small business "in the cloud."