---
October 22, 2008 9:18 PM

Profile: Alex Barrett
Exchange Server ActiveSync
In an effort to wrap my mind around this cloud computing stuff, I watched the webcast of Rackspace's cloud computing launch today, where the company laid out its plans to move from simple managed hosting provider to cloud provider extraordinaire, taking on Amazon Elastic Compute Cloud, or EC2, and Simple Storage Service, or S3, in the process.
Rackspace's plan centers on acquisition, partnership and expanding its existing Mosso Web hosting product into three broad offerings: Cloud Sites website hosting, Cloud Files storage service, and Cloud Servers virtual private servers.
On the acquisition side, RackSpace has acquired Jungle Disk, a cloud-based desktop storage and backup provider that has thus far relied on Amazon's S3. It also acquired Slicehost, a provider of Xen-based virtual private servers (VPSs) that claims 11,000 customers and 15,000 virtual servers.
As far as new Mosso offerings, the new Cloud Files will come in at $0.15 per GB of replicated data, or if the data is distributed across a content delivery network (CDN), at $0.22 per GB. CDN capabilities come by way of a partnership with Limelight Inc.
Also as part of Cloud Files, RackSpace will partner with Sonian Networks to provide cloud-based email archiving starting at $3/mailbox.
Coming soon, Cloud Servers is Mosso's new name for Slicehost's VPS offering. Under Slicehost, the services starts at $20/month for a virtual Xen server with 256GB of RAM, 10GB of storage, and 100GB of bandwidth. "Slices" scale to 15.5GB of RAM, 620GB of storage and 2,000GB of bandwidth for $800/month.
When it comes to the Xen-based Slicehost — aka Cloud Servers — I should note that Mosso is a longtime VMware customer that has publicly pondered the viability of the relationship as it expands its services. It will be interesting to see whether this acquisition signals a break from VMware or whether it will continue to use VMware as the underpinning of its Cloud Sites offering. Rackspace, care to comment?
On another note, Slicehost is one of many hosting providers that use open source Xen as the basis of their cloud offerings. Presumably, it's also the kind of company to which Simon Crosby, CTO of Citrix Systems Inc., referred when Citrix announced XenServer Cloud Edition and Citrix Cloud Center (C3) at VMworld 2008.
At the time, Crosby said that luring these hosting providers into Citrix support contracts was a huge priority. "Trivially, we looked around and found a couple hundred hosted IT infrastructure providers using open source Xen," he said. "XenServer Cloud Edition is intended to win greenfield accounts but also to bring the open source Xen guys back home." XenServer Cloud Edition boasts features like the ability to run Windows guests and commercial support.
One final thought: If any of you find this whole cloud computing thing a bit, ahem, nebulous, Lew Moorman, Rackspace's chief strategy officer, made an interesting distinction between different types of cloud offerings. "Cloud apps," Moorman said, are what we used to think of as Software as a Service (SaaS); "cloud hosting," meanwhile, refers to pooled external compute resources. And of course, there's cloud storage. Rackspace, it seems, will offer all three.
October 22, 2008 4:20 PM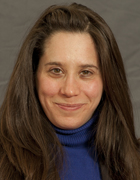 Profile: Lauren Horwitz
Exchange Server ActiveSync
This blog was written by Caroline Hunter, assistant editor of SearchEnterpriseLinux.com.
Don't let fears about cloud computing prevent you from investigating the technology's potential to reduce costs and open up space at your company. Below we explore five common concerns enterprises express about adopting cloud computing.
1. Proprietary exploitation. As Richard Stallman has suggested, cloud computing might be largely a marketing ploy to get data center managers to spend money on unproven technology. At this point, there is some question about whether the cloud can provide concrete benefits for its price tag. Open standards for clouds provide justification for not rejecting the cloud just yet, because they enable you to elect how to use the cloud. In charging for a narrow definition of cloud services, proprietary cloud service vendors often eliminate that flexibility.
2.Lack of transparency. Just as clouds are hard to see, your critical system resources stored within a cloud are also difficult to locate. It's better to have a clunky, secure set of resources than a cheaper, airy one that might float into someone else's hands; and public/private access rights to clouds are far from being established. Also, in the cloud ensuring compliance with existing security standards is difficult. There are no established standards for providers to enforce, and an attacker can modify sensitive data within one.
3. Wrestling cloud standards. If you've figured out solutions to the first two hurdles the struggle is not over. Other companies and users may have different ideas about how you should administer the cloud and formalize those ideas into standards. Now you're noncompliant. But noncompliant with what? CTO of Amazon.com Werner Vogels doesn't like the term cloud because it can mean so many different things. So before you decide to be a cloud for Halloween, check out the  study by the browser company Opera. Much of the Web has escaped standards compliance as well. So perhaps the problem is how standards are created rather than how they are enforced.
4. Integration into existing environment. You dodged the marketing trap, secured your resources, and committed to a cloud configuration that works for you. But now you'll have to figure out how to integrate the cloud into your existing environment and how to manage it. Like cloud computing itself, this is mostly uncharted territory. But there are tools available to help you out such as  Kaavo and OpenQRM, and RightScale.
5.Loss of service.This month, concern about service outages came true for a handful of Google users who lost access to their outsourced Gmail accounts for nearly 24 hours. Unfortunately, having your services run elsewhere can leave you helpless to get them back.
The choice to employ cloud computing brings a lot of uncertainty, and some reason to be wary about the safety of your business's resources in the cloud. And because cloud computing is emerging and largely unproven, it's still up to you to determine whether the sky is falling or it's just a passing cloud.
---
October 21, 2008 8:52 PM
Exchange Server ActiveSync
Jake Sorofman, vice president of marketing for rPath, which provides technology for virtualizing software applications and managing cloud and virtualized environments, has offered a five step strategy on how to ease into cloud computing, and a webinar on the topic on October 2. 
"Cloud Computing promises to reduce operating costs by increasing infrastructure utilization and reducing server sprawl; to reduce the cost of software consumption by allowing business lines to align cost with value received; and to dramatically improve business agility by compressing deployment cycles and time to value for application functionality," Sorofman wrote. "It's no surprise that cloud has attracted dozens of new entrants and forced incumbent vendors to articulate their own cloud strategy."
For companies interested in moving their infrastructure into the clouds but aren't sure where to begin, rPath's Cloud Computing Adoption Model offers a set of clear guidelines to help move the process along.
Their model is a graduated, step by step approach for the adoption of cloud technologies that should help cut through the hype and lay out a clear game plan, incrementing toward cloud without putting projects, budgets and careers at risk, according to Sorofman.
Loosely modeled after the Capability Maturity Model (CMM) from the Software Engineering Institute (SEI) at Carnegie Mellon University, the Cloud Computing Adoption Model proposes five steps:
• Level 1: Virtualization. The first level of cloud adoption employs hypervisor-based infrastructure and application virtualization technologies for seamless portability of applications and shared server infrastructure.
• Level 2: Cloud Experimentation. Virtualization is taken to a cloud model, either internally or externally, using Amazon Elastic Compute Cloud (EC2) for compute capacity and as the reference architecture.
• Level 3: Cloud Foundations. Governance, controls, procedures, policies, and best practices begin to form around the development and deployment of cloud applications. Initially, Level 3 efforts focus on internal, non-mission critical applications.
• Level 4: Cloud Advancement. Governance foundations allow organizations to scale up the volume of cloud applications through broad-based deployments in the cloud.
• Level 5: Cloud Actualization. Dynamic workload balancing across multiple utility clouds. Applications are distributed based on cloud capacity, cost, proximity to user, and other criteria.
"At the end of the day, architectural innovations like cloud have transformational potential for enterprises. But the reality is that transformation can't happen overnight — and it certainly can't happen without a plan," Sorofman wrote. "While the Cloud Computing Adoption Model may not represent a panacea for enterprise cloud computing, it does provide a context for thinking strategically about the pace, pattern and sequence of investments and returns that will set organizations on a pragmatic path to cloud."
rPath is also hosting a webinar on this topic, "The Pragmatist's Guide to Cloud Computing: A 5-Step Framework for Achieving the Strategic Value of Cloud Computing While Delivering Real ROI Along the Way," on Thursday, October 23, 2008, at 11:00 a.m. Pacific time/2:00 p.m. Eastern time.
The webinar will feature guest speakers Jeff Barr, senior Amazon Web Services evangelist; Frank Gillett, vice president and principal analyst, Forrester Research; Jeff Schneider, CEO of MomentumSI; and Billy Marshall, founder and chief strategy officer, rPath. All registrants will receive a complimentary copy of "The rPath 5-Step Framework" along with the Forrester Research Paper, "Future View: The New Tech Ecosystems of Cloud, Cloud Services and Cloud Computing." To register for the webinar, visit rPath's website.
---