May 31 2015 10:40PM GMT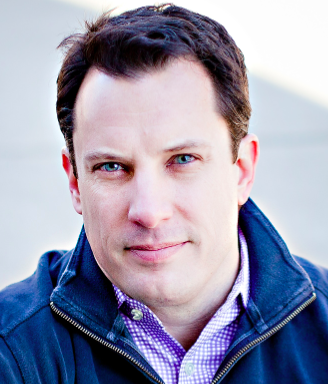 Profile: Brian Gracely
Tags:
Before I get into my thoughts on VelocityConf (Santa Clara, 2015), I thought that I'd share a quick story. I've been attending open source events and meetups for several years (OpenStack Summit, LinuxCon/CloudOpen, DevOps Days, Cloud Foundry Summit, etc.) and have become comfortable with the vibe and communities at the events. They are very different from vendor events, in good ways and bad ways.
A few months ago, during my day job, we decided that we'd like to host a DevOps Days style event before EMC World. I reached out to some friends to see what the proper steps were to host an event, since DevOps Days has a planning organization. I was introduced to Bridget Kromhout (@bridgetkromhout) and we spoke for an hour about our idea for an event. As expected, she was very friendly and informative, but a little bit cautious about a "big vendor" doing this, since other "big vendors" had violated some of their guidelines about over-marketing in the past. Fair enough, we'd do our best stay within all of their guidelines as we hoped to show this community that we wanted to contribute valuable things (beyond free food & drink). Although she didn't need to (we weren't an official event), Bridget continued to provide us guidance and encouragement, as well as occasionally correcting us when we made some tactical errors. I tell this story because Bridget is like so many others that are involved in DevOps Days and VelocityConf – they are passionate about this domain and excited to help others that wish to learn and share. But she's also very focused on it being done the "right way", as we've seen too many other industry trends get swept up in marketing hype.
What does this have to do with IT organizations and VelocityConf? Actually, quite a bit…
Some common misperceptions about open source events (or DevOps or Web Scale, etc.)
If it's all open source, nobody spends or makes any money. – Tell that to Target, MLB, Google, Microsoft, Etsy, Orbitz, and many others names that presented sessions. Or tell that to the many VCs walking around the halls looking for the next big idea to fund.
It's just a bunch of neck-beard hippies. – Keep thinking that. They run some of the most influential and powerful companies in the world, and are getting presidents elected. Beards optional.
They don't understand the Enterprise. – Tell that to the Enterprise group that stuck around after a Security + DevOps session to talk about how they used DevOps, Public Cloud and Agile Development while dealing with SOX, HIPAA, and a bunch of other heavy regulatory guidelines.
It's just a Silicon Valley thing. – Except that they hold the events worldwide, and you'd find as many influential people from NYC or Minneapolis as you would Portland or SF/Bay.
Here's what I loved about VelocityConf:
The topics and content are world-class. If you're focused on building large-scale environments, then this is where you should be. No hype; limited marketing; and lots of people with real-world experience to either listen to or have discussions with in the hallway or over a beer.
The speakers all seem to combine a level of direct experience AND a willingness to teach and share. Not all of them, but many are also O'Reilly Media authors (or using the new video service).
Everything is a multi-directional conversation. You're not being sold to. You're not being preached to. People can openly debate you ideas, often with direct experience from their own world.
It's more than just technology. There is a distinct understanding that this space requires sharing experiences related to people and organizations. There are many sessions about Empathy, Organizational Structures, Dealing with Changes, Dealing with Burnout, and How to Manage Transitions. Most vendor events push this stuff off to "we can send in Services to help with that".
They embrace diversity. At least 1/3rd of all the sessions I attended were lead or co-lead by women. And they expanded the speakers beyond just technologists, because it's important to understand the historical context and psychological research that surrounds significant changes.
People are just friendly. Maybe this is my Midwest upbringing or currently living in the South, but life is just more enjoyable when people are friendly. Sometimes this is individuals, and sometimes it's simple things like not requiring people to sign-up to attend a session – just walk in if it's interesting. Everything about the friendliness encourages new people to engage, which is what our industry needs to keep moving forward. We're dealing with difficult challenges, and it's important allow anyone to engage, learn and contribute.
So what can IT organizations and vendors learn from an event like VelocityConf?
Recognize that this transformation is not just about technology. Embrace all aspects of how this change will happen – technology, people and process.
Save the selling for some other time. People get sold to all the time. There's website and webinars and in-building meetings. They rarely get dedicated time to learn new things or learn (f2f) from others. Help them capitalize on the time.
Share experiences. So much of VelocityConf is about people sharing their direct experiences – in development, in operations, in transformation.
Embrace the diversity. Too many events are driven just by the host and their agenda. Let your ecosystem share their knowledge as much as you do.
Encourage the diversity. VelocityConf has a great mix of long and short sessions, giving people with various backgrounds the ability to share their knowledge/experience. Geeks are often introverted, but they have much knowledge to share. Make it comfortable for that to happen.
Embrace the challenges of day-to-day operations. Anyone can build a product or piece of software that's simple on Day 1. What about Day 2, or Day 366, or Year 5? Embrace the opportunity to take those learning and make your products/projects better.
So why did I tell the Bridget Kromhout story at the beginning? Because we briefly bumped into each other in Santa Clara, but didn't get a chance to have a conversation. Then we had this exchange on Twitter.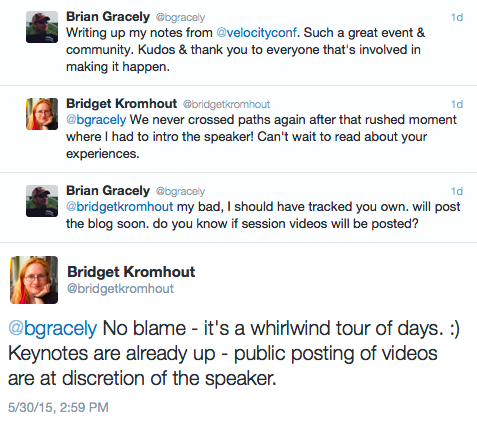 When I mentioned above that she is passionate about this space, it's not just the technology. It's the culture and the overall movement. Being "blameless" isn't just about post-mortems, it's also about interacting with new people in the community. The leaders show the newbies how it's done, and hopefully they pay it forward as well.
My advice – go to a VelocityConf or similar meetup event in your area. Not only will you learn quite a bit, but you'll meet a bunch of great people and better understand why they are all so passionate about making these large scale environments so useful for all of us to engage with (and make their businesses more profitable).