Apr 14 2013 4:35PM GMT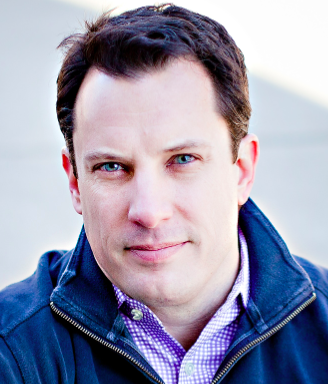 Profile: Brian Gracely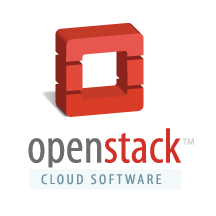 As OpenStack has begun to mature over the past 18 months, there has been some debate amongst the leading developers about the focus of the projects. On one side are those that believe that OpenStack is competing with VMware. On another side are those that believe that OpenStack is an alternative to Amazon's AWS. Still others focus on a group of services that could create an open system of interconnecting many clouds.
One of the powerful aspects of an open source project is that developers or companies can take the code and use it any way they choose. Target a certain market. Target certain use cases. Target certain business models.
And in return, users of the software can decide what they want the software to do. They can modify the software if they have a specific need. They can buy packaged versions and use the embedded functionality.
For a project like OpenStack, which is maturing during a time when the market is already full of competing offers, it will often be compared to an existing expectation (or experience) that users have of other products/services.
An example of this is a simple question I posted on Twitter yesterday. In the "Grizzly" release, support for VMware ESXi hypervisor has been added.  So I asked:
The reason for my question is that I've heard a number of Enterprise IT organizations say that they are planning to explore OpenStack in the coming year for their Private Cloud (or Virtualized Data Center) environments. Given that VMware vSphere has 60-80% marketshare in that market segment, many of them are also curious about reusing existing investments in hypervisor licenses, and Live Migration has become a standard capability for Enterprise IT organizations and legacy applications.
The responses I got back varied quite a bit. Some talked about Live Migration support across multiple hypervisors (Xen, KVM, Hyper-V). Others talked about the added components needed (eg. VMware vCenter). Still others claimed that including vSphere in any cloud environment is a bad design.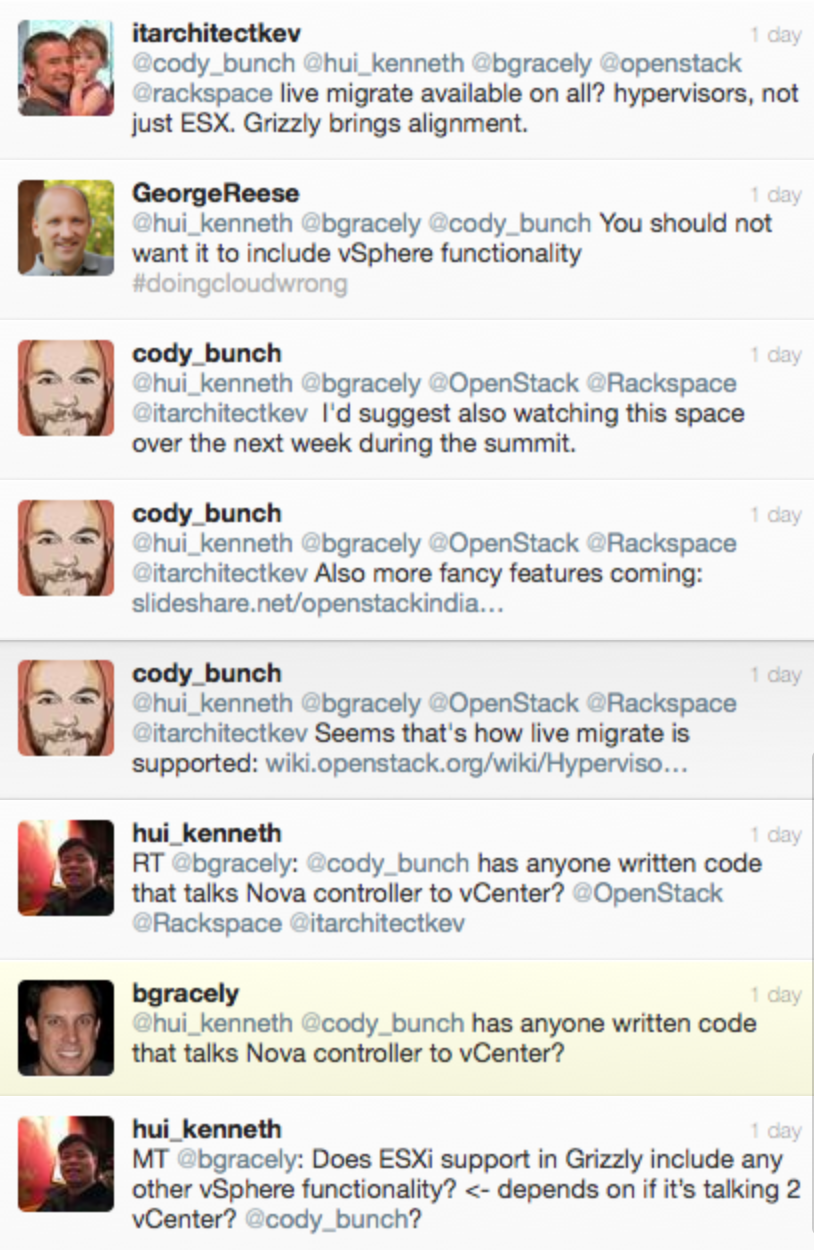 What happened next was a discussion about what "Live Migration" really meant, as not all hypervisors work the same way as Enterprise customers might expect from VMware vSphere.  Some claimed that it was "seamless enough", while others highlighted that it still required some additional capabilities that are only available in a commercial distribution of OpenStack.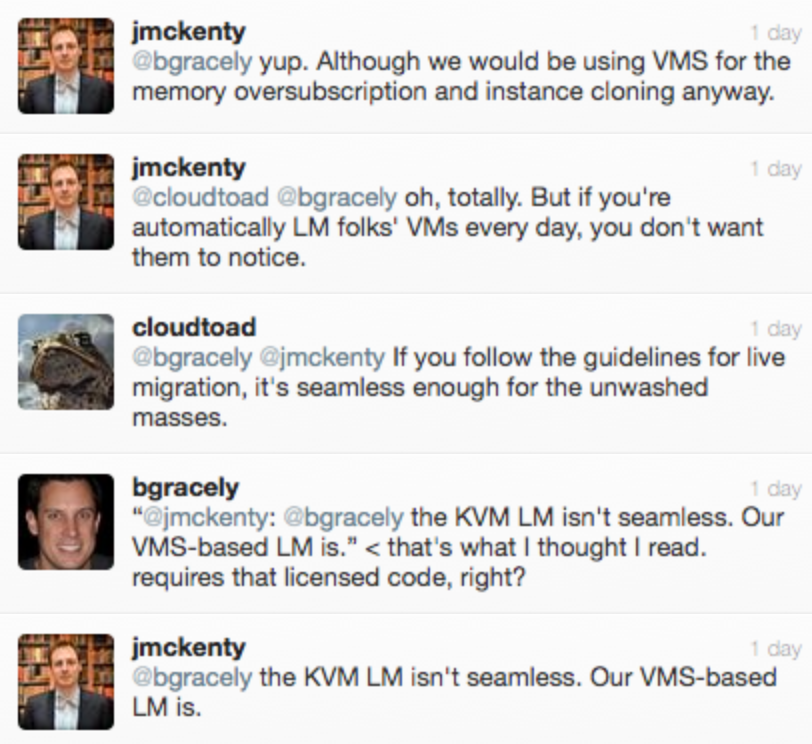 All this discussion for a single feature/function.
Does any of this really matter? Maybe or maybe not. It all depends on the expectations of the users. It all depends on the applications being deployed on a cloud infrastructure. It all depends on which systems they are hoping to re-use or which systems they are looking to eliminate (or avoiding overlapping functionality). If nothing else, it highlights that users may have to reset expectations if they plan to migrate to a new cloud system.
If you're looking to explore OpenStack in 2013, what expectations do you have for the projects?